Rare Sips: Lost and forgotten drams, and a cognac from a private cellar
Make space in your bar for 'ghost' whiskies from Cambus, Johnnie Walker and Littlemill, and Louis XIII's new (little) treasure.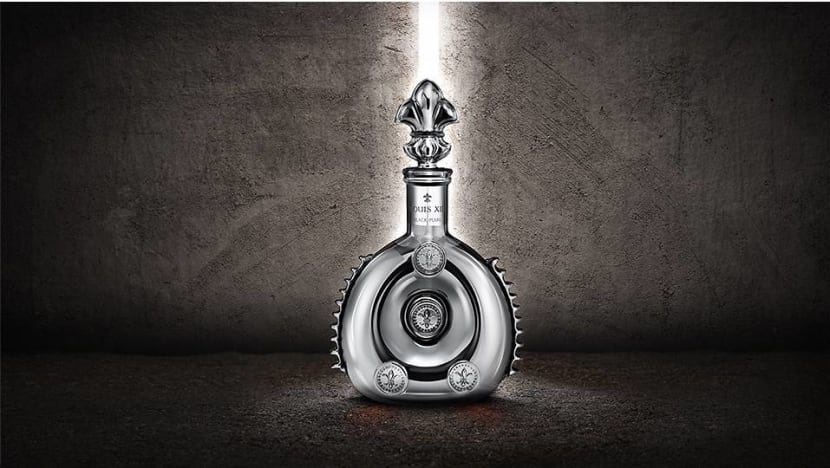 Cambus, a defunct or 'ghost' distillery which closed in 1993, is a good first label for those who are looking to start a collection of drams from shuttered distilleries. It remains relatively affordable when compared with its cultish counterparts like Port Ellen and Brora. But don't let its humble status fool you: Cambus' drams are valued by whisky aficionados, especially those looking for grain whiskies of yesteryear.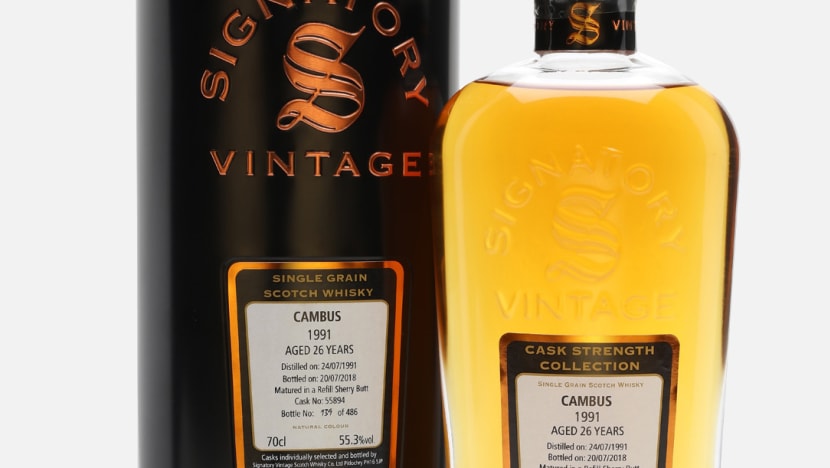 Established in the early 1800s, Cambus was highly regarded by whisky blenders. The building is now under the care of alcoholic beverage company Diageo, which has turned it into a cooperage. There is no word on whether Diageo – which owns Port Ellen and Brora, and recently announced plans to revive them – would fire up a new set of stills for Cambus.
For now, a visit to La Maison du Whisky, which introduced an open-tasting of 800 bottles last month, would score you a Cambus. Aged for 26 years in a refill sherry butt, the Cambus 1991 is a creamy single grain whisky offering an aroma of creme brulee, and notes of chocolate and baked apples. Bottled by independent bottler Signatory, only 486 bottles are available worldwide.
S$310. Available at La Maison du Whisky
Johnnie Walker Blue Label Ghost and Rare Port Ellen is the second edition in a series of blended Scotch made with whiskies from rare and defunct distilleries. This release is a blend of eight whiskies: A single malt from the shuttered Islay-based Port Ellen as its base; two grain whiskies from the 'ghost' distilleries of Caledonian and Carsebridge; and five rare malts from Mortlach, Dailuaine, Cragganmore, Blair Athol, and Oban.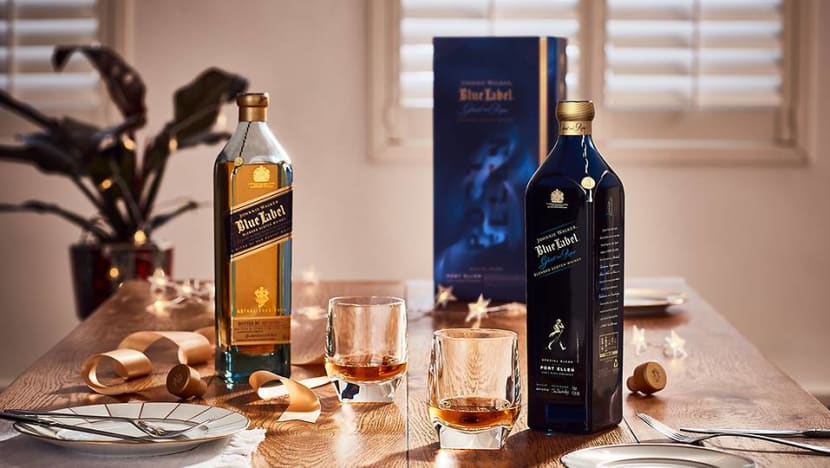 As far as Johnnie Walker blends go, this is one of the finest we have tasted. The gentle peatiness of the Port Ellen is wrapped in layers of vanilla, marmalade, ginger, and orange peel. Drink this neat if you can.
S$518. Available at 1855 The Bottle Shop 
The Littlemill 40 Year Old Celestial Edition, distilled in 1977 and bottled last year, is the oldest release to date from the shuttered distillery. Established in 1772 in Bowling near Glasgow, Littlemill was one of Scotland's oldest distilleries.
Unfortunately, a series of events fit for a Frank McCourt yarn led to its demise: The distillery changed hands several times in the late 19th and early 20th century, before bankruptcy led to its closure in 1994. Loch Lomond Distillery then took ownership. In 2004, a fire destroyed the building, reducing whatever history it once held to ashes.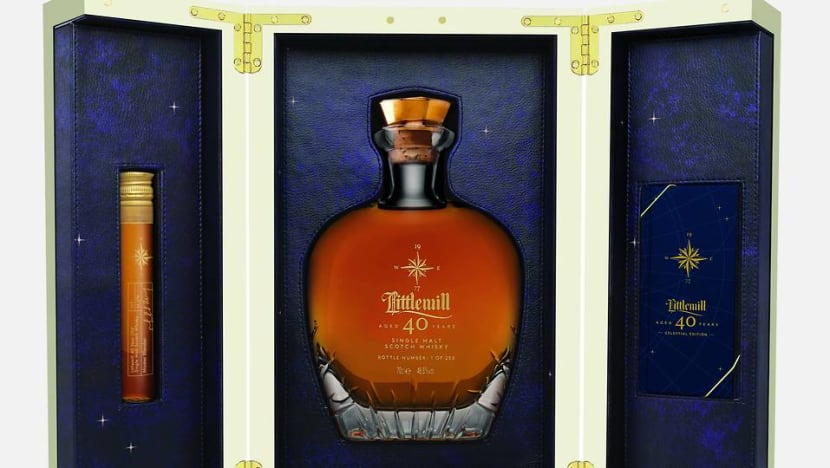 The 40 Year Old Celestial Edition pays homage to Duncan Thomas, a former owner who pioneered innovative distillation techniques that allowed the production of different spirit styles. Aged in American oak and first-fill bourbon barrels and finished in Oloroso sherry casks for three months, the dram offers a bouquet of honeysuckle and elderflower, and flavours of dried mangoes, raisins, and toffee. The whisky also comes with a 50ml sampler vial – should you prefer to try the precious liquid without opening the bottle.
S$9,000. Available at Quaich Bar
After Remy Martin followed up its launch of a six-litre Le Mathusalem for Louis XIII in 2017 with a nine-litre Le Salmanazar (its biggest ever decanter) in 2018, we were wagering that a behemoth 12-litre Balthazar was in the pipeline. Instead, Remy Martin broke the space-time continuum, presenting us with an unprecedented 350ml crystal decanter as its latest addition to its Louis XIII Black Pearl collection.
Known as the Black Pearl AHD – the initials are a tribute to Remy Martin's former chairman, Andre Heriard Dubreuil – the little steel-coloured decanter is no small feat of art. Crafted by crystal maker Baccarat, the vessel has a beautiful, silvery look, with the iconic dentelles now appearing more delicate in their scaled down form.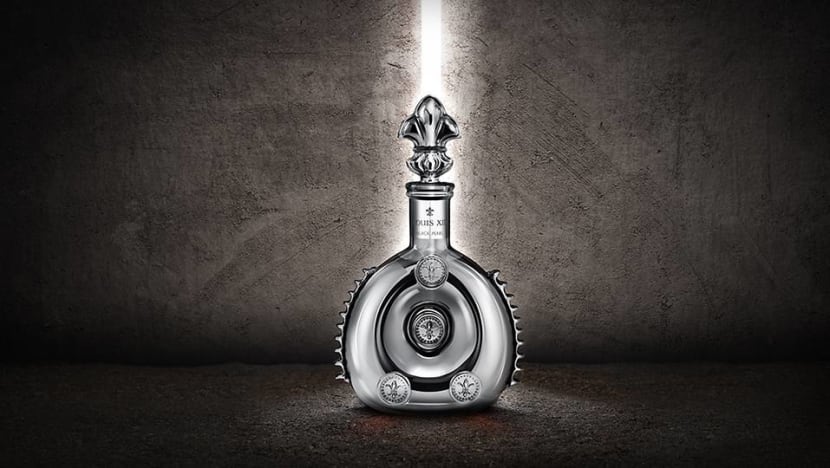 The decanter contains a rare blend drawn from a single tiercon or cask in Heriard Dubreuil's private cellar, making this a precious cognac. Taste-wise, expect notes of honey, dried roses, plum, honeysuckle, and figs, followed by a smooth finish.
A total of 1,498 Black Pearl AHD decanters are available worldwide. Caroline Sarrot-Lecarpentier, Louis XIII's global communication director, said that the Black Pearl AHD "is a rare limited edition, and remains highly sought-after since its first edition, which was launched in 2007".
And yes, we still believe a Balthazar is on the cards.
Price upon request. Email morgan.depremorel [at] louisxiii-cognac.com ()