Done with CNY visiting? Check out this bar inspired by Tanjong Pagar Railway Station
Adventurous cocktails and gratifying bites await at Rails, a newly-opened, steampunk-inspired bar in Tanjong Pagar.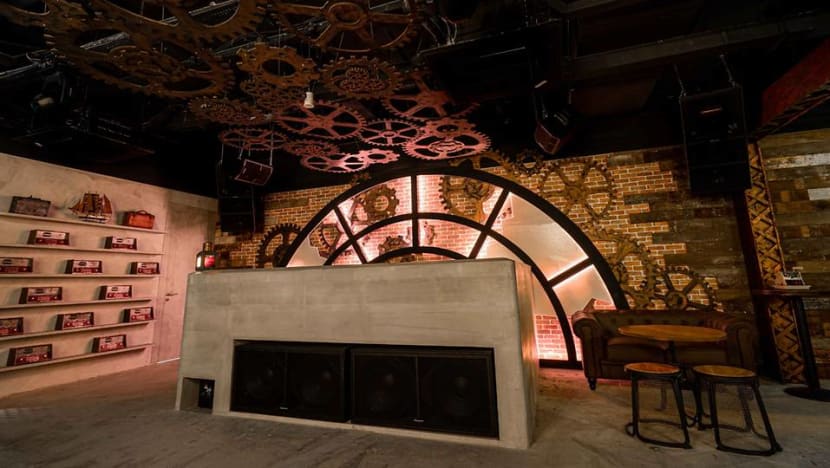 With COVID-19 restrictions in place, you'll probably have fewer relatives and friends to visit this Chinese New Year. If you're itching for some nightlife action this long weekend – like, oh, somewhere to take your date on Valentine's Day – there's a newly-opened, steampunk-inspired bar and lounge in Tanjong Pagar.
Rails is inspired by the now-closed Tanjong Pagar Railway Station and Jinrikisha Station, a historical landmark that once served as a central depot for rickshaws. It was originally conceived as a bar and dance club, but due to pandemic regulations, it has since opened its doors as a bar and lounge.
The bar is the third concept by A Phat Cat Collective, the folks behind arcade bars NINETEEN80 and Pinball Wizard. The bar is envisioned as a train platform with a steampunk twist, inspired by the adventures that travellers would embark on at the iconic Tanjong Pagar Railway Station.
The entrance is fashioned like a vintage elevator shuttered with steel scissor gates as a prelude to the journey ahead. Stepping inside, guests are instantly transported into a Victorian-era underground railway reminiscent of the iconic Platform 9 ¾ of the Harry Potter series, especially distinct with a concave tunnel wall that makes up the bar.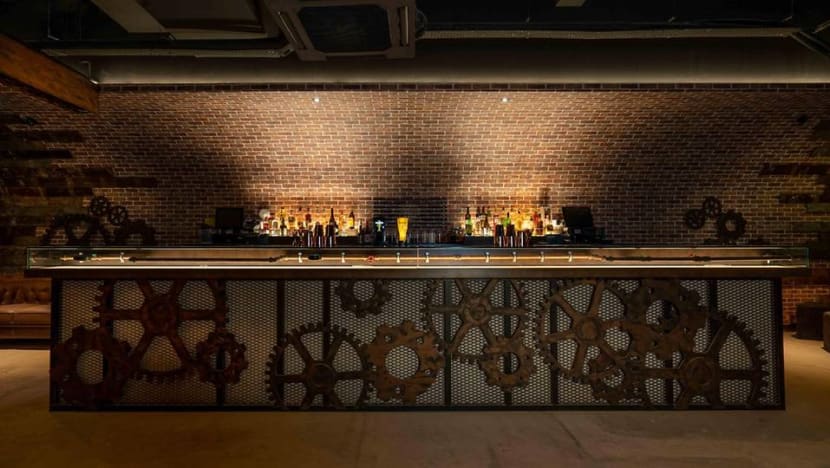 Accentuating the steampunk aesthetic are a deconstruction of gears and cogwheels, repurposed planks of kampung wood and distressed trussers, reminiscent of being under a carriageway bridge. 
Key fixtures include an LED installation of a steampunk clock tower that forms the backdrop to the DJ console; an elongated glass-panelled bar counter with exposed brass pipelines; as well as a wall of repurposed old books.
Dotted around the space, guests can find a treasured assortment of curious inventions and long-forgotten vintage artefacts. The space is furnished with a textured mix of leather, wood and metal to evoke a vintage industrial appeal.
On the menu is an array of adventurous cocktails, such as the Jinrikisha Spritzer (S$18), a medicinal take on the gin spritzer with a traditional rejuvenation of house-made honey-fermented lemon, preserved lime peel and coconut water.
The Clockwork Sago (S$16) is a nod to the nearby Sago Lane and a boozed iteration of the nostalgic Bubur Cha Cha, made with tequila, taro, pineapple juice and coconut water topped with sago pearls and peanut powder.
Inspired by the namesake book, Murder On The Orient Express (S$25) is a dark potion with an acquired, liquorice lace of absinthe, coffee liqueur, pear, pineapple and orange juice shaken with activated charcoal.

While you sip on cocktails, chow down on gratifying bites by Chix Hot Chicken. The menu includes the Soul Slider (S$8.90), which features tempura-battered boneless chicken thighs drenched in smoky paprika and mayo sauce and coriander slaw, The Pepperjack (S$9.90), topped with peppery Monterey Jack cheese with yuzu sauce, as well as an array of sandwiches, wraps and sides like chicken wings, tater tots and fried chicken bits.
For vegetarians, meat-free variants of hot sandwiches and select sides are also available with chicken fillet alternatives by Quorn, a gluten-free meat-substitute derived from mycoprotein.

Rails is located at 21 Tanjong Pagar Road, #01-02, Singapore 088444