Luxe and local: What's it like staying in Singapore's newest luxury hotel?
More than just a comfortable place to lay your head, The Clan Hotel, located in the CBD, brings the best of Singapore's unique culture together in its lush, cocooning walls, as Karen Tee finds out.
At the stroke of 6pm, my doorbell rings. Two smartly suited staff beam at me as they lay out my dinner. I catch a whiff of the fragrant, herbal notes of bak kut teh and my stomach growls approvingly.
At the newly opened The Clan Hotel at Far East Square – a 30-storey skyscraper was built above the heritage mall – room service is not just limited to your average hamburger and fries. Instead, don't miss the modern luxury hotel's The Clan Daily Special, which is available to those who book a Master Series room.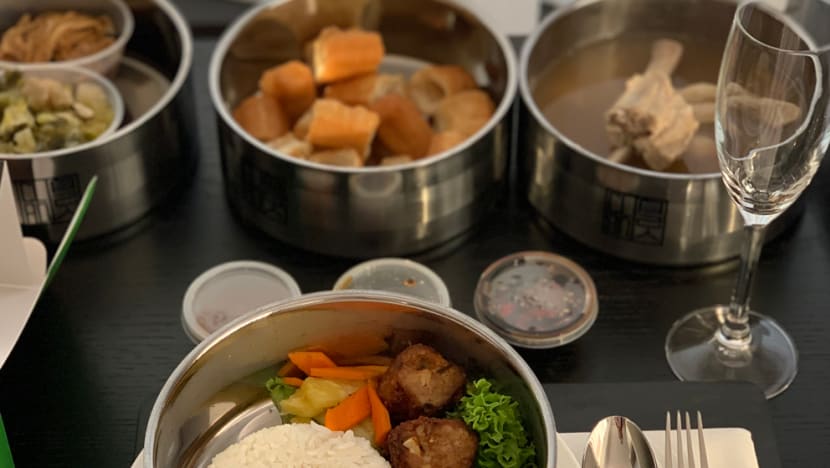 This menu, which will evolve over time, comprises a selection of beloved hawker favourites such as Ponggol Nasi Lemak, Legendary Bak Kut Teh and Janggut Laksa that was curated in partnership with Dr Leslie Tay of the blog ieatishootipost.
The dishes are ordered directly from these renowned hawkers located all around the island and delivered to your room in sleek stainless steel tiffin carriers. (Props for using eco-conscious containers!)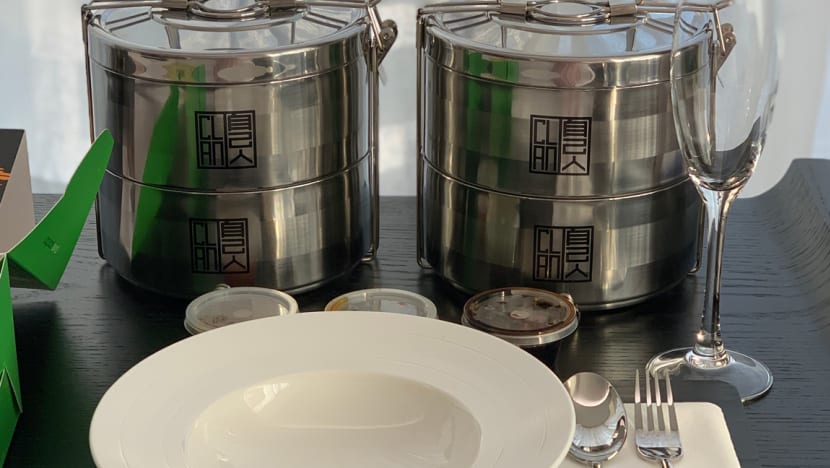 Not gonna lie, I was initially sceptical and thought it would be no different from a typical Deliveroo or Foodpanda order. But I was delighted that the food, still warm upon arrival, was nicely plated, instead of being haphazardly heaped in.
I devoured my meal while comfortably wrapped up in a fluffy white bathrobe, utterly savouring the treat of enjoying authentic local favourites without having to sweat it out in the heat. Certainly, room service hawker food is quite the luxury but it is a premium I would not begrudge myself while on a pampering staycation.
This ethos of incorporating authentic elements of Singapore's diverse culture permeates just about every aspect of this experience-driven hotel by Far East Hospitality.
"We are offering the whole experience of this precinct by telling the story of the history of Singapore and how that history is translated to modern times in the hotel, while unlocking wonderful hidden gems of this precinct including Amoy Street, Chinatown and Shenton Way," said Arthur Kiong, chief executive officer of Far East Hospitality Management.
It begins with an elegant Chinese-style welcome tea ceremony, where a tea master serves a custom blended Nanyang Ritual tie guan yin and osmanthus tea that pairs perfectly with tau sar piah (bean pastry).
The lobby, where the tea is served, is designed in soothing dark hues and wood panels and eclectically decorated with heritage curios like ceramic vessels, Chinese paintbrushes and even an old abacus. The air is subtly scented with a bespoke Scent by Six fragrance and mentally transports me to grand hotel lobbies like the ones in Bali or Bangkok.
Delightful surprises like artisanal crafted bak kut teh cookies and a gift of a relaxing lavender roll-on scent abound, especially for those who choose to stay in one of the 78 rooms under the aforementioned Master Series category.
The other 246 deluxe rooms are slightly smaller but are equally thoughtfully appointed, albeit sans frills. But after a year of travel restrictions, a pampering staycation where all your needs are thoughtfully anticipated might just be exactly what is needed to escape from the mundanities of daily life.
When the Clan Keeper (the hotel's concierge service) shows me around my light-filled Premier King Room, which is thoughtfully outfitted with an ultraviolet steriliser box and an eco-friendly water filter tap, she also presents me with my choice of a handcrafted scented soap bar. Other perks include the option to enjoy an all-day in-room breakfast as well as a complimentary one-hour local precinct tour.
To my surprise, the walking tour turned out to be quite a revelation, even for a devout city slicker who rarely ventures outside Singapore's central area such as myself.
As we take a leisurely stroll around Amoy Street and Chinatown, our Clan Keeper regales us with interesting trivia like how the shore used to come right up to Telok Ayer Street and that everything south of the street is reclaimed land.
Instead of bustling through the CBD like I normally do, I savour the opportunity to slow down and really enjoy the city's delights, like Yip Yew Chong's marvellously intricate Cantonese Opera mural.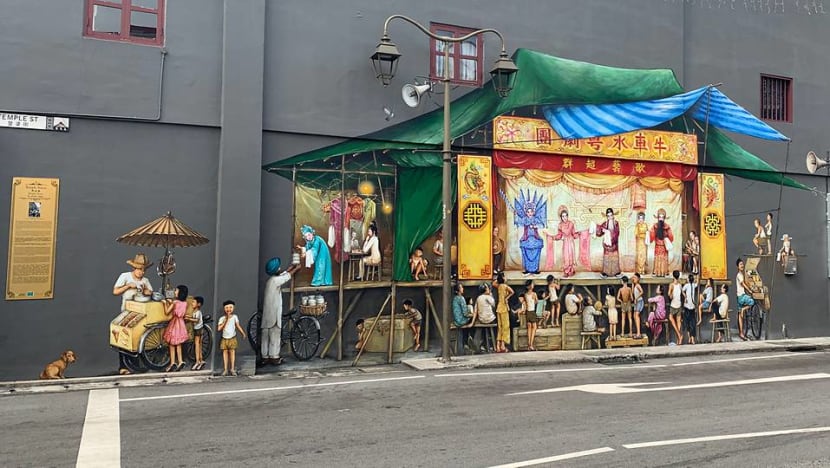 These are the kinds of explorations that Kiong, who was personally involved in conceptualising the brand, hopes to share with the hotel's guests, especially staycationers.
In time, when travel restrictions are lifted, he believes that the incorporation of such Singaporean touches will also appeal to business travellers who may wish to enjoy quality experiences within a tight schedule.
To achieve that, the hotel's team has also taken time to curate The Clan Collective, a network of local craftsmen, artists and influential figures who contributed to touchpoints in the hotel such as creating the lobby artwork and producing its locally brewed craft beer, The Orient Brew.
During my stay, as I am a Master Series guest, the Clan Keeper also assists me in making an appointment for a private session with Chong Han San, creative director of Q Menswear (they also do women's tailoring).
It turns out that Chong designed the full range of stylish uniforms for The Clan Hotel, which I had been admiring, so it is a no brainer for me to order a bespoke floral Liberty print shirt as a memento of my stay. He tells me he won't stint on quality by offering express overnight tailoring services but when foreign customers visit in the future, the atelier will be able to arrange for a first fitting within a few days. When the garment is completed a few weeks later, it can then be couriered anywhere in the world.
Back in the comforting cocoon of the hotel, I settle in for a meal at Qin, the latest TungLok Group concept. Echoing the hotel's luxe local concept, the restaurant offers contemporary cuisine inspired by a melting pot of Asian cultures.
Highlights include a punchy binchotan-grilled Margaret River short rib with sambal matah and satay sauce, which reminds me of Indonesian food as well as decadent "red leg" prawn sang mien noodles.
I'm glad that there is also a state-of-the-art gym and sky pool located on the 30th floor for me to work off this staycation's calorific indulgences.
As I peer out at the sprawling cityscape from the edge of the pool, I pick out the landmarks that we walked by earlier in the day, like the historic Thian Hock Keng and Sri Mariamman temples, that juxtapose so remarkably with modern wonders like the impressive Pinnacle@Duxton, the world's tallest public residential building.
I have of course long known that we are lucky to live in a city that is essentially an architectural masterpiece, but today, this appreciation really sinks in as I take in the view.
That night, as I slide in between the crisply cool bed linens and sink into the plush feather pillows, my last thought before I drift off to dreamland is, "I am so glad I took the time to rediscover a place that I thought I already knew so well."
The writer was a guest of The Clan Hotel