Fighting to Overcome Stage Four Cancer
To face fears and live life as normal, involves a mental and physical battle that both family and cancer survivor journey together.
"I ran away to a gym and did a yoga class… I was crying. I mean, it seems like the world is still moving on, but my own is going to tumble down" recalls Nancy Tsang of the day her life changed.
It was March 2014, about a month shy of her 60th birthday.
Although she had recovered fully from a bout of diarrhoea a few months ago, Nancy felt something was still amiss. On her doctor's advice, Nancy went for a colonoscopy.
It revealed the devastating truth.
"There's a tumour in my colon. And judging from the size, my doctor suspected that the cancer may have spread…" recounts Nancy, who was immediately sent by the specialist to undergo a CT scan.
The results, the cancer in the colon had spread to the liver.
"Once your cancer has moved to other organs, it's regarded as stage four. And that means it's quite dangerous. So, I was really, very shocked… I feared my life is going to end soon".
Life Goes on
Having led an active and healthy lifestyle which included regular gym sessions at least three times a week, Nancy's immediate reaction was to shut out those who cared and were worried about her. "I need a moment on my own" she told her son, passing on the call from her concerned sister in Hong Kong as she ran off to the gym.
Embracing the exercise rhythm helped Nancy clear her mind and face reality.
"The world goes on, life goes on, so why shouldn't I?" she reasoned.
With that outlook, Nancy took on the battle to overcome her cancer. This involved surgery to remove the tumour in her colon, followed by chemotherapy, which led to minor surgery to place a chemo port. The implant under the skin of Nancy's upper left chest reduces the many needle pricks to veins that continuous chemotherapy requires, helping to ease the discomfort of patients.
A Series of Battles
After cancer removal surgery on her colon, and more than two years of chemotherapy which she chose to discontinue due to the side-effects, oncologists treating Nancy had to pursue other means to remedy the cancer that had spread to her lungs.
That meant another round of surgery in 2017, although there are other options for treating cancer, including chemotherapy, targeted therapy and radiation therapy.
"It's only when you have cancer, you realise, you don't really win it like one battle. It is a series of battles because the cancer (does) move to other parts".
"I find I've become the bionic woman," she says laughing heartily. "Because I've had operations on my colon, on my liver and on my lungs… I don't know whether I still have parts to be cut."
Nancy has clearly had the works, and more than once. But she remains unfazed.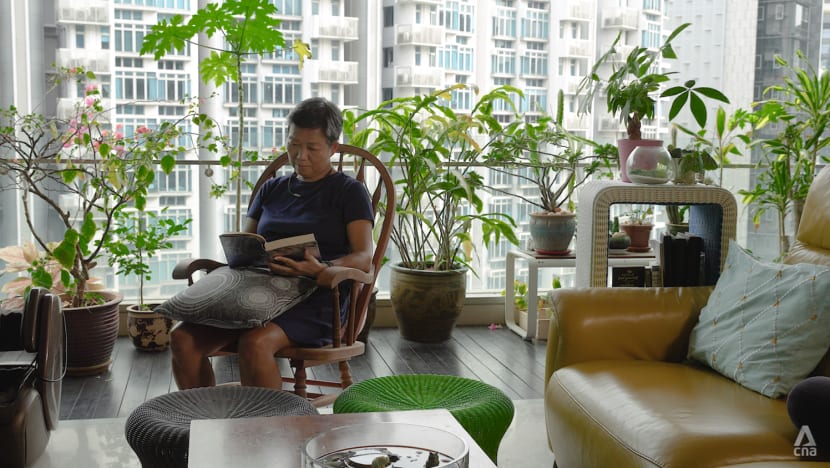 Happiness is …
Nancy has now found a routine to live as normally as she can, playing golf twice-weekly, travelling abroad and meeting friends for lunch, that may sometimes include a good steak, which she enjoys.
"It's only when you go through the difficulty… you realise that happiness is just having a lunch with your kids, with your friends…"
Nancy's cancer has also served as an eye-opener and a source of inspiration for her only son, Hadrian.
"Seeing my mother kind of, fight for her life and try to figure out how to live on, made me realise… In the worst-case scenario, people still try to make the best that they can. And if a cancer patient can do that, then why can't all of us, right?" he says emphatically.
The 33-year-old was primed for a career-advancing overseas posting when Nancy was first diagnosed with cancer. He turned down the posting and made a career change as well.
"When my mother was pretty ill, when she couldn't sleep, we ended up watching a lot more television" he recalls. "When she felt better, we used to go for walks, sometimes we'd play a bit of sports."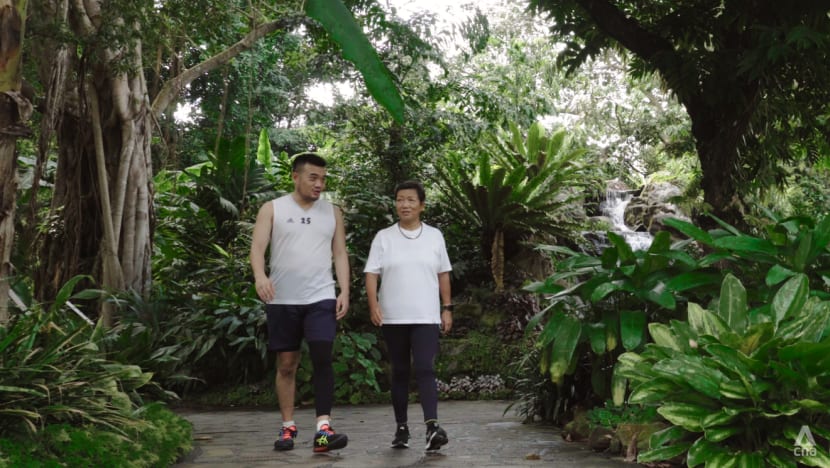 But it's not just about spending more time together, as Hadrian explains.
"For your physical health to recover, you also need to be in a good place mentally. When my mother was in a good mood… Then she could also fight harder…"
Knowing that she was not alone, did help Nancy in her effort to live with cancer.
"There are times when you are in pain and you are fighting through the medicine's side effects, you really hate the whole process" says Nancy as she fights back tears with a brave smile.
"But with people coming to you, calling you, showing their love… You find strength."
Embracing a fearless attitude, Nancy Tsang finds strength to battle stage four cancer.
A Holistic Recovery Path
Nancy has had a quarter of her lungs removed but still, every morning finds her at the Singapore Botanic Gardens, working out to boost her energy and lung functions.
"I walk, I do some exercise and I really feel good about it."
In August 2020, Nancy had another operation to remove cancer spots in the liver and bile duct. Since then, her cancer has been in remission.
It's been tumultuous for the 68-year-old who lost her much-loved husband, survived a traumatising traffic accident and battled cancer, all within the same span of time.
"Cancer is like a warning..." she muses.
"I mean, there's no need to worry so much, because things will just come when it is time, and no matter what you do… they cannot be changed" she chuckles.
"So, all the more I should be happy and really… live my life".
Nancy admits that it's "very horrible to have stage four cancer". And her never-give-up attitude that she hopes will serve as an inspiration to others, comes from the most important lesson she's learnt. It is, "not to be afraid".
Produced in partnership with Parkway Cancer Centre.