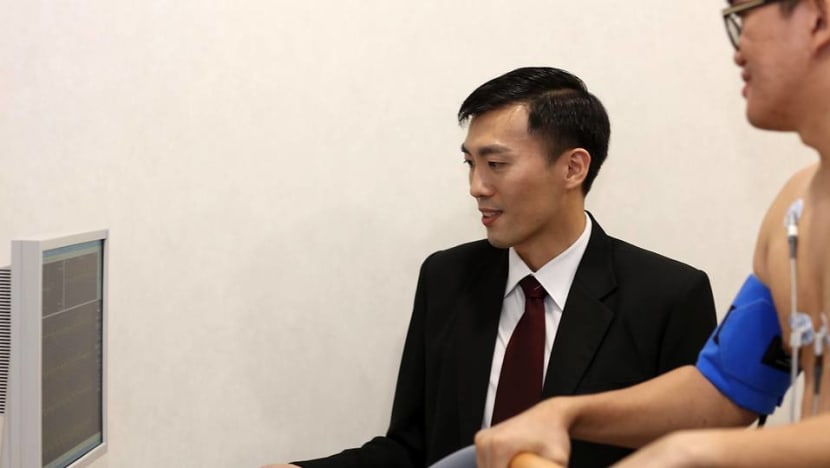 When Taiwanese-Canadian actor Godfrey Gao collapsed and died at the age of 35 while filming a competitive sport segment, the news sent shockwaves at the unexpected death. 
It also cast the spotlight on the cause of death, one that's rears its head time and again among young and athletic individuals, from professional Italian football Captain Davide Astori who was found dead in his hotel room in March 2018, to a 22-year old Singaporean university student who was a seasoned marathon runner.
Known as Sudden Cardiac Death (SCD), it's an area of special clinical interest for cardiologist Dr. Jeremy Chow of the Asian Heart & Vascular Centre (AHVC).
"Heart disease and its mortality is the second most prevalent cause of death in Singapore, after cancer" points out Dr Chow, a cardiologist who's been practising for almost a decade.

The Heart of the Matter in SCD
SCD is defined by Dr Chow as "unexpected death due to cardiac causes that occurs in a short time period (generally within 1 hour of symptom onset) in a person with known or unknown cardiac disease."
Worldwide, SCD accounts for 25 per cent of 17 million heart-related deaths each year.

In Singapore, up to 1,000 Singaporeans die from SCD every year, based on a 2003 study by the National Heart Centre Singapore and the Health Sciences Authority.
According to Dr Chow, whose clinical interests include sudden cardiac death prevention, SCD is generally caused by structural heart diseases. 
One that commonly afflicts athletes and weekend warriors says Dr Chow, is hypertrophic cardiomyopathy, "a genetic disease in which the heart muscle (myocardium) becomes abnormally thick (hypertrophied)." 
With the heart being less able to pump blood effectively, there are arrythmias (irregular heartbeats) that could eventually result in cardiac arrest.
Apart from arrhythmic death syndrome, Dr Chow lists aortic valve stenosis as another possible cause of Sudden Cardiac Death.
An aortic valve stenosis is a common but serious heart valve problem. 
When there is a narrowing of the heart's aortic valve opening, the flow of blood is restricted from the left ventricle to the aorta, the main artery that delivers oxygenated blood to the body.
The problem with aortic valve stenosis is that it shows no symptoms. 
Most people remain unaware of their condition until the restricted blood flow becomes significantly reduced. This causes a variety of tell-tale signs ranging from breathlessness to heart palpitations, fainting, chest pain or tightness or a reduced ability to carry out normal activities that involve mild exertion, such as climbing a staircase.
Screen Savers

While SCD may seem like an unexpected, lethal episode, a person without any cardiac concerns shouldn't dismiss having an ECG (electrocardiogram) during a regular health screening.
 "A normal 12 lead ECG during routine screening will exclude silent myocardial infarction (heart attack) and abnormal conduction intervals," points out Dr Chow.
And while many today rely on wearable health devices to check on their heart, the cardiologist and cardio electrophysiologist makes clear that general users cannot use such devices to prevent or detect SCD.
"Currently no wearable tech has the ability, or have been validated, to be able to prevent SCD" warns Dr Chow.
Watching Your Heart

Smart-watches or wearable health devices is a multi-billion dollar industry which analysts predict will reach some US$27 to US$87 billion worldwide in less than a decade. 

Most devices now offer a heart-rate monitor. So what should a person do if extremely high heart rates or fluctuations are noticed?

"Asymptomatic patients should use different wearable devices to re-verify" is the expert advice of the cardiologist.
 
"Symptomatic patients should see a cardiologist to do a 24-hour Holter evaluation."
Based on the results of the Holter, a portable ECG monitoring device, treatments for irregular heart rates may vary.

"Depending on the diagnosis, most will require medical intervention. If medication fails, then ablation may be an option" says Dr. Chow. 

Take Heart of Your Heart

Whether male or female, if you plan to start on a new exercise routine or competitive sport, think about your heart.

"A normal ECG will reinforce that the athlete is fit to participate in competitive sport."
However, if there are any abnormal patterns or intervals, then further risk stratification is necessary," says Dr. Chow who further points out, "in Europe, especially Italy, it is mandatory for athletes to do a pre-participation ECG. In their series, it was deemed cost effective."

"ECG is an inexpensive test and can be done in primary health care as well as in a specialist clinic," adds Dr Chow.
So apart from getting the right gear and gym membership for your next fitness routine, get a pre-participation evaluation as well.
Produced in partnership with the Asian Heart & Vascular Centre