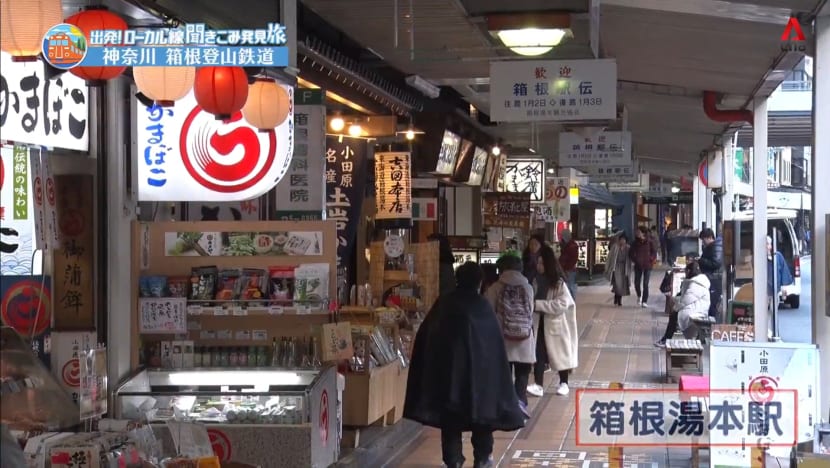 Join us as we embark on a two-day train trip along the Hakone Tozan Line in Kanagawa Prefecture. It connects Odawara City to the town of Hakone. It is one of the few mountain railways in Japan which offers a spectacular view of the Hakone mountains. We will travel from Odawara Station to Gora Station, after which we plan to switch to a cable car and head to the terminal of Sounzan Station. From Odawara Station, we catch the 10.05am train to our first stop, Hakone-Yumoto Station. The ride takes about 15 minutes and we decide to take the 12.50pm train later.
We drop by a store which sells Hakone no Otsukisama, a hot spring manju. The owner suggests we try Yubadon, which is available at Yuba Naokichi. Before heading there, we buy the store's speciality manju. It has a sweet bean paste inside and the skin is made with brown sugar. Another local recommends we try the buckwheat noodles at Hatsuhana. We first walk to Naokichi but it is closed due to a regular holiday. We try our luck at Hatsuhana, but it is full. We ask another resident and she tells us about Akatsukitei, known for its handmade noodles. She also mentions a waterfall called Tamadare. 
Akatsukitei will only open about half an hour later at 11.30am, so we decide to visit the Tamadare waterfall. It is about 8m tall and 11m wide. The water resembles white rain lilies as it flows down. Famous poet Yosano Akiko used to love drinking water from this waterfall and she even wrote a poem about it. 
We then go to Akatsukitei, which has been in business for nearly 30 years. We order the two-coloured set meal with yuzu, which comes in a two-tiered food box. The top tier has yuzu buckwheat noodles, with regular noodles below.  
We have missed our train at 12.50pm so we take the next one at 1.10pm and head to Tonosawa, the neighbouring station. It takes us less than five minutes from Hakone-Yumoto Station. At Tonosawa, we find out about a hotel called Kansuiro where famous politician Ito Hirobumi stayed and another one named Fukuzumirou, which was visited by well-known businessman Momosuke Fukuzawa. 
We walk around, admiring the beautiful valley and maple leaves, before going to Tonosawa Ichinoyu. Opened in 1630, this hotel has a day-use hot spring in its new building, with water flowing directly from the source. 
We still have time until our 2.55pm train so we start asking the locals about lodging. One of them tells us there are some nice inns near Miyanoshita Station, two stops away. We get to experience a switchback before that, where the train zigzags up a steep slope, changing direction as it climbs. It is a popular attraction of the Hakone Tozan Line and draws many railway enthusiasts. We reach Miyanoshita Station at 3.25pm.
We drop by a cafe, which has a gallery, a souvenir shop and a footbath too. We make enquiries about places to stay and are told about Manatei, known for its indoor bath with a great view. We take a public bus and after a five-minute ride along a mountain road, alight at a bus stop near the inn. Opened nearly 10 years ago, it has three private hot spring baths and our room has its own bath attached to it. 
Dinner features luxurious and healthy dishes. They include sea bream shabu-shabu, hoba miso-flavoured grilled organic vegetables such as shiitake mushrooms, and roast Ashitaka beef from Shizuoka Prefecture and king trumpet mushrooms served with a Japanese pepper sauce. 

Tips:
1)    Hakone Tozan Line is known for offering spectacular mountain views
2)    The Tamadare waterfall is closely associated with poet Yosano Akiko