Scared of stinky cheese? This Singaporean cheesemonger wants to change your mind
The Cheese Ark's Ai Ming Syu left a high-flying corporate job in favour of something that was "real" – artisanal cheese.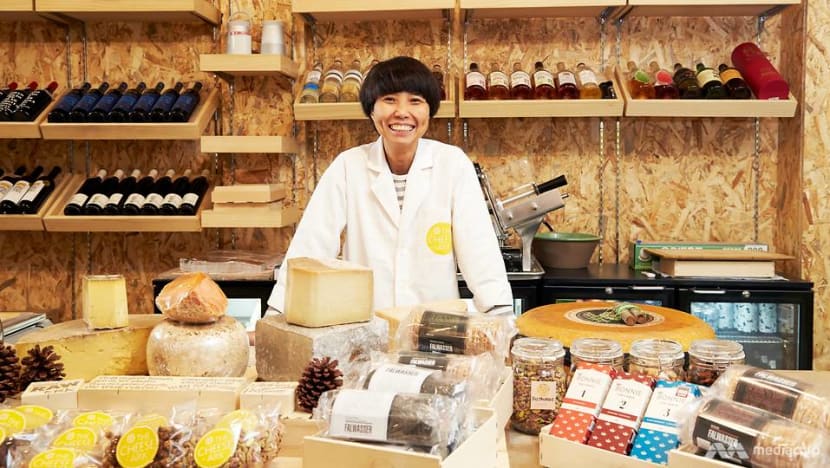 Follow our CNA LIFESTYLE page on Facebook for more dining stories and videos
SINGAPORE: "People who don't like cheese have said that it just tastes like salty vomit," says Ai Ming Syu, while cutting into a buttery slab of golden Gruyere.
"Which, if I separate myself from what I do for a living, is true – as a flavour, that's a very accurate description."
We are in the half-built belly of The Cheese Ark, where a workman is still polishing away at an unfinished surface and a giant plastic sheet covers the space that will soon house cheese ageing rooms; yet she generously insists on feeding us and pouring us a glass of wine.
The specialty cheese shop moved out of its PasarBella location at The Grandstand in February and is gearing up to open at Stirling Road, in a space that's nearly two and a half times larger, on the ground floor of Singapore's oldest block of HDB flats.
Ms Syu can lay claim to a title virtually unheard of in Singapore: She's a cheesemonger. The Cheese Ark's resident Noah is a small woman who wears a signature short, blunt haircut. Her clothes are tastefully chosen but she doesn't wear a scrap of makeup; nor do any rings adorn her fingers. As she unwraps each cheese lovingly and arranges its slices on a slate board, her initial businesslike manner yields to quiet confidence.
Mid-chat, she excuses herself to check her phone, explaining that she is expecting a delivery. "The plane arrived late," she reports, adding that the cheese should be here in two hours. One resists the urge to ask if the wheels will be rolling into the Ark two by two.
GETTING SINGAPOREANS CHEESED OFF
Although Ms Syu's shop is known amongst the cognoscenti, cheesemongering is no easy task here in Singapore.
The most difficult cheese for Singaporeans is goat's cheese, she says, which is "a real uphill task" to sell – people are thrown off by the gaminess. Blue cheese is a close second because "many people are frightened by the way it looks". Next come washed-rind cheeses, which are "notoriously fragrant – you smell them way before you see them".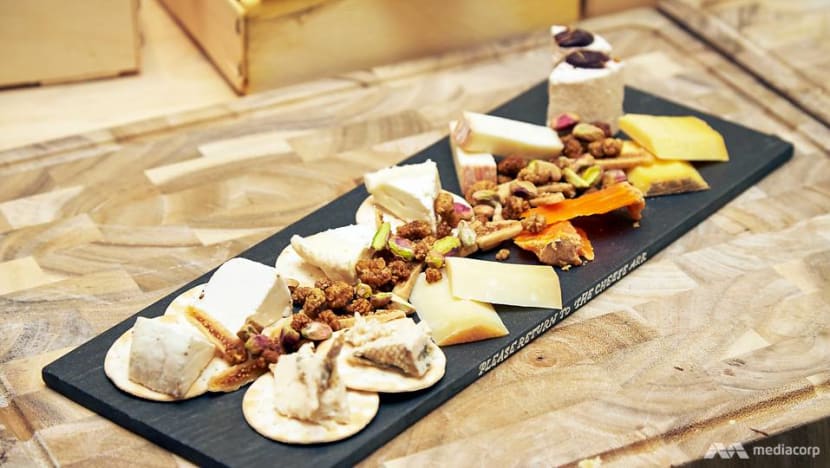 How does she try to change people's perceptions? When it comes to goat's cheese, she says, "I think people often have their experience ruined by just one experience. It doesn't have to be a really bad one; just one that's gone off. I think the way to change that is to get people to keep trying all the different flavours that exist in the world of goat's cheese."
And with blue and washed-rind varieties, the key to gaining acceptance is to balance out the cheeses' savoury flavours with well thought out pairings such as jams, fruit, honey or sweet wines.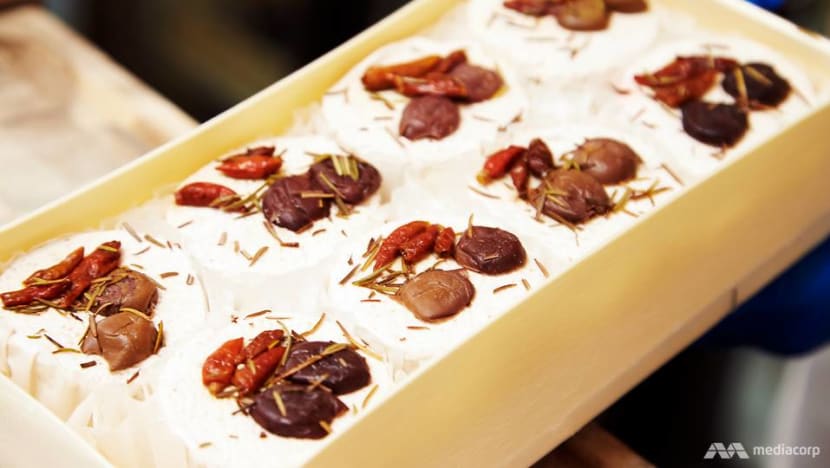 Ms Syu's dedication to cheese evangelism is even more touching when you find out that she left a successful corporate job in advertising to become a cheesemonger. But why has she chosen to spend her days holding out her hands to a stiff-necked people who think that cheese tastes like salty vomit?
FROM DAILY GRIND TO DAIRY GRIND
As it turns out, she didn't choose the cheese life – the cheese life chose her. "I cannot explain it. I still don't have a good enough answer that doesn't make it sound like fate or kismet," she mused.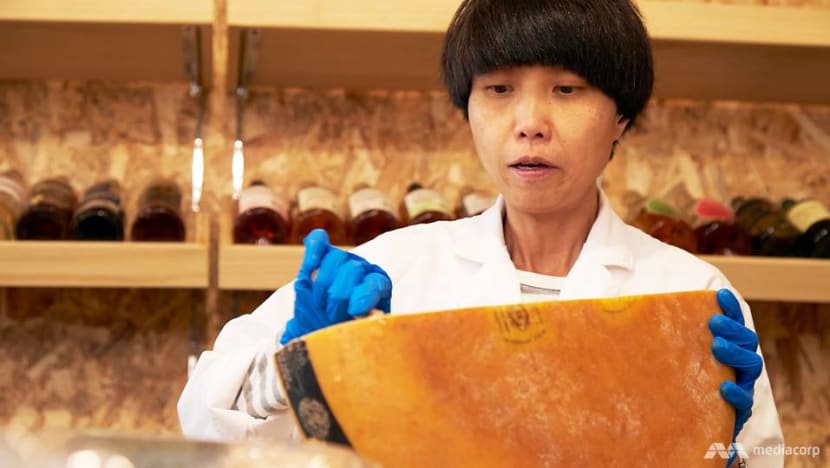 Wanting to broaden her range of experiences, Ms Syu left the high-flying job she loved because "I didn't want to be in a position where I would not have any other life experiences to speak of. So I sat down and made a list of everything that was different from my job. Primarily, I needed to use my brain, so I thought, 'I want to work with my hands.' And I wanted a hard day's graft, and to feel that. I also wrote that I wanted to be out in the open, in nature. I wanted to be involved in something that was real – absolutely real. No marketing, no veneer, no packaging – nothing.
"With that shortlist, I ended up working on cheese farms," she said. She chose small, family-run farms in Siena, Italy, where production was guided entirely by the weather and the animals instead of by industrial demand, and she did chores like taking the cows out to pasture, shovelling manure and, of course, learning to make cheese. "What also guided me was that nobody makes food the old way anymore. The produce that came out of this way of working was incredible. I was completely blown away," she said.
It was so good that "I felt really sad that nobody else but me had that experience." This thought affected her so much that she actually considered "handing out cheese for no reason, coming across like a crazy person".
Why was this impulse so strong? "Because it's real. Because it's true," she said. "Coming from the background that I had, what was even more amazing was that it didn't need any fancy marketing. All you had to do was taste it."
SEIZE THE CHEESE – BEFORE IT DIES OUT
And so, even though she wasn't intending to start a business, she eventually opened The Cheese Ark in 2013, because "I think this is the closest that I can stay connected to the nature that I love whilst being in Singapore."
She works with about 20 artisanal cheese farms in Italy, Holland, Sweden and Switzerland, many of which are tiny, husband-and-wife run operations. The farmers are her personal friends and she makes visits to them once or twice a year. "I have plenty of respect for the people who do this because it's not financially rewarding and there's a lot of uncertainty because you are dependent on what nature allows you to do. Yet, they press on," she said. "Once these people are gone, no one's going to do this job any more. That's why we are called The Cheese Ark – at the moment, we're just gathering as much of these as possible before they disappear."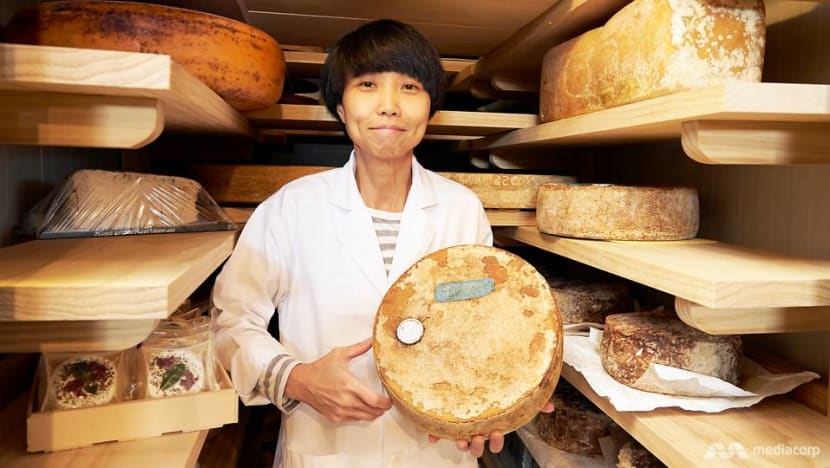 But while the Ark may be a desperate attempt at conservation, perhaps its business can also help to pilot a new future for cheese by breeding awareness, if not appreciation.
Here in Singapore, "we were never put in a position to consider the growing of agriculture; the pastoral side of food. Without that understanding, it's very difficult to appreciate the role that nature plays in the quality of food. I think the more conversations we have around that, rather than around recipes, restaurant reviews and new and wonderful things like finger limes, the more we will raise our individual expectations of what food ought to be. At the end of it, I think there's only something to gain and nothing to lose," Ms Syu said.
"When I stand before my cheeses, I know, even though I don't see green grass or animals, that it's just a different form of nature. It's an evolution of everything that was natural, converted into something else. I don't have to make anything up – it's real. I just tell you about the makers and the farms and the cheese, and that's it. I don't have to do anything to sell it better – I can't. In that sense, it's the easiest job in the world. It's the truest job I've ever had."
The Cheese Ark is now open at 49 Stirling Road #01-489.