Shabir is Singapore's latest prized export – and he's taking India by storm
The Tamil film industry is more than ready for the Singaporean musician and actor but, as CNA Lifestyle found out, his heart is with his country – and the music that saved him.
If bursting onto the Kollywood scene and taking it by storm seems all in a day's work, that's only because homegrown musician and actor Shabir makes it look so easy.
Poised to ride the wave of global Tamil cinema success, the 33-year-old Singaporean has composed the scores for not one but four Kollywood films – one of which has yielded a hit song that has already gone viral. Yaayum, from the thriller Sagaa, set for release this year, has garnered nearly 19 million views on YouTube, causing the Indian media to hail his debut as a music director.
But his talents don't lie solely in music: Shabir is also set to make his Kollywood acting debut. This month, he will embark on filming in Chennai for acclaimed director G N R Kumaravelan's latest movie, an as-yet-unnamed psychological thriller that will debut early next year.
Besides having snagged the lead role, Shabir will also be scoring his own film.
His other film scoring projects to be released this year include Dhilluku Dhuddu 2 starring popular actor and comedian Santhanam; and Neeya 2 starring Jai, Catherine Tresa, Raai Laxmi and Varalaxmi Sarathkumar. He also scored last year's Sangu Chakkaram.
"On the airwaves, when A R Rahman's song is playing, and then Shabir's song plays next – do you know what kind of pleasure and joy that is?" he told CNA Lifestyle. "But, it also puts me on my toes. I need to get better.
"It also makes me want to come back to Singapore and improve the quality of work I do here."
FROM SINGAPORE TO THE WORLD
The stars have aligned for Shabir – but success, of course, never does come easy. Despite being a trailblazer in the local Tamil music scene, a Singapore Youth Award and Asian Television Award winner, and an established face in Mediacorp TV Vasantham and Channel 5, the Vasantham Star 2005 champion had to start from scratch when he moved to Kollywood capital Chennai two years ago.
"When you take all that and go to India, they're like, 'So, what? You've still got to start from zero here,'" he chuckled. "I had to get used to invisibility. If you have any ego in you, that's a nice exercise. It makes you hungrier, I think. I always like being a student. If things get a little complex and evolved, I like to erase everything and go back to zero. It gives me a lot of ideas and inspiration."
Relocating to India was nothing less than a leap of faith for the father of two girls aged nine and 10. "It's scary. It's a big place with a lot of people, teeming with young musicians who are hungry for opportunities," he said. "I've heard horror stories about my Singaporean contemporaries and predecessors going to India and being treated like trash. And there is this mental block about how we come from a very small country."
But the belief that music has no borders motivates him. "When you keep hearing, 'You can't do it. There are one billion people in India. You're not talented enough' – you get pissed off at some point. You tell yourself, 'I'm going to go in there and do it.' I think I've got a job here to do, which is to break this psychological barrier. Music is plural, democratic and open. If you can do something for the scene, people are going to love you."
As if to prove a point, during the photo shoot, he put on some of his favourite songs by Tinariwen, a band he explained were from the deserts of Mali. He also handed out chocolates his daughter had instructed him to share.
As an artist who combines culturally diverse instruments in his compositions but chooses to express himself in Tamil, it was necessary to expand beyond Singapore.
Even as an English-language actor, "When the colour of your skin is brown, you're always that token Indian in a drama. There's no malice intended – it's just the flow of things. And when you understand the nature of how that works, you've got two choices: Either sit here and brood and say, 'They're all like that' – or go out there and make a change."
Because he chose the second option, he gave up the "nice, comfortable" opportunity to play a major role in the Channel 5 drama Tanglin in favour of moving to Chennai to "eat dirt and struggle". After all, having the odds stacked against him has never intimidated him.
"Here's the fact: If someone gets into the finals of a singing competition in China, Indonesia or Malaysia, the population here is going to feed on that news immediately. But we don't have the mass numbers that are going to feed on something Shabir has done and make it headline news," he said. "If J J Lin is doing something, I have to do 10 things to get some kind of recognition from the mainstream press."
If there isn't a larger segment of the population that recognises him, he said, "It's my fault. I did not do enough to make your head turn."
He mused, "If it needs Shabir to go into Kollywood and really smash the roof open and become a really big name – like what Aaron Aziz is doing in Malaysia – then I will do it. I like a challenge.
"If it's going to be easy, it's not interesting, lah."
HEALED BY MUSIC
Once you learn about his background, you'll understand how it is that Shabir, who was born Shabir Tabare Alam, talks with such audacity.
"I come from nothing… My dad left when I was four," he recounted. His mother was left to raise three boys. Things weren't easy for the family. Shabir still regrets hurting his mum at the age of seven by rejecting a pair of sunglasses she had saved for three months to buy – simply because they didn't look like the ones he had admired on the lead actor in a Tamil film.
At one point, the family moved from one relative's house to another. "That takes a toll on your confidence as a child because you don't have a home. Like a wild plant, you just grow on your own," he said. "There was no one to lean on for any kind of support; no one to talk to.
"Most people want to go back to their childhood. I don't. I hated every single day of it."
Bullied and ostracised, he decided that things would change once he entered secondary school. "I asked myself, 'Am I going to get eaten, or am I going to eat?' So, I started getting into brawls. I was always outside the principal's office; always getting public canings. More than wanting to be a gangster, it was about my anger issues. It was a way to fight that complex that builds over the years because people put you down so much and make you feel insignificant." At the same time, "kids who wanted to study but were disturbed by thugs in school would come to ask me for help."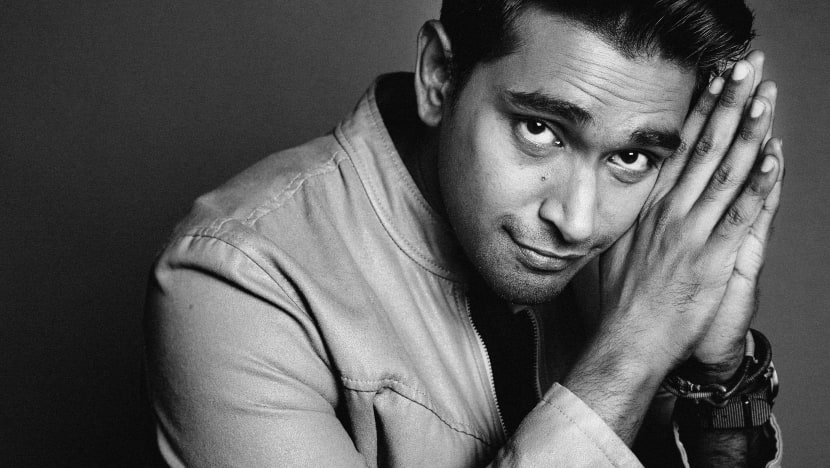 The violence might have continued, but the turning point came when he became involved in a war between rival gangs. "I decided that this was not what I wanted because I was going to end up in prison if I went on," he said.
"Brawling was the only thing I was proud of at that point. Later, I realised that the feeling that I got out of brawling, which made me feel good and confident and full, could be obtained in many other more meaningful ways, like reading books and writing music."
Although he wrote his first song at the age of 12, it wasn't until he was 16 that he formed a band with his brother and friends. He was the keyboardist and backup singer.
Meanwhile, in order not to ask his mum for money, he took on an array of odd jobs – everything from moving furniture, delivering newspapers, selling hair clips, scrubbing dishes and cleaning toilets, to washing airplanes.
"They use a special acid to wash the planes, and you're supposed to suit up," he recalled. "They said, 'Sorry, we don't have suits for you. Will you still do it?' We said, 'Okay, but how much will you pay us?' Your skin starts peeling all over the next day. But we did it, because if you do any other normal job, it's S$40 a day. For S$85, I don't care if my skin peels or my teeth fall out – I'm going to do it… I wanted to buy a keyboard."
In 2005, the Vasantham Star reality singing competition show came along. On account of his having the best looks, his fellow band members urged him to participate for the sole aim of gaining exposure for the band. He clinched the championship, which led to a full-time career opportunity in music and television.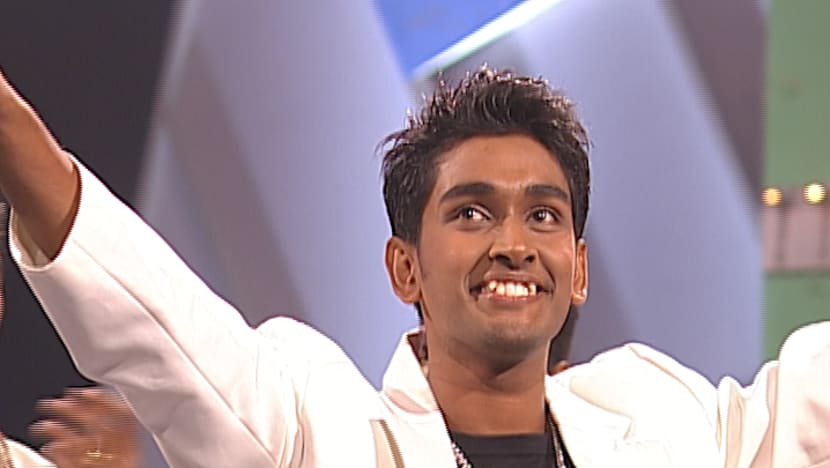 "I'm very grateful for that beginning. Even today, I work a lot with Vasantham, writing songs for them," he said. "Whatever I learn in India, I hope to bring it back here and improve the scene here."
GIVING BACK
It's always been his mission to help others, especially youths from backgrounds similar to his own, to realise the power of creating. "I believe that doing some kind of good is the rent you pay for your existence on this planet. And because I'm going on to achieve my dreams, I need to help at least 100 people achieve theirs, in even the tiniest way possible. It's something I've been doing for eight years now in any capacity that I can," he said.
For instance, his music school, the Shabir Music Academy, gives free lessons to children from low-income groups. He's created a programme of Tamil songwriting workshops for secondary students called Edhugai, as well as a programme for at-risk youth called Sinda Game Music. And in India, he also makes contributions to an organisation for needy children.
"I see so many children who need help," he said. "If we are too consumed with enjoying our own success – well, that may work for some people, but it doesn't work for me. I think I'd be a very miserable person if I didn't give back."
Even while success is treating him well, he's aware that Kollywood is still a high-stakes ballgame – and it's his home and family that fuels him.
"It's difficult when you're in another country, you don't have emotional support, you miss the food because you're so Singaporean and you miss your family. But I don't want to make it sound like a big deal. Whenever I feel a gap, I come back to Singapore to see my girls and my mum, and spend time with my family. This is the place I grew up in. It's my refuel. Then, I go back there and continue.
"There are no harnesses; the ropes have been cut; there's no backup plan," said Shabir of his Kollywood ambitions. "No one's going to write you a check for the next month if you're broke. So, you're in a different mode altogether.
"But the struggle is also that if you are in such a place, then you might end up just trying to survive. I don't want to survive. I want to thrive."