Taufik Batisah takes a spicy venture into F&B with Chix Hot Chicken
The musician and actor wants all his customers to smile and cry from the heat of the Nashville hot chicken he's serving up.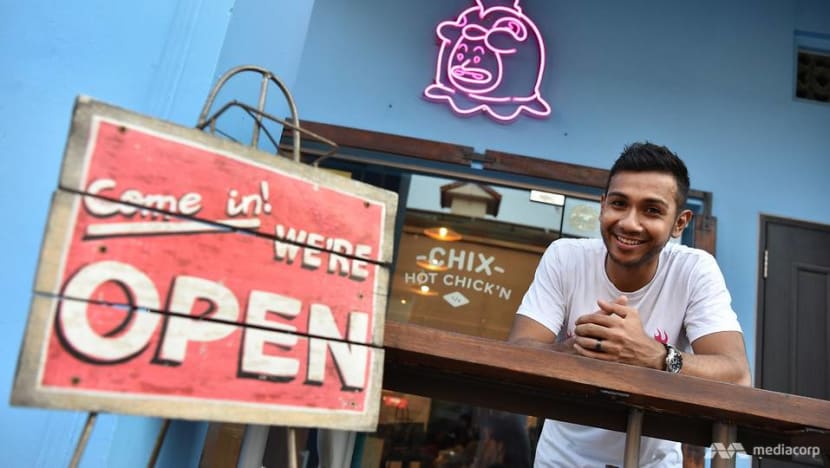 Follow our new CNA LIFESTYLE page on Facebook for more trending stories and videos
SINGAPORE: Up until a few years ago, Taufik Batisah never ate spicy food. Now, he's opened a red-hot joint called Chix Hot Chicken that serves chicken in three brain-numbing levels of spiciness: Mild, Extra Hot and Insane. 
We are eating the Insane chicken together, and rivulets of sweat are running down his face. "Look! I'm crying!" he announces, pointing to a tear that is indeed escaping from his right eye.
It would have been surprising if he hadn't been tearing - the Ghost chilli pepper used to season the chicken is rated at more than one million Scoville heat units.
But he doesn't want to stop - and finishes it all.
It's an impressive feat for somebody who only started eating spice in his food when he met his wife, whom he married three years ago - her family are big spice lovers and he felt he had to prove his worth.
Still, when he eats spicy food, "I get the hiccups and the top of my head feels itchy," he said.
During Chix Hot Chicken's menu development process, he tasted lots of different levels of spice - and made lots of trips to the bathroom.
But it was all water off a duck's back, because fried chicken is the 36-year-old singer-actor's all-time favourite food. "I absolutely love fried chicken - on a scale of one to 10, probably a 15. I can eat chicken every day. And fried chicken is just the best version of chicken," he enthused.
The idea of setting up a fried chicken business came to him and his friend and business partner, 31-year-old Ismail Rawi Bober, because "we've always wanted to work together," Taufik said, adding that their friendship is built on more than 10 years of being gym buddies. 
"After I won Singapore Idol (in 2004), I decided that I needed to look better. I saw him at the gym and was like, 'This guy is huge. Maybe he can spot me when I'm doing my bench presses. I would feel super safe when he does it'."
Bober, whose expertise is in nightclub businesses and used to co-own a Southern restaurant called Life Is Beautiful, made trips to Nashville, Tennessee to research Southern-style Nashville hot chicken. "They don't use sauce for the heat. They use dry rubs. And they use the hottest peppers in the world. This is something we don't have in this region. I said, 'Dude, this is brilliant - let's figure out the recipe," Taufik said. "He has the F&B background; I don't. With his ideas and recipes, paired with my marketing and branding ideas, I'm confident we make a good team."
The enterprise was not without its challenges. "Our products, especially the spices, are flown in from the USA. We had to find the right spices made from Ghost and Carolina Reaper peppers. They had to be organic with no additives, because we are running a Muslim-owned business," Taufik shared. In addition, there were a few hiccups with the renovation process and the opening date had to be pushed back by a month.
But the support that Chix Hot Chicken has received from friends, fans and strangers since it soft-launched about a month ago has touched him greatly, he said.
"I love to be here. Looking at people enjoying my food, seeing them smile and cry from the crazy heat, is a totally different form of euphoria from performing on stage," Taufik said. "It's so much fun."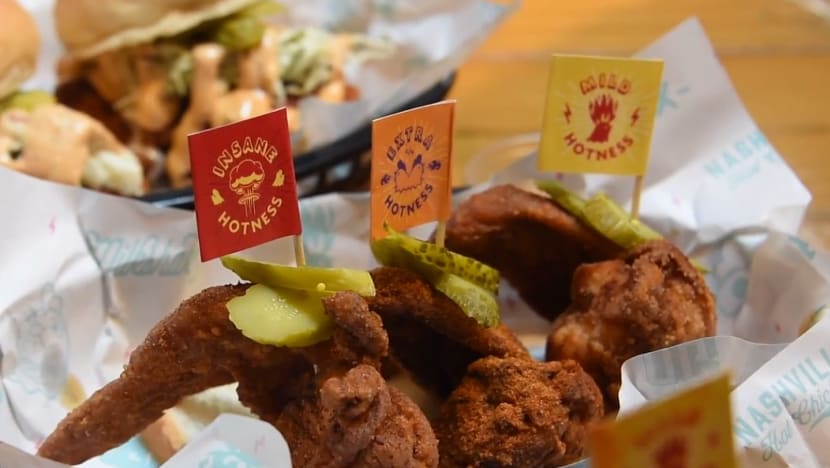 Besides the hot chicken, sliders are another popular item on the menu. And, if spicy food isn't your thing, there's also plain buttermilk fried chicken. Wash it all down with a soothing vanilla milkshake.
If all goes well, there are plans for expansion, "maybe in a year, a year and a half, depending on how healthily this space progresses," he said. "I think only then can we can decide about expanding to different parts of Singapore, and then hopefully, to different parts of the world. If only we could divide our chef into two! We don't want to compromise the quality, because that's usually the biggest challenge when you start to franchise something."
In the meantime, the newly-minted F&B tycoon is focused on learning as much as he can. "This is my first business venture, so I'm just learning on the fly. I'm very grateful to have a team to sponge off. That's been my attitude all this while: Sponge off people's ideas! You've got to take as much information as you can, especially when your friends are willing to give it to you."
Chix Hot Chicken is at 1 Jalan Pisang.