No bull: Here are the best Chinese New Year timepieces for 2021
There are already many fine examples of red-hued watches to wear this festive period. But only these watchmakers have doubled down with the Chinese New Year's luckiest symbols.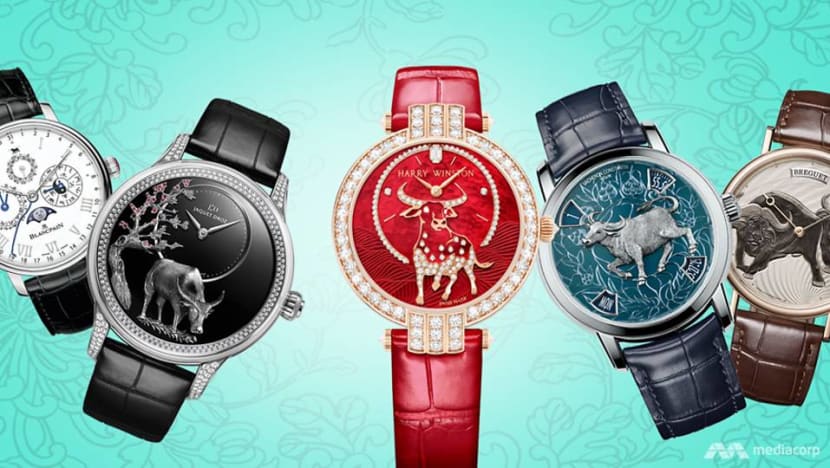 You know the drill. Chinese New Year rolls around, and auspicious symbolism (bonus points if they're red) goes on absolutely everything. Swiss watchmakers are aware of this annual ritual, too, and want to ensure your wrists aren't spared the extra luck.
In case the unending music and sudden uptick of cow motifs haven't already clued you in, Feb 12, 2021 marks the beginning of the Chinese Year of the Ox. The sturdy animal is believed to symbolise hard work, kindness and patience, and the Year of the Metal Ox is supposed to bring career advancement, prosperity and wellness to all. If nothing else, it has brought us some new timepieces to admire and acquire.
BLANCPAIN TRADITIONAL CHINESE CALENDAR, YEAR OF THE OX
Not as difficult to read as it looks, Blancpain did an admirable job packing as much of a traditional Chinese calendar as it could into a wristwatch back in 2012.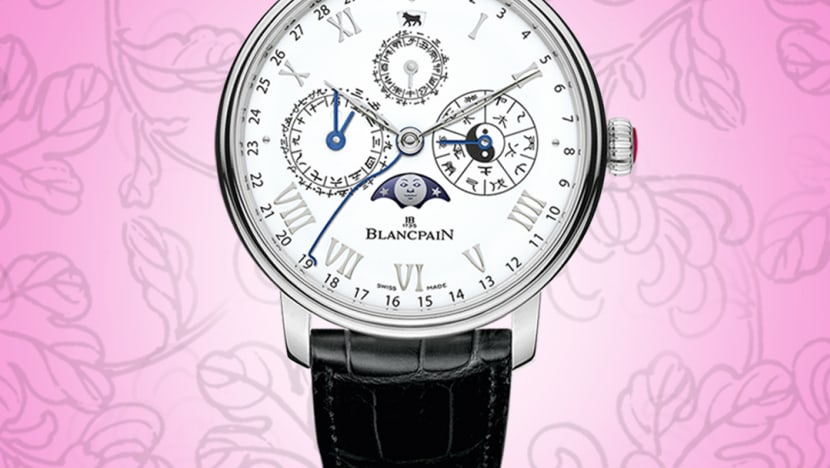 It has reappeared several times in later years with unique dials for special occasions, as well as the occasional zodiac animal shoutout. For the latter, the editions are always in platinum and the rotor is decorated with an engraving of that year's zodiac animal, so there's an ox on the current one.
That aside, the automatic 3638 calibre still powers this fascinating watch, which comes with five patented under-lug correctors to adjust the various calendar indications. A robust seven-day power reserve is an added plus.
BREGUET CLASSIQUE REF. 7145 AND REINE DE NAPLES REF. 8955
Breguet excels in engraving and engine-turned guilloche, and both skills have been called upon for the Classique Ref. 7145. Two stampeding oxen have been engraved by hand onto a gold dial, where the latter's wave motif gives the watch a hypnotic texture.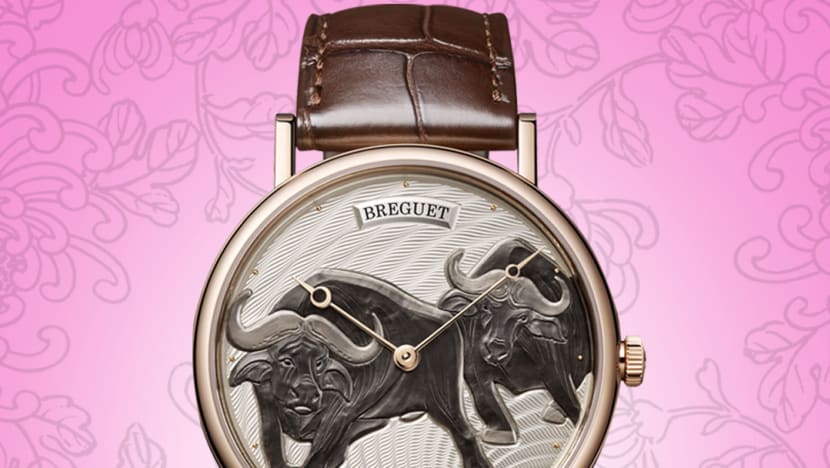 The 40mm rose gold Classique case houses the self-winding Calibre 502.3, which boasts a silicon balance spring for improved stability and performance.
The ox itself doesn't exactly scream femininity but Breguet pulled it off admirably by rendering it in cameo for the ladies with the Reine de Naples Ref. 8955.
The dial cameo is carved out of natural shell, and contrasts beautifully with the sparkle of 40 diamonds set on the egg-shaped bezel and a single briolette diamond in the crown. A mechanical movement is always appreciated in a ladies' timepiece, and this one – Calibre 573/3 – is even equipped with a silicon balance spring, lever and escape wheel.
Both models are limited to eight numbered pieces each.
CHOPARD L.U.C XP URUSHI YEAR OF THE OX AND L.U.C XP URUSHI SPIRIT OF SHI CHEN
Given its origins, it is natural for most examples of urushi lacquerware to feature Japanese iconography, which is what makes Chopard's annual zodiac animal series such a wonderful blend of cultures.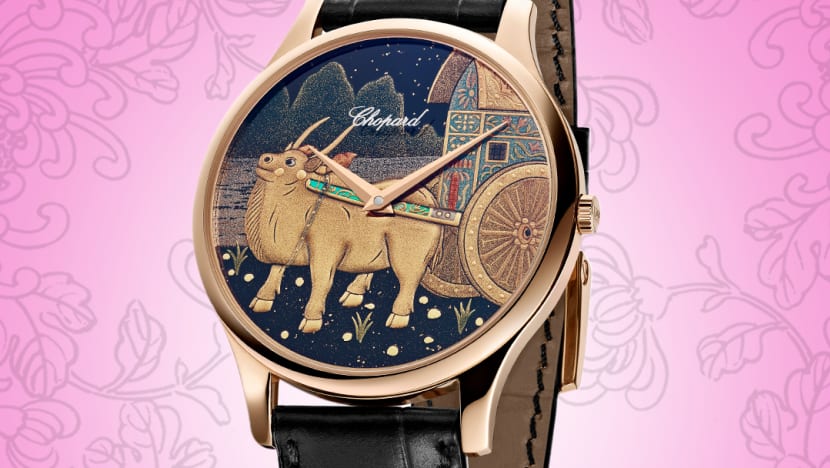 This year's edition uses gold, mother-of-pearl and coloured lacquer to depict a cheerful-looking ox pulling an ornate wagon. The glittery gold effect is achieved by maki-e, literally meaning "sprinkled picture", where gold powder is sprinkled over the urushi lacquer. As always, the case, measuring 39.5mm wide and 6.8mm tall, is made of ethically sourced 18K rose gold. Only 88 pieces have been made.
Not born in the year of the ox? Then Chopard has another culturally relevant option.
The L.U.C XP Urushi Spirit of Shi Chen uses the same decorative techniques for a striking black and gold face, but it's the time display that's the star here. The fan-shaped aperture in the top half of the dial is based on shi chen, the ancient Chinese timekeeping system that divides a 24-hour day into 12 segments, with each two-hour segment represented by one of the zodiac animals.
So the first shi chen is represented by the rat, for 11pm to 1am, because that is the time that rats are active and foraging. Oxen represent 1am to 3am, which is when they're supposedly up and chewing cud, and on it goes. This model is also limited to 88 pieces in 18K rose gold.
HARRY WINSTON PREMIER CHINESE NEW YEAR OX
Despite the obvious colouring and motif, this eight-piece limited edition would actually wear well any time of the year thanks to sophisticated styling and beautiful gem-setting.
The red mother-of-pearl dial is made of two textures: The top half is left with its iridescent sheen while the bottom is carved to mimic rolling hills. Harry Winston captures the proud nature of the ox in gold outline with mother-of-pearl eyes and diamonds in and around it.
Including the ones on the 36mm rose gold case, there are a total of 179 diamonds (approximately 2.8 carats). The movement is automatic and water-resistant to 30m.
JAQUET DROZ PETITE HEURE MINUTE BUFFALO AND PETITE HEURE MINUTE RELIEF BUFFALO
There tends to be a storybook-like dreaminess to Jaquet Droz's painted dials, and the Petite Heure Minute Buffalo is no exception – the mighty beast looks absolutely precious as it gazes out from its hilly backdrop.
The immaculate ivory grand feu enamel watch face pairs well with the 18K red gold case, which is generously sized at 41mm. Flip it over to see a hand-engraved buffalo decorating the gold rotor.
A smaller, diamond-set version for ladies measures a demure 35mm and features a similarly painted scene and engraved rotor.
The Petite Heure Minute Relief Buffalo is the most dramatic of the lot. A gold ox, engraved in relief, shines against a glossy onyx dial. The engraved plum tree next to it, symbolising the harmony between humans and nature, is set with rubies to represent bravery and victory.
There are two versions: One in red gold and another in white gold with a gem-set bezel and lugs. Both are 41mm and feature oscillating weights engraved with an ox head on an onyx background. All four references are released in a series of eight.
PIAGET ALTIPLANO YEAR OF THE OX
Just because the Chinese New Year celebrations are often a loud and lively affair doesn't mean your accessories have to follow suit.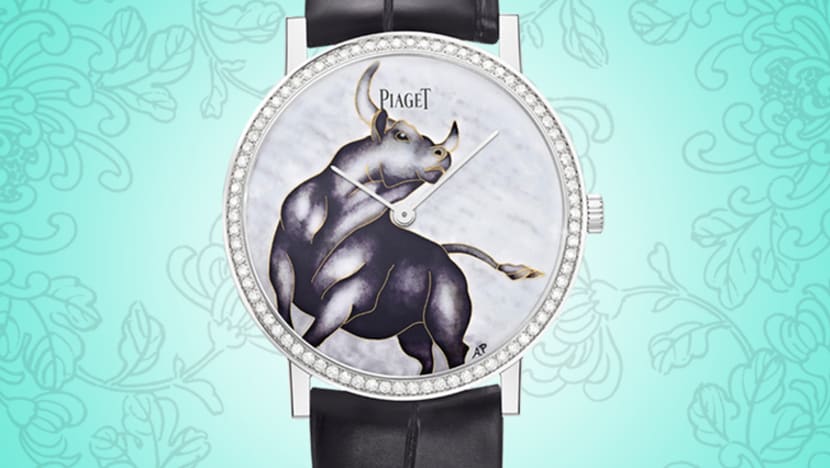 For anyone who wants to continue the month in their usual understated style without missing out on the zodiac fun will appreciate Piaget's continued partnership with master enameller Anita Porchet.
This year she adds to Piaget's annual animal series with an ox rendered in cloisonne enamel, where thin gold partitions are filled with different pigments and fired multiple times to achieve the desired image.
Often the simplicity of enamel dials belie the tremendous effort it takes to create them, so don't let a Porchet-signed one go if you can help it. Limited to 38 pieces.
VACHERON CONSTANTIN METIERS D'ART THE LEGEND OF THE CHINESE ZODIAC – YEAR OF THE OX AND TOURBILLON TRADITIONNELLE QILIN
Vacheron Constantin's Chinese zodiac series was inspired by the Chinese paper-cutting technique known as jian zhi, interpreted onto the watch dial by etching the vegetal motifs directly onto the metal for a subtle relief effect.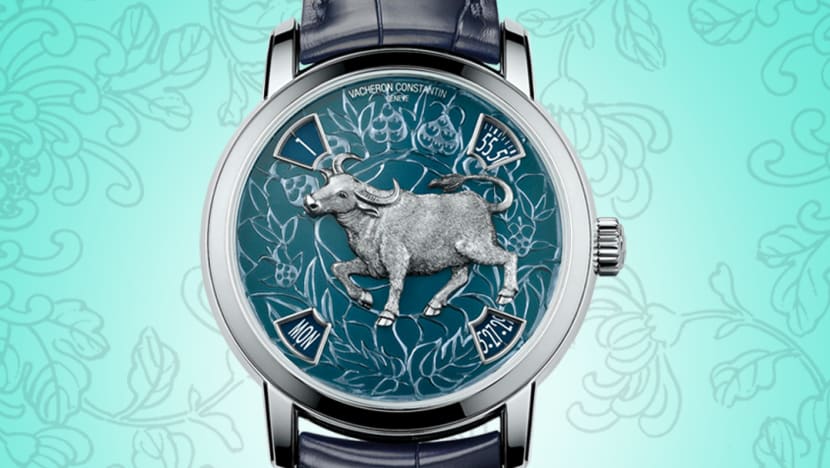 Just like previous editions in the collection, the animal takes centre stage on the dial – in platinum or pink gold to match the case, and obviously an ox this time – and sits atop a grand feu enamel backdrop in blue or brown.
The Calibre 2460 G4 smartly places the hours minutes, days and dates in four apertures, with the first two of the sweeping variety and the last two of the jumping type. There will be 12 pieces in each metal.
For a more inclusive brand of luck, Vacheron Constantin offers the Tourbillon Traditionnelle Qilin. The mythical creatures, associated with gentleness and protection against evil, have been hand-engraved in 22K gold and applied to a black, hand-guilloche dial.
The work deserves close inspection because the Qilin are only 0.4mm thick, which means the engravers had to very carefully carve out all that detail on a surface as high as four sheets of paper. Only 18 of these individually numbered watches will be available, and exclusively at Vacheron Constantin boutiques.