Louis Vuitton's new skull-and-snake watch wants you to stare death in the face
It chimes, it moves, and it contains an aphorism that bears repeating – the latest Tambour does not hold back.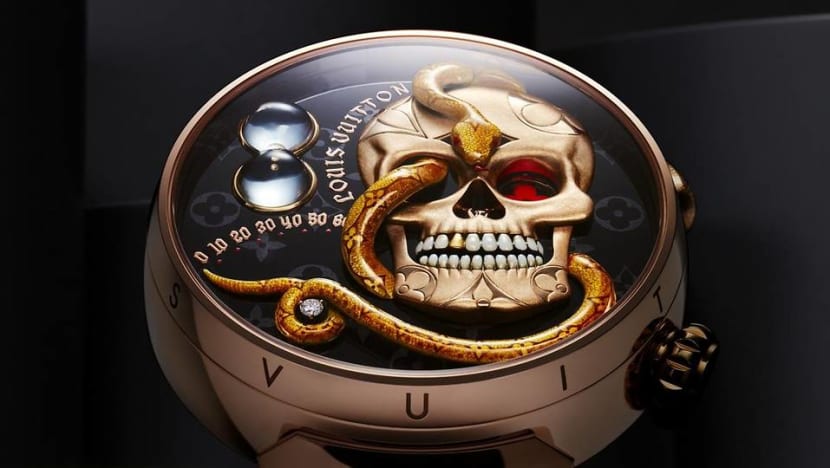 There are skull-themed watches aplenty in the world of luxury timekeeping. Many of these macabre motifs don't do anything on the dial besides look cool and foreboding, so it's impressive to see that Louis Vuitton's Tambour Carpe Diem actually does quite a lot.
The 2021 novelty is the brand's most extravagant this year, not just in terms of design but also in technical complexity. It combines a minute repeater (already high on the list of horological headaches to make) with a jacquemart mechanism featuring four animations.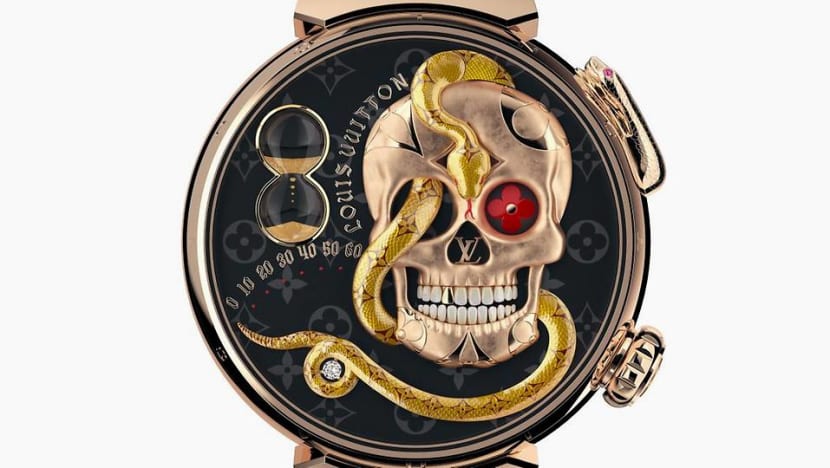 When the snake head-shaped pusher on the right side of the case is activated, a 16-second-long animation begins: The snake on the dial moves to reveal a diamond-shaped aperture on the skull's head that houses the jumping hours, while the snake's tail oscillates along the retrograde minute scale. 
The Louis Vuitton flower motif in the skull's eye changes to another familiar diamond one, and the skull's mouth also opens to reveal the words "Carpe Diem". While many examples of jacquemart watches keep the time indications simple via traditional hands, Louis Vuitton proves it is a watchmaker of some gumption by offering the time on demand as well.
The brand has apparently dabbled in automata before, but only for special orders requested by its private clients. Still, the Tambour Carpe Diem required two years of development at La Fabrique du Temps Louis Vuitton (a movement factory acquired by Louis Vuitton in 2012) and two highly skilled artisans to decorate it. 

The enamelling is the work of none other than Anita Porchet. The vibrancy of the snake and dial, along with the exquisite shine and translucency of each tooth in the skull are evidence of this master enameler's renowned skill.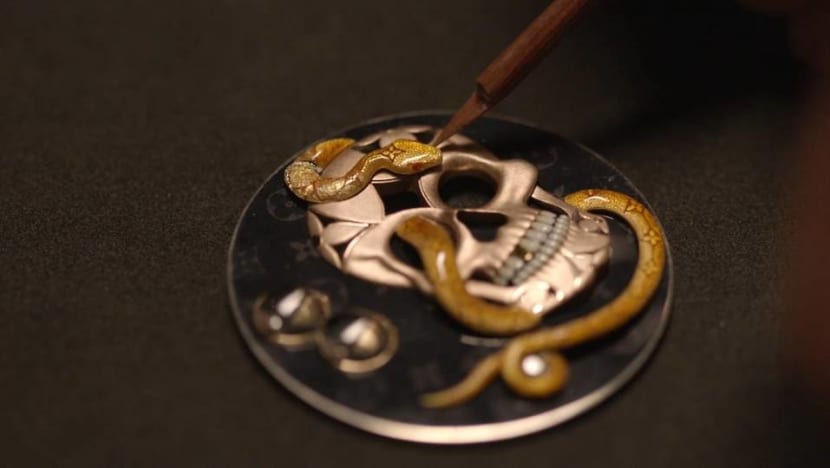 Engraving was handled by Dick Steenman, managing director of Art&D, a Geneva-based workshop dedicated to fine watch crafts with clients including Piaget and Van't Hoff. The snake, skull and hour glass have been painstakingly carved out of gold, with the latter two decorated with Louis Vuitton's signature emblems.
The LV 525 movement – also partly shaped like a skull – comprises 426 components and offers a generous 100 hours of power reserve, with the remaining time indicated by the hour glass on the dial.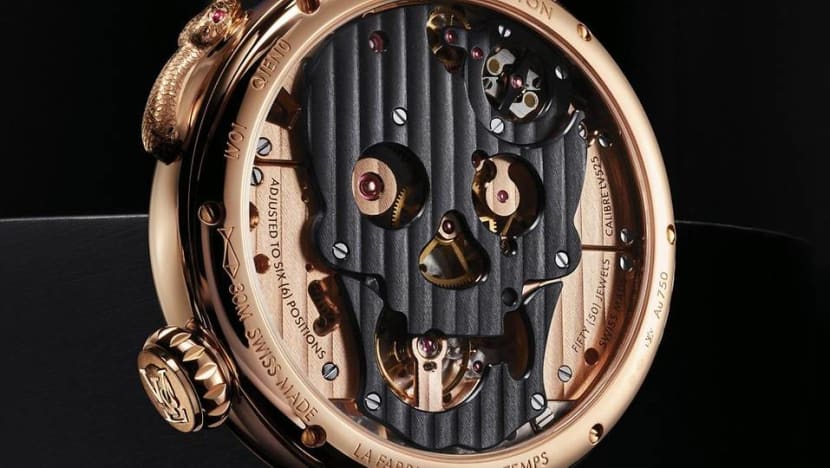 It is somewhat amusing Louis Vuitton claims to have been inspired by the vanitas art genre for this timepiece, which symbolises, among other things, the pointlessness of material wealth and pleasures. 
With the watch's 18k pink gold case measuring a sizeable 47mm wide and 15mm thick to house all that beautiful visual drama, this watch is anything but necessary. But whatever the intended message, Louis Vuitton has certainly seized the opportunity to amaze.