Why are watches the most popular passion investment for Singaporeans?
Which timepieces are Singaporeans collecting, and how has the collector community evolved over the years? CNA Luxury speaks to auction houses and local watch experts for insights.
These days, luxury timepieces run the gamut from the classic and contemporary to the downright bizarre. These little wrist machines have come a long way since they were mere tools to tell the time.
More and more, they are being appreciated for their history, exclusivity, technology and craftsmanship.
A survey conducted by Knight Frank uncovered that in Singapore, watches are the most popular form of passion investment among wealthy families.
As part of its Attitudes Survey 2021, Knight Frank surveyed over 600 private bankers, wealth advisors, intermediaries and family offices managing approximately US$3.3 trillion (S$4.4 trillion) on behalf of ultra-high-net-worth individuals (UHNWIs) across the globe.
In Singapore, 79 per cent of families indicated that they are most likely to collect watches. Art and wine (57 per cent) both placed second, while jewellery (50 per cent) came in third.
Indeed, responding to queries from CNA Luxury, Sotheby's indicated that in recent years, the auction house has witnessed increasing interest in watch-buying among Singaporeans.

"From 2011 to 2020, the number of Singaporean watch buyers have increased by over three times, the number of lots purchased increased by almost four times, contributing an average of US$3 million per year on our watch sales," said Sam Hines, global head of watches at Sotheby's.
"The Singapore market is very mature and Singaporean buyers remain a very vital pillar in our business. Their buying contribution over the past five years (from 2016 to 2020) has been very steady," said Alexandre Bigler, vice-president and head of watches at Christie's Asia-Pacific.
While Christie's declined to disclose exact sales figures for the Singapore market, it said that Asia-Pacific buying in its global watch live and online auctions contributed over 50 per cent in value in 2020. "We think the Singaporean watch community is very knowledgeable and up to speed with international watch collecting trends," Bigler divulged.

But what's driving this trend? "Watch collecting has been a very popular hobby among European aristocrats and Chinese royals since the 19th century. Watches are not only a reflection of social status, but also a representation of art, technology, science and craftsmanship. They also hold an aesthetic value that no electronic watch could compare with," said Bigler.
"While we do not encourage our clients to buy for investment, exceptional, unique and limited edition timepieces do have good incremental value, making them another possible asset for buyers to own. Hence, Singaporean and international clients are getting increasingly keen on watch-collecting."
Sharing his insights, Tom Chng, founder of Singapore Watch Club, said, "A few factors have contributed to the transparency and robustness of the current watch market. With the advent of online marketplaces, prices have become much more transparent, especially for commodity pieces that a large sector of the market seeks to buy into.
"We are currently seeing a huge surge in market demand for timepieces, which has driven many iconic watches to achieve market valuations above their original retail prices when bought new. As a result, the increased demand serves to drive even more demand, as new consumers become increasingly drawn towards watches as an investable asset class with low volatility, and high enjoyment." 
"While we do not encourage our clients to buy for investment, exceptional, unique and limited edition timepieces do have good incremental value, making them another possible asset for buyers to own." – Alexandre Bigler
MOST POPULAR WATCH BRANDS
Despite the growing interest in watch-collecting among Singaporeans, buyers are still mostly male, Sotheby's revealed. The community, however, "is getting younger in age", Hines shared. "In 2017, 12 per cent of Singaporean buyers were aged under 40. In 2020, this figure has increased to 29 per cent."
When it comes to the most popular watch brands among local collectors, Sotheby's shared that Singapore is one of the leading markets in the world for independent brands, such as MB&F, Ludovic Ballouard and F P Journe. "The wealth of knowledge among collectors in Singapore rivals all other markets," said Hines.

Christie's echoed similar sentiments. "While legendary brands like Patek Philippe and Rolex are still among the first choices of Singaporean buyers, we have also witnessed a surge in buying in emerging brands and independent watchmakers like F P Journe, Audemars Piguet, and Richard Mille," said Bigler.
At an upcoming Christie's watch sale scheduled for May 22 in Hong Kong, a unique Patek Philippe Ref 3448J yellow gold timepiece, specially made for Alan Banbery, has garnered significant interest among Singaporean and Asian watch collectors. The timepiece is considered an icon of mid-century watchmaking.

Alan Banbery, who joined Patek Philippe in 1965 as the director of sales for English-speaking territories, played a key role in helping the Stern family – which owns the brand – put together a collection of historic timepieces that culminated in the opening of the Patek Philippe Museum in Geneva in 2001. 

Other timepieces that have garnered Singaporean interest include a rare F P Journe Chronometre Souverain in platinum, a personal gift from founder Francois-Paul Journe to legendary watchmaker George Daniels.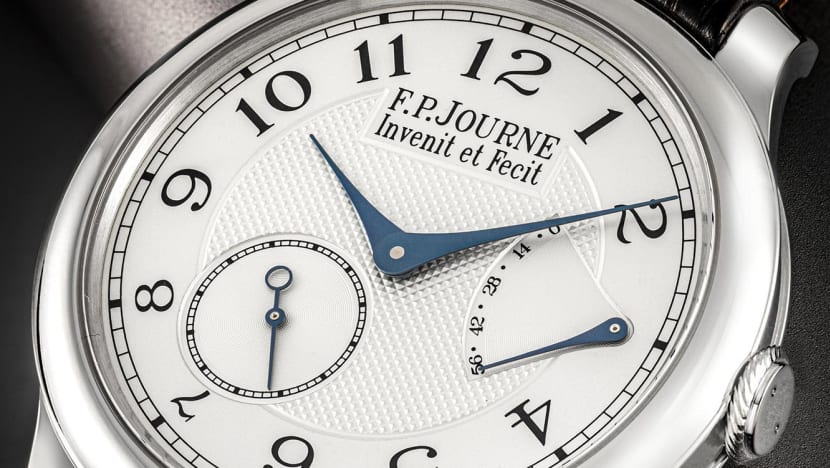 Singaporean collectors have also demonstrated a growing appetite for vintage timepieces, Bigler added. Vintage timepieces that will go under the hammer at the Christie's watch sale include the Rolex Daytona Ref 6239 "Solo" from the 1960s, and the Patek Philippe Ref 1579R chronograph wristwatch in 18K pink gold manufactured in 1950.

"The wealth of knowledge among collectors in Singapore rivals all other markets." – Sam Hines
ENJOYMENT, NOT INVESTMENT
Watch collectors may have different motivations when it comes to acquiring a timepiece. It may be a love for horology, a personal or emotional connection to a timepiece, or even for investment purposes.
However, Peter Chong, co-founder and editorial director of influential watch blog Deployant, believes that luxury watches do not make for good investments. "Watches are luxury commodities, meant to be used, and enjoyed. In most instances, they depreciate in value. Only some watches retain their value over time, but this is a highly speculative environment," he said.
Chong advises watch collectors to purchase timepieces only if "you love the looks, appreciate the fine mechanics and superb finishing, or find the history and traditions of the brand to be of interest".

While Chng of Singapore Watch Club believes that the right timepieces can very often turn out to be great investments, "to approach the hobby with a pure investment perspective would very quickly lose its charm and meaning".
"The joy and satisfaction of building a remarkable collection are very often driven by the collector's passion. The luxury watch industry is one that's largely driven by emotions and stories, to distill them away and leave behind only monetary motivations would be a shame," he cautioned.
In a market that's constantly evolving, Chng also added that it is difficult to spot the best investment watches. "Watches that turned out to be great investments in the past might not continue on that same trajectory. We have seen that yesterday's undesirables often turn out to be tomorrow's unicorns."
Instead, "train your eyes to identify interesting watches, of good quality and condition," he advised. And last but not least, "hone your own unique taste, and enjoy the journey!"

"Watches are luxury commodities, meant to be used, and enjoyed." – Peter Chong