How this 30-year-old CEO went from being a fashion marketeer to a waste management advocate
From rubbing shoulders with celebrities and models at local fashion festivals to handling soldier fly larvae that consume food waste, Ento Industries' Nathaniel Phua says it's been worth the grime.
From flitting through the champagne-steeped roster of swish events such as the Audi Fashion Festival Singapore, to finding himself routinely trudging knee-deep in fetid waste, it's apparent that Nathaniel Phua executes his career switches with loping steps.
But it was circumstance – rather than whim – that prompted him to leave behind his glamorous career in fashion marketing and join waste management company Tiong Lam Supplies, more than five years ago.
"My father-in-law wasn't in the best state of health and needed someone to support his business while he took time off to recuperate," he shared.
While this eventually led him to form his own biotechnology firm – more on that later – his sally into the family business wasn't exactly serendipitous. You could even say that he was greeted by a riot of unsavoury amalgamations he has since become accustomed to.
"I was definitely squeamish at the start. The first thing that hits you when you walk through the doors (of a waste management facility) is the odour. We don't just deal with one type of waste, and after a while, you start to not understand what you are smelling," said the boyish entrepreneur, before yielding to nervous laughter.
Despite the muck, malodorousness and general inconveniences of handling waste – rising in the wee hours to handle waste collection matters, we are told, is commonplace – the unlikely protege has taken to his new role with much verve.
If anything, being involved in Tiong Lam's daily operations, where he sees a staggering 30- to 40 tonnes of food waste per day, has given the 30-year-old an acute awareness of Singapore's swelling waste problem. According to a report by the National Environment Agency, the country generated 7.23 million tonnes of solid waste in 2019.
"As a consumer viewing waste in linear terms, I only see what I eat and dispose, which doesn't amount to much. But in food manufacturing, it's a whole different story; I saw a lot of resources being wasted. There's still so much we could be doing with the advancement of technology, such as further upcycling the waste or putting it back into the food chain," he explained.
"As a consumer viewing waste in linear terms, I only see what I eat and dispose, which doesn't amount to much. But in food manufacturing, it's a whole different story." – Nathaniel Phua
LOOP OF THOUGHT
The circular economy, which aims to reduce waste and continually utilise resources, isn't an alien concept to Phua – who was initially acquainted with it on a volunteer mission in rural Thailand.
"It's fascinating how locals were able to enjoy a comfortable lifestyle by making the best use of their resources without producing too much; even toys were made of dried leaves," he recounted.
While Tiong Lam transforms food waste into fish feed for aquaculture farms, Phua delved deeper into food waste valorisation, whereby the latter and its by-products are converted into higher value products that contribute to the food supply chain.
While helping to run his father-in-law's firm in 2018, he began laying the groundwork for Ento Industries, which breeds black soldier flies that consume food waste and can be parlayed into useful products.
In their larval stage, black soldier flies can hoover up almost any organic matter, consuming up to four times their weight a day. The nutrient-rich insect frass is used as fertiliser for agriculture, while their larvae is harvested as high-value feedstock sold to fish farms – thereby creating an end-to-end solution for various players in the food production sector.
Incepted in June 2020, the subsidiary of Tiong Lam was awarded a grant under the DBS Foundation Social Enterprise Grant Programme in November of the same year. The foundation awarded S$1.4 million in funding to 13 social enterprises.
With proceeds from the grant, Ento Industries is primed to move from their 500 sq. ft. facility housed within its parent company, into a 5,000 sq. ft. facility with the capacity to process between 10 and 20 tonnes of waste per month. Currently, its writhing army of critters consumes between three and five tonnes of waste per month.
Getting there, the unassuming CEO says, has engendered an arduous journey with the trappings of a B-grade horror movie. For one, the vagaries of working with live insects can be unsettling, to say the least. He has arrived at work to discover the facility blanketed in thousands of squirming larvae, as conditions were not conducive to feeding.
"You may walk out of a restaurant if you don't like the ambience; it's the same for them. They start to escape from the trays when they are not comfortable with higher temperatures or unsuitable food sources. They are stubborn and fussy creatures, very temperamental," he acknowledged.
Yet, for his charges' idiosyncrasies, Phua regards them with what seems to vacillate between fascination, benevolence and dread. While he waxes effusive on their intrinsic role in nature, he flinchingly reveals that he's been beset by dreams of larvae burrowing into his ears.
All night terrors considered, it is worth noting that black soldier flies do not feed in adult-stage and therefore aren't disease vectors. Working with them does demand a level of persnicketiness, though. This includes adding microbes to blended food waste to extract nutrients for the larvae, while closely monitoring the latter's behaviour and life cycle.
"It's fascinating how locals [in rural Thailand are] able to enjoy a comfortable lifestyle by making the best use of their resources without producing too much; even toys were made of dried leaves." – Nathaniel Phua
ENTO 1.2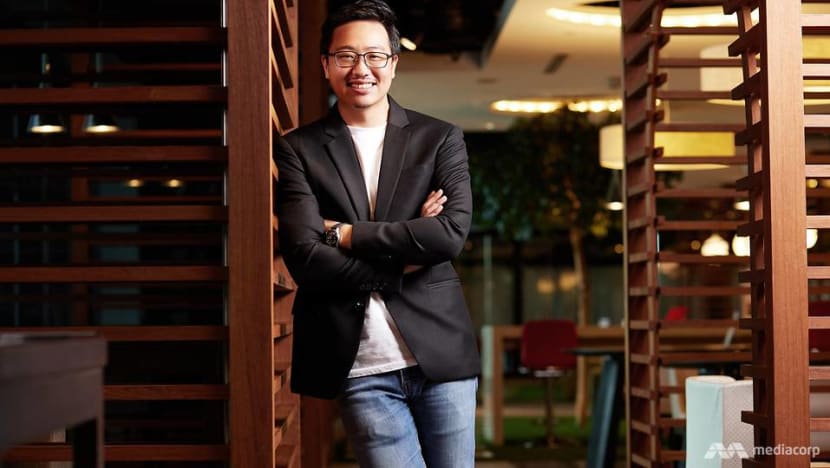 For now, the company is still beavering away at its experimentation phase, partnering the National University of Singapore on a research project to rear fast-breeding larvae with voracious appetites. Tapping proceeds from the DBS Foundation grant, it has embarked on a technology transfer programme with industry experts from China and the United States. On the commercial front, the company counts restaurants, manufacturers, distributors and those in the agriculture sector among its customers.
Though the early-stage company's consistent financial output precludes it from disclosing tangible profit, Phua offered that it has charted an uptick in interest in its services – along with a 10- to 20 per cent increase in sales – since the pandemic hit. This, he says, has underscored the importance of ramping up local food production, which dovetailed with the government's plan to produce 30 per cent of the nation's food supply by 2030.
"COVID-19 was kind of a shock to Singapore, where there was a large group of people clearing out supermarkets. While there wasn't an imminent threat of running out of supplies, there's a fear of it happening in the future. The 30x30 goal really came at the right time," he said, noting the public's visceral reaction to news reports on stockpiling.
With more local farms in the pipeline, plus the Lim Chu Kang area earmarked for development into a high-tech agri-food cluster, the entrepreneur envisions this translating into a robust trade for Ento Industries. He has set his sights on operating a fully-automated facility, and is slated to conduct a pilot to test the company's abilities to run at commercial scale in the first quarter of 2021. Not to mention, he is also toying with the idea of skewing the firm towards carbon neutrality – an ambitious remit.
But it's clear that optimism – even when faced with a welter of worms – is one of Phua's endearing traits. The father-of-one views the circular economy as a means to tackling overconsumption.
"I read a United Nations report that projected an additional 1.8 billion people who we won't be able to feed by 2050, at our current rate of consumption. And I keep thinking that my five-year-old son will live in a world that is the result of the decisions we make today. Obviously, I cannot ensure change in the food industry, but I know I can play my part and help drive it forward," he concluded.
"Obviously, I cannot ensure change in the food industry, but I know I can play my part and help drive it forward." – Nathaniel Phua