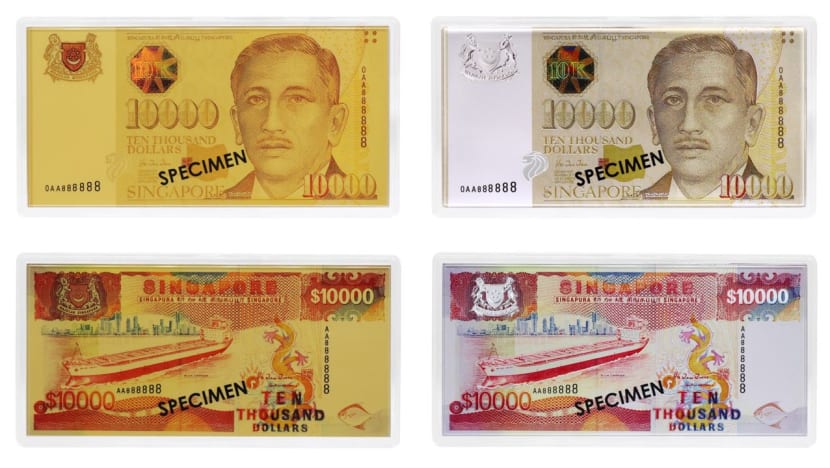 SINGAPORE: New gold and silver replicas of the S$10,000 banknote in the Ship and Portrait Series have been launched by the Singapore Mint.
This comes after the S$10,000 Orchid and Bird Series banknote replicas were introduced last year, said the Singapore Mint in a media advisory on Wednesday (Apr 13).
The currency souvenir banknote replicas come in 1g 999 fine gold foil as well as in 8g 999 fine silver sheet for each design, priced at S$178 and S$58 respectively.
"These collectibles are limited edition banknote replicas," said Singapore Mint, adding that there is a worldwide mintage of 2,000 notes for the 1gm gold and 5,000 notes for the 8gm silver.
A set featuring the four designs of the S$10,000 banknotes from the Orchid, Bird, Ship and Portrait Series is also available in gold and silver for collectors.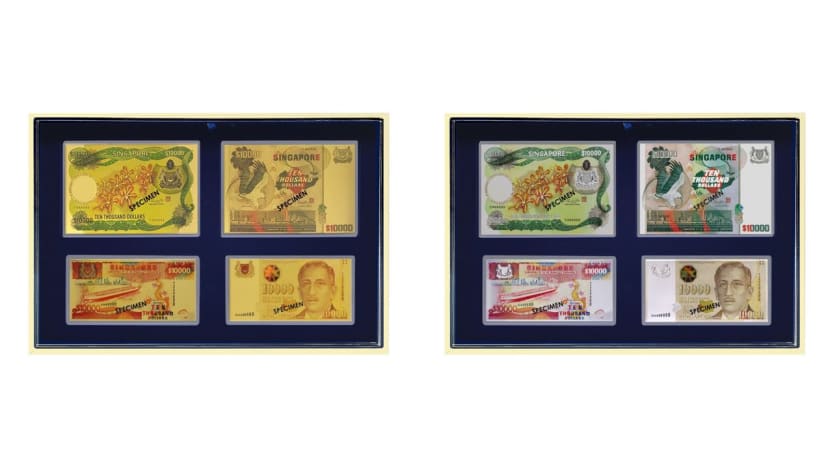 The S$10,000 Ship Series banknote was first issued on Aug 21, 1989, with an image of the general bulk carrier Neptune Canopus. The S$10,000 note from the Portrait Series was issued later on Sep 9, 1999.
In 2014, Singapore stopped issuing the S$10,000 banknote to lower the risk of money laundering.
"The S$10,000 banknotes still in circulation remain legal tender, making it one of the world's largest denomination value banknotes in circulation," said Singapore Mint.
OTHER COLLECTIBLES
Prosperity koi "auspicious coins", plated gold on both sides, are also available. The coin features a pair of koi leaping out of the water with the head and the body minted in gold, while their tails are sunken and minted on the reverse side of the coin.
The 1oz 999 fine silver coin is currently available at a promotional price of S$138, with a limited mintage of 388 pieces. Its regular retail price is S$148. 
Other collectibles include Harry Potter commemorative coins minted in pure silver as well as emblem shaped coins featuring various Justice League heroes.