SINGAPORE: At least 12,000 electric vehicle (EV) charging points will be installed across all Housing and Development Board (HDB) car parks by the end of 2025, the Land Transport Authority (LTA) announced on Wednesday (Nov 2).
The authority has awarded a tender to five lead companies for the deployment of the charging points, covering nearly 2,000 HDB car parks across Singapore. When completed, every HDB town will be EV-ready, LTA said.
The five successful tenderers will be responsible for deploying EV charging points in HDB car parks in the north, north-east, east, west and central regions of Singapore.
"To strengthen the resiliency of the EV charging network, each region has been awarded to two tenderers, and each tenderer has been awarded two regions," said LTA.
The tenderers are as follows:
| | | |
| --- | --- | --- |
| Lead tenderer | Consortium partners | Regions |
| Charge+ | - | West, Central |
| ComfortDelGro Engineering | ENGIE South East Asia, ComfortDelGro ENGIE | West, North |
| SP Mobility | - | North-east, East |
| Shell Eastern Petroleum | Zeco Systems | North, North-east |
| Strides Automotive Services | Yes Energy Service, Airetec, YTL Powerseraya | Central, East |
(Table: LTA)
The tender was launched in April as a "key milestone" in LTA's plan to ramp up EV charging infrastructure. 
The Government targets to deploy 60,000 EV charging points across Singapore by 2030, of which 40,000 will be in public car parks and the other 20,000 in private premises.
LTA received 11 bids from "a diverse pool of EV charging operators", it said, adding that the tenderers were evaluated on a combination of factors, such as concession fee bids and the quality of their proposal.
This included the tenderer's understanding of the EV charging point deployment process, their proposed business model, their understanding of the current market offerings and their ability to offer competitive charging prices.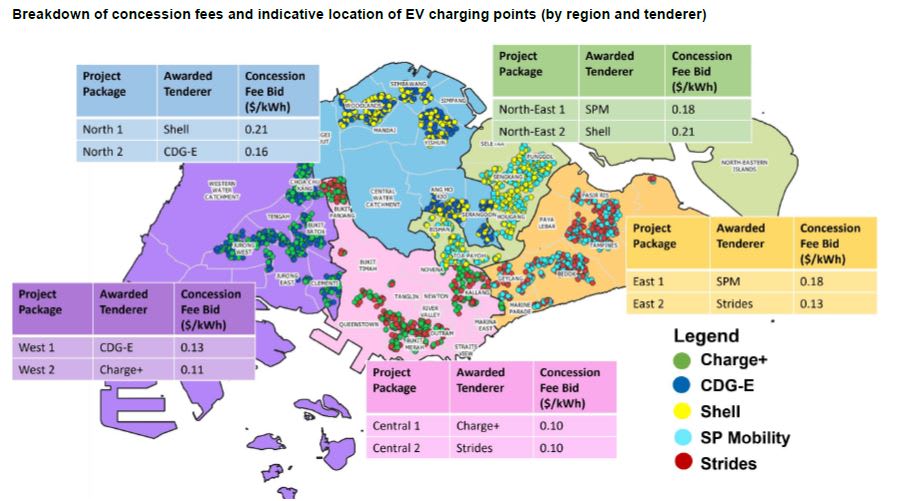 "In addition, as part of the evaluation on the quality of proposal, tenderers were also assessed on their ability to optimise available electrical capacity to power their EV charging points," said LTA.
"This will help maximise coverage of the national EV charging network in car parks with limited electrical power capacity. LTA will work closely with the awarded tenderers to deploy the EV charging points."
In March, the authority said awarded tenderers will need to deploy a minimum number of three to six charging points in their designated car parks by the end of 2025.
They may also scale up the deployment in each car park to a maximum of 12 charging points during their concession period. 
CEO of Charge+ Goh Chee Kiong said it is looking forward to the speedy implementation of the new charging network in HDB car parks.
"We are honoured and excited to be selected by the Singapore Government to roll out EV charging points in HDB car parks in the central and west regions," he added.
This is the second tender awarded to the company, following the first government tender awarded in September 2021. With the new charging points, Charge+ will serve HDB car parks in four out of Singapore's five zones, it said.
A consortium comprising local transport company ComfortDelGro Engineering and French energy provider ENGIE South East Asia was also awarded a tender for two packages. This will include up to 4,509 alternate current charging points at 387 HDB car parks.
"In anticipation of this win, we have been actively recruiting and beefing up our team to more than double the size of our current strength," said CDG ENGIE's general manager Freddie Chew.
"With more than a year's experience in deploying EV charging points, we have fine-tuned our processes and are confident we will be able to deploy these new charging points in time."