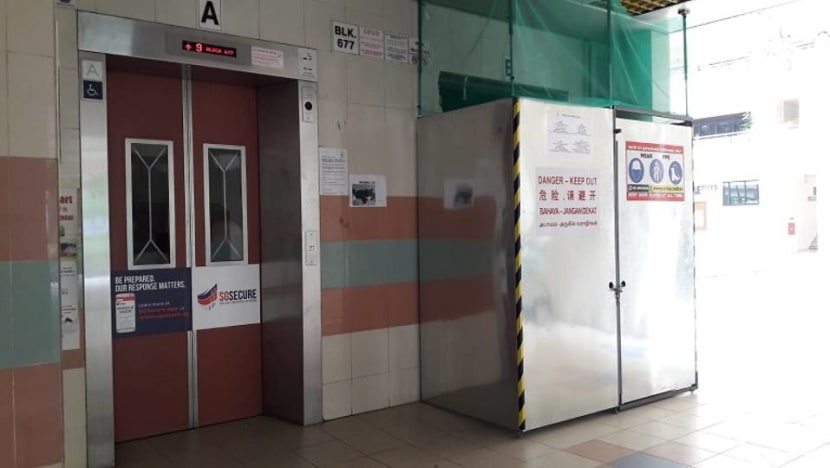 SINGAPORE: Three estates - Sembawang, Woodlands and Admiralty - will have 280 lifts replaced ahead of schedule under the Sembawang Town Council's Lift Replacement Programme (LRP).
In a press release on Thursday (Aug 9), the town council said that it will be footing the S$33 million bill for the programme from its Lift Replacement Fund (LRP).
"Resident need not pay for the new lifts," the town council added.
Usually, lifts are replaced every 28 years. However these lifts at 135 blocks in the three estates have been in operation between 21 and 24 years.
Member of Parliament for Sembawang GRC Amrin Amin said the lifts were chosen for earlier replacement because they were still having issues even after being repaired and maintained. 
The 280 lifts make up more than half of the lifts in the estates that have been in operation for at least 20 years. 
"This is the most economical way because most of the lifts are above 20 years old. We think with the maintenance issues, we'd like to replace them so that it can be of benefit residents," said Mr Amrin.
In all, 12,600 households are expected to benefit when the upgrading is complete.
The replacement will take two years, and is expected to be completed by June 2020. The lifts in each block will be replaced one set at a time. According to the town council, residents can expect the replacement at their blocks to take eight months.
Mr Amrin said this is one of the most expensive expenditures ever undertaken for lifts.
The lifts will be more spacious and will be able to take 10 people, as compared to eight people currently, making it easier for wheelchair-bound residents.
The lifts will also be faster, travelling at 90 metres per minute instead of 60 metres, which is comparable to lifts in new residential estates. They will also adhere to the latest safety guidelines on new lift installation as laid out by the Building and Construction Authority. 
The town council said upgrading began last month for blocks 677 to 680 in Woodlands Avenue 6.