Two CNB officers found to have engaged in conspiracy to swap urine sample of suspected drug offender
A third CNB officer who was part of the conspiracy previously pleaded guilty and was handed one-and-a-half year's jail in August 2020.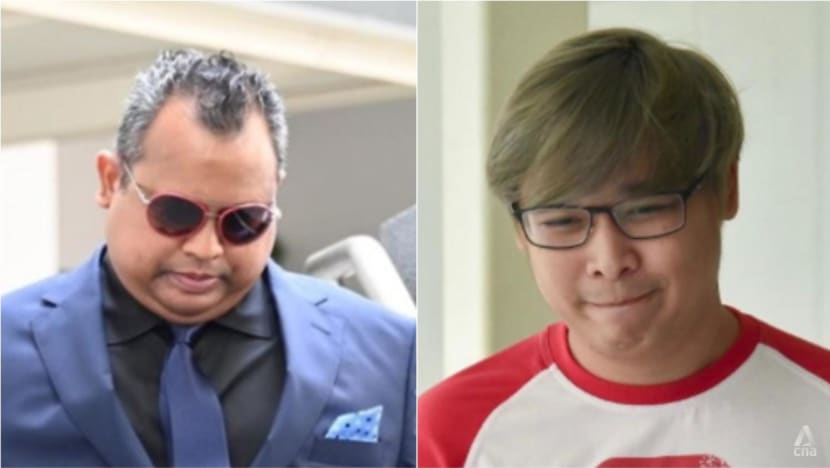 SINGAPORE: Two Central Narcotics Bureau (CNB) officers accused of being in a conspiracy to swap the urine sample of a man undergoing a drug test were found guilty by the State Courts on Thursday (Sep 15). 
Staff Sergeant Abdul Rahman Kadir, 46, and Sergeant Muhammad Zuhairi Zainuri, 34, were each convicted of one count of intentionally obstructing the course of justice by engaging in a conspiracy to tamper with Maung Moe Min Oo's urine sample between Aug 15 and Aug 16, 2018.
A third CNB officer, Staff Sergeant Mohamed Hafiz Lan, who was part of the conspiracy had pleaded guilty and was handed one-and-a-half year's jail on Aug 3, 2020. Maung Moe Min Oo's case is still in its pre-trial conference stage. 
Rahman and Zuhairi had claimed trial to the charge but were convicted on Thursday by District Judge Victor Yeo, who found that the prosecution had proven its case beyond a reasonable doubt against both accused persons. 
The judge did not find Rahman to be a credible witness and disbelieved his evidence that he was not paying attention to Maung Moe Min Oo during the urine test, and was instead occupied with his mobile phone. 
Against Zuhairi, who had elected to remain silent in his defence, the judge agreed with the prosecution that an adverse inference be drawn for his "failure to provide an explanation for his conduct at the material time" in the face of "overwhelming evidence adduced at trial".  
In closing submissions, Deputy Public Prosecutors Alan Loh and Thiagesh Sukumaran detailed the incident, from when Maung Moe Min Oo was detained at Woodlands Checkpoint with a female companion on suspicion of consuming drugs on Aug 15, 2018.
Maung Moe Min Oo had known that he would fail the drug test as he had consumed methamphetamine before being detained.
As an ex-drug offender, he knew that he would be sent to a drug rehabilitation centre (DRC) again and feared that his wife would leave him with his two children, according to the prosecution. 
In a bid to meddle with the urine test process, Maung Moe Min Oo sought Rahman's aid, as Rahman was in charge of the team dealing with the case. He lied to Rahman that he had inhaled secondhand smoke while in the room with someone smoking methamphetamine. 
"The events that occurred thereafter were crystal clear. (Rahman) engaged in a conspiracy with (Zuhairi) and (Hafiz) to tamper with Maung's urine sample, enabling Maung to pass his Instant Urine Test (IUT) and leave the CNB office without any further action taken against him," said the prosecution. 
"Maung admitted to having consumed methamphetamine. If Maung had been correctly dealt with by the CNB duty team, Maung would either have been sent to the DRC if his urine sample was found positive for methamphetamine, or charged for failing to provide a urine sample ... if he had refused to provide a urine sample to the team for his IUT. 
"The conspiracy enabled Maung to escape either outcome."
Maung Moe Min Oo's urine test was negative for illicit drugs and he was allowed to leave with his female companion. He went to Malaysia. 
However, the case unravelled when Maung Moe Min Oo re-entered Singapore on Aug 17, 2018 and was again detained for suspected drug consumption. He told this CNB team that Rahman had helped him pass his IUT test earlier on.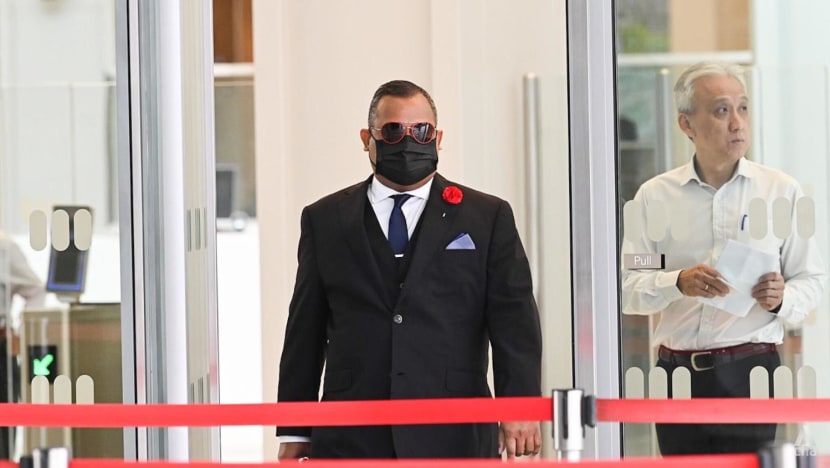 DETAILS LEADING UP TO SWAPPING
Having assessed Maung Moe Min Oo to be a "difficult subject", Zuhairi had suggested to Hafiz that they temper with the urine sample to expedite his departure from the CNB officer, said the prosecution.
Zuhairi had thought Maung Moe Min Oo to be "cunning" and "uncooperative" and felt that the officers would have to waste time doing "unnecessary" paperwork, it added. 
Zuhairi discussed the matter with Hafiz and concluded that the only way to clear Maung Moe Min Oo was if his urine test was negative for drugs. A closed-circuit television (CCTV) camera captured this exchange in the wee hours of Aug 16, 2018. 
Zuhairi was then recorded taking an empty red-capped bottle into the toilet.
According to the prosecution, Hafiz urinated into this bottle and left it in the toilet. He then instructed Maung Moe Min Oo to urinate into an identical bottle but dispose of its contents in the presence of Rahman. 
The prosecution said that the evidence in support of its case was "strong and compelling". These include how Zuhairi and Hafiz had "confessed to conspiring to tamper with Maung Moe Min Oo's urine sample to expedite his departure from the CNB office" in statements. 
Hafiz had also confessed to urinating into a bottle and leaving it in the toilet for the purposes of the swap. 
In his defence, Rahman claimed that he had been unaware that the urine sample had been tampered with. His lawyer, Peter Fernando, claimed that his client was not involved in the conspiracy, which was between Hafiz and Zuhairi. 
However, District Judge Yeo felt otherwise. "His conduct during the events in question showed that he was part of the conspiracy to tamper with Maung's urine sample," he said. 
Rahman had initially lied to the authorities that he had watched Maung Moe Min Oo urinate into the bottle but left when the bottle was half full. However, evidence showed that Rahman left the toilet together with Hafiz and the drug suspect. 
"Having viewed the CCTV footage, I did not find the explanation that Maung was of such a safety concern that Rahman had to escort Maung into the toilet to be convincing," said the judge.
"If there was indeed such a concern, he would have kept a close watch over Maung during the urine procurement to ensure that it was conducted properly, and that Maung did not attempt to hurt himself or others."
NEXT HEARING
Zuhairi indicated that he would be appealing the decision, however Deputy Public Prosecutor Loh told the court that the prosecution would be objecting to bail pending appeal as Zuhairi had "zero prospect" of succeeding in an appeal.  
Both will return to court for sentencing on Nov 16. 
For intentionally obstructing the course of justice, each accused may be jailed up to seven years, fined, or both. 
In a separate statement, a CNB spokesperson said the agency takes a "serious view of any complaint or allegation of impropriety" about its urine testing processes.
In the course of a drug investigation, the agency uncovered possible acts of misconduct by the three CNB officers. It immediately referred the matter to the Corrupt Practices Investigation Bureau (CPIB) for investigation, and provided full cooperation to CPIB during the investigations. 
The spokesperson said Zuhairi and Rahman were interdicted from service since July 2019, adding that Zuhairi had resigned from service in February this year. 
As for Rahman who remains interdicted from service, CNB will begin disciplinary proceedings against him following his court conviction, with a view to dismiss him from service.