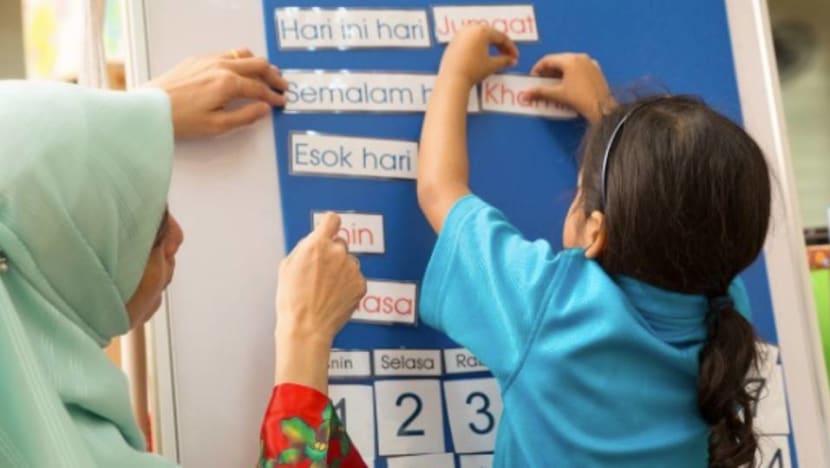 SINGAPORE: Three new Ministry of Education (MOE) kindergartens will open in 2026 and 2027, said the ministry on Tuesday (Jun 28).
The move is part of the ministry's "planned expansion to provide parents with more choices for quality and affordable pre-school places", said MOE in a news release. 
All three kindergartens will be located within primary schools with each offering about 120 to 200 Kindergarten 1 (K1) places. 
These are the three new MOE kindergartens opening in 2026 and 2027: 
Year of Opening
Area
New MOE kindergarten and Address
2026
West
MOE Kindergarten @ Pioneer
Pioneer Primary School (To be located in the Plantation District of Tengah. Exact location will be made known at a later date)
2027
Northeast 
MOE Kindergarten @ Rivervale
Rivervale Primary School
80 Rivervale Drive, Singapore 545092
2027
Central
MOE Kindergarten @ Townsville
Townsville Primary School
3 Ang Mo Kio Ave 10, Singapore 569730
With the new kindergartens, there will be a total of 60 MOE kindergartens by 2027, providing about 8,300 K1 places. 
Registration for admission to K1 for the new MOE kindergartens will take place in February of the year prior to its opening. 
"More details on the registration will be released in early 2025 and 2026 respectively," said the ministry. 
For parents who require full-day care service for their child, KCare services are available in all school-based MOE kindergartens from Mondays to Fridays, 7am to 7pm. 
More information about the MOE kindergartens can be found here.