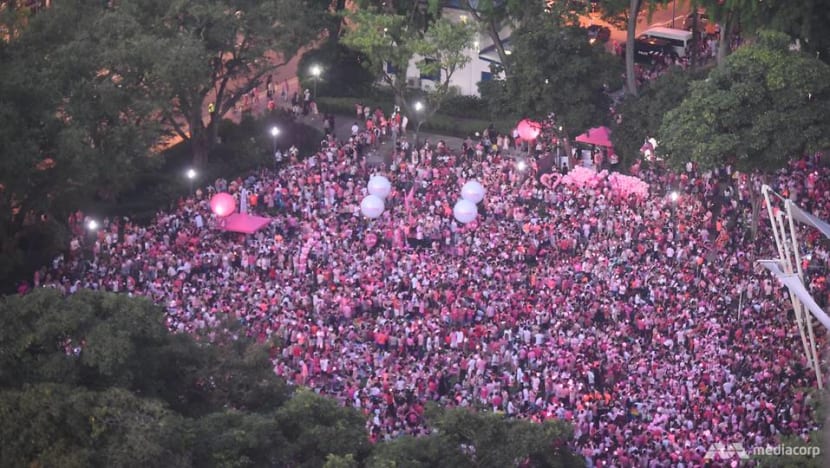 SINGAPORE: Human rights group MARUAH on Monday (Sep 24) urged the Government to repeal Section 377A of the Penal Code, which criminalises sex between men. 
The Singapore Government's position to not take steps to repeal the law was "bewildering, disappointing and disturbing", said the president of MARUAH, Braema Mathi.
"While the Government has affirmed that it 'does not and will not enforce 377A', the fact remains that the presence of Section 377A in the statute book continues to marginalise LGBTQ (lesbian, gay, bisexual, transgender and queer) people," she said in the media statement.
The law causes the LGBTQ community to be regarded "as less than full members of society, and often feeling that they must hide who they are because of their gender identity or sexual orientation", said Ms Braema.
She added that repealing Section 377A will help to end discrimination against homosexuals.
It was also "inappropriate" for a conduct that causes no harm - compared to homicide and sexual assault - to be a criminal offence because a segment of society feels subjectively that it is immoral, she said.
"It is discriminatory for sexual conduct between men to remain a crime when other conduct that some might also regard as immoral – such as sexual conduct between women, sexual conduct between women and men outside marriage, or gambling – is not similarly criminalised.
"People are free to try to persuade others of their moral viewpoints, but it is unjust that they should be able to plead the criminal law in support of their cause," said Ms Braema.
RELIANCE ON POLLS TO DETERMINE POLICY 
Ms Braema in the statement also raised the concern that the Government seemed to rely largely on polls to determine its policy towards Section 377A. 
It referred to Law and Home Affairs Minister K Shanmugam's comment on the law when he said that "public opinion can be relevant" when it comes to public policy making. 
"Pointing to a poll to rationalise that a majority in society is not ready to accept a change in the law is unacceptable," said Ms Braema. 
"Moreover, negative attitudes towards LGBTQ people can hardly be expected to change when various government policies make it very difficult for misconceptions about them to be dispelled."
Ms Braema cited examples such as the prohibition of films and television programmes which "promote or justify a homosexual lifestyle" and the refusal of the authorities to register LGBTQ advocacy and support groups as companies or societies.
In the statement, Ms Bramea also said the repeal of Section 377A "would help to ensure a secular common space" in Singapore. 
"It is evident that many calls for the retention of section 377A are motivated by genuine religious belief," she said. 
"However, the Government has consistently held that Singapore is a secular nation, and that a secular common space must be maintained for all."
The Singapore Islamic Scholars and Religious Teachers Association (PERGAS) and the National Council of Churches of Singapore (NCCS) have both released statements saying that they do not support the repeal of the law.
"Members of faith groups have a right to their own views on gender identity and sexual orientation issues," said Ms Braema.
"However, this right should not be exercised in a way that infringes on the human rights of others, and denies the rightful equal status before the law that every person ought to enjoy," she added.
Ms Braema said the government's decision "to hold on to an archaic law like Section 377A is outstandingly backward".
"The reasons for that decision give scant respect to what every person in Singapore should be able to rightfully claim – to be treated equally and have an equal status in society," she said.