377A: Religious groups support Government; Pink Dot says Shanmugam's comments 'step in right direction'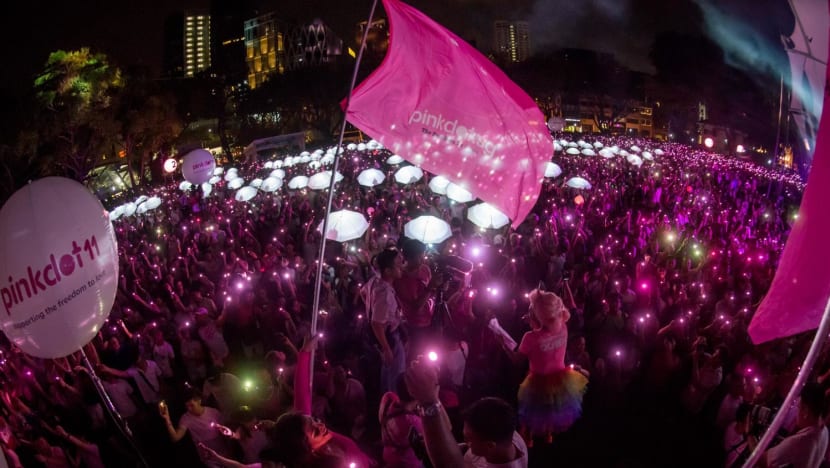 SINGAPORE: Religious organisations who spoke to CNA have expressed support for the Government's approach to Section 377A of the Penal Code, which criminalises sex between men, after the Law and Home Affairs Minister said in Parliament that authorities are considering the "best way forward" on the law.
In doing so, the Government will respect different viewpoints and consider them carefully, Mr K Shanmugam said on Thursday.
Pink Dot SG, an LGBTQ+ advocacy group, said on Friday (Mar 4) that it hopes the community will be represented in these dialogues.
"Mr Shanmugam's open acknowledgement in Parliament of the rejection and hurt faced by the LGBTQ+ community is a step in the right direction," Pink Dot SG spokesperson Clement Tan said.
"We are also encouraged by plans to review the situation in consultation with key stakeholders, especially where it involves updating legislation and policies. We hope that the LGBTQ+ community will be represented in these dialogues."
Earlier this week, the Court of Appeal upheld a lower court's decision to dismiss three challenges to Section 377A. In a 152-page judgment, the court stressed that the appeals are "not about whether Section 377A should be retained or repealed", as this was "a matter beyond our remit".
Speaking in Parliament on Thursday, Mr Shanmugam said policies need to evolve to keep abreast of changes in views. "And legislation needs to evolve to support updated policies," he added.
"And if and when we decide to move, we will do so in a way that continues to balance between these different viewpoints, and avoids causing a sudden, destabilising change in social norms and public expectations," he said.
SUPPORT FOR GOVERNMENT'S "BALANCED" APPROACH
The National Council of Churches of Singapore (NCCS) noted the Government's position that Section 377A be retained but not proactively enforced, saying that this "successfully achieves this delicate balance between the different (and in fact opposing) interests of various groups".
"This 'unique compromise' which Singapore has struck has worked so far in preventing a deeper wedge from being driven within our society, and fostering Singapore to be 'an inclusive society, where mutual respect and tolerance for different views and practices are paramount'," NCCS said in a statement, quoting Mr Shanmugam's speech in Parliament. 
It noted that matters relating to sexuality are "socially charged issues" which are "highly contentious in nature and deeply divisive for society if not handled properly".
"In this regard, we affirm the Government's approach of upholding, as mentioned by Prime Minister Lee Hsien Loong in 2007, 'a stable society with traditional heterosexual family values, but with space for homosexuals to live their lives and to contribute to society'," NCCS said. 
Similarly, the Islamic Religious Council of Singapore (MUIS) said it "welcomes the Government's commitment to maintain family norms and values in Singapore because they are still strong and will remain to be so".
"We appreciate the Government's emphasis on the preservation of social cohesion even as it manages diversity so that our society is an inclusive one," said MUIS. 
"We agree that mutual respect and tolerance are paramount, as are the rule of law and legal provisions, such as the Maintenance of the Religious Harmony Act, to offer equal protection to all groups, regardless of faith or orientation."
MUIS said it supports the Government's approach for continued discussion, adding that it will continue to provide feedback guided by its norms and values. 
A spokesperson for the Sikh Advisory Board also told CNA that the organisation agrees with the "balanced approach" that the court has taken on the appeal against Section 377A. 
"We believe this outcome considers and balances the interests of all segments of society and preserves social harmony and cohesion. We encourage all interested parties to continue a constructive dialogue within society on this matter," the spokesperson said. 
GROWING SUPPORT FOR LGBTQ+  
Although Pink Dot SG is disappointed by the Court of Appeal's decision, the case has "at least reignited conversations around how social attitudes about the LGBTQ+ community has shifted", Mr Tan told CNA.
"Societal attitudes in Singapore have been evolving steadfastly in favour of greater LGBTQ+ inclusion and equality. Increasing support has come not just from the younger generation of Singaporeans, but even from within religious communities as well," he added.
"At this moment, there are a handful of religious communities that are outwardly and explicitly welcoming of LGBTQ+ individuals, such as Free Community Church, The Healing Circle, Jejaka, Singapore Buddhist Fellowship. With the gradual shift in societal attitudes, we expect this list to keep growing over time."