More than 4,500 BTO flats launched by HDB, including prime area model projects in Bukit Merah, Queenstown
SINGAPORE: A total of 4,583 Build To Order (BTO) flats across five estates were launched on Friday (May 27), including two projects under the Prime Location Public Housing (PLH) model in Bukit Merah and Queenstown. 
The other projects are in Toa Payoh, Jurong West and Yishun, said the Housing and Development Board (HDB) in a media release.
Another 1,952 flats were also offered under the Sale of Balance Flats (SBF) scheme.
HDB said Bukit Merah Ridge - the third project under the PLH model - will have 1,669 units of three and four-room flats.
Bounded by Bukit Merah View, Henderson Road, Tiong Bahru Road, and Lower Delta Road, the development includes five blocks between 29 and 48 storeys in height. 
The PLH model was introduced last year to ensure all HDB flats, including those in prime and central locations, remain affordable and accessible over time.
The first two projects under the new model, located in the Rochor area, were launched in November last year.  
The fourth project under the PLH, Ghim Moh Ascent in Bukit Merah, offers 867 units of three and four-room flats. 
The development, located near Buona Vista MRT station, comprises four residential blocks, with two 40-storey blocks and two blocks with varying heights ranging from eight to 31 storeys.
"Ghim Moh Ascent will be located in the Health District @ Queenstown, a first-of-its-kind multiple stakeholder collaboration project to create integrated solutions that will enhance the health and well-being of residents across their life stages," HDB said.
Prices for flats in Bukit Merah Ridge start from S$377,000, without grants, for a three-room flat, and S$540,000 for a four-room flat.
At Ghim Moh Ascent, prices start from S$369,000, without grants, for a three-room flat, and S$511,000 for a four-room flat.
Another project in this BTO exercise is Kim Keat Heights, which will be located at the junction of Lorong 6 and Lorong 7 Toa Payoh. It will comprise two residential blocks ranging from 27 to 36 storeys, with 385 units of two, three, and four-room flats.
Both blocks will house some rental flats, HDB said. 
Meanwhile Lakeside View, located next to Jurong Lake and Jurong Lake Gardens, includes seven residential blocks between 11 and 18 storeys.
Flat buyers can choose from 1,016 units of two-room Flexi, three, four, and five-room flats, the HDB said. 
Yishun Beacon, bounded by Yishun Central 1 and Yishun Avenue 2, will have five 14-storey blocks, with 646 units of two-room flexi flats as well as four and five-room flats.
All the developments will have eco-friendly features, such as separate chutes for recyclable waste and regenerative lifts to reduce energy consumption.
They will also feature "smart-enabled homes" with provisions to support easy installation of smart systems, as well as smart lighting in common areas to reduce energy usage, said HDB. 
Home buyers hoping to move into their flats sooner can consider the projects in Jurong West and Yishun, HDB advised. 
"Both projects are in non-mature estates where application rates generally tend to be lower, and they also come with some of the shortest waiting times among all the projects launched in the May 2022 BTO exercise, at 3.8 years or less," the agency said.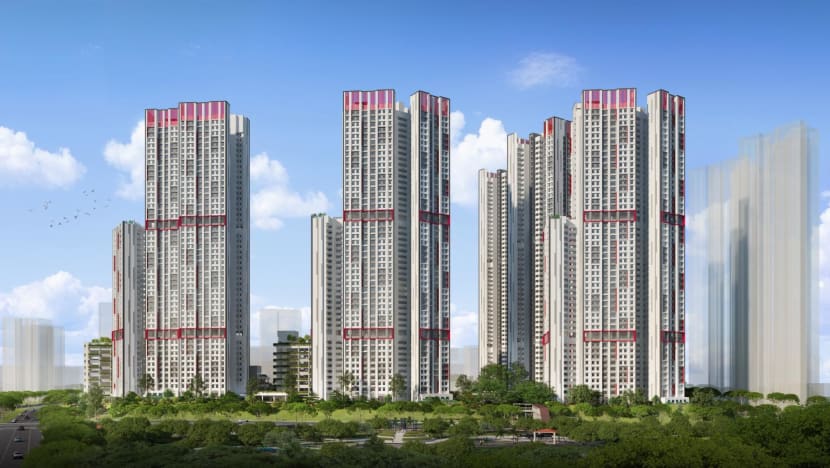 UPCOMING BTO PROJECTS
In August, about 4,900 BTO flats in towns such as Ang Mo Kio, Bukit Merah, Choa Chu Kang, Jurong East, Tampines and Woodlands will be launched, HDB said, adding that more details would be announced when ready.
And in November, the HDB will offer about 9,500 BTO flats in estates such as Bukit Batok, Kallang Whampoa, Queenstown, and Yishun.
"This number is subject to review as more project details will be firmed up closer to the launch date," said the HDB.
"Overall, HDB is on track to launch up to 23,000 new flats in 2022," it said. 
HIGH DEMAND FOR PRIME AREA PROJECTS
Experts said they expected strong demand for the two projects under the Prime Location Public Housing model. 
"Many young Singaporeans will be attracted by the concept and unique selling proposition of PLH model flats, such as their prime location, capital appreciation, rental returns, and design features," said OrangeTee & Tie senior vice president of research and analytics Christine Sun. 
"Moreover, new BTO flats in prime locations are hard to come by and their long term investment potential far outweighs the stringent criteria faced by owners of PLH model flats," added Ms Sun. 
The move to include two BTO projects from two different towns under the PLH model was "not entirely unexpected", said Mohan Sandrasegeran, research and content analyst at property platform Ohmyhome. 
"With the omnipresence of million-dollar deals across Singapore, the progressive move to add more flats under this model is a rational decision to likely minimise such high-value transactions for public housing flats," he said. 
Mr Lee Sze Teck, senior director of research at Huttons Asia, suggested the Lakeside View project might also attract "many applicants", noting the last BTO launch in the area was Yung Ho Spring I in 2014. 
The upcoming BTO project is within walking distance of the Lakeside MRT station, while Rulang Primary School is within a kilometre of the development, he said.
"Some units will enjoy unblocked views of Jurong Lake Gardens which is being developed into a lifestyle destination with an upcoming integrated tourism development," he added.