86-year-old man jailed for killing partner in 'unspeakably vicious' attack
The man hacked his domestic partner to death with a chopper after a dispute over which bedroom he was allowed to sleep in.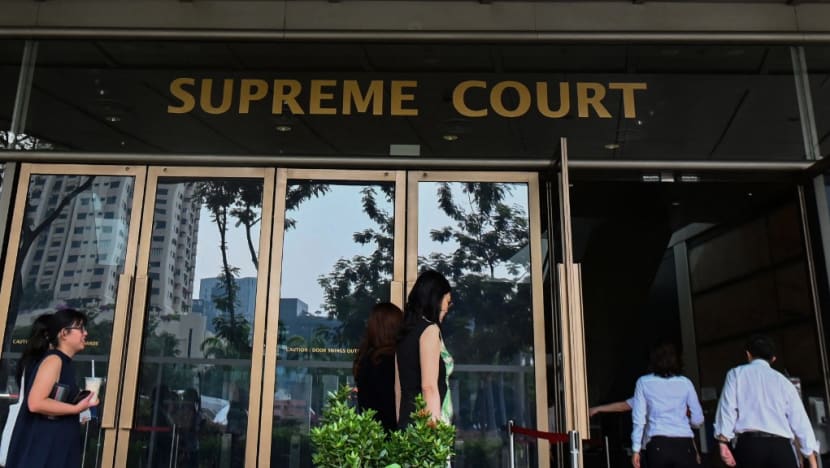 SINGAPORE: An 86-year-old man was on Monday (May 22) sentenced to 15 years in jail after admitting to killing his domestic partner in 2019.
Pak Kian Huat hacked 79-year-old Mdm Lim Soi Moy to death with a chopper in the Housing Board flat they shared after a dispute about their rooming arrangement.
He pleaded guilty to a single charge of culpable homicide, after originally being charged with murder.
Delivering the sentence, Justice See Kee Oon said that Pak's attack on the victim was "deliberately and unspeakably vicious and brutal".
"It was a senseless attack on a defenceless victim," said the High Court judge. "He set out to kill the victim because of his self-induced and wholly misplaced perception of grievance."
At a previous court hearing last September, Pak's guilty plea could not be taken after he made numerous objections to the prosecution's statement of facts.
On Monday, speaking through a Mandarin interpreter, he admitted without qualification to the statement of facts and did not raise further objections from the dock.
ROOMING DISPUTE TURNED LETHAL
Pak and Mdm Lim met as teenagers in the 1950s and went on to have four children together, although they never married.
The court heard that their relationship became strained over the years, partly because Pak was bad-tempered and abusive towards Mdm Lim and at times towards their children.
At her children's encouragement, Mdm Lim moved out of the family home with one of their daughters in 1980 to avoid Pak. Pak continued caring for the three other children until they grew up and moved out.
The couple reconnected through their children in 2004. Pak asked to move in with Mdm Lim in her four-room flat as he did not want to live alone, and she agreed.
Both slept in separate bedrooms, with a third bedroom kept for the couple's children, who were based overseas, to stay in when they returned to Singapore.
On Aug 26, 2019, Pak told the couple's second son that he was ill with flu and cough.
He felt that his condition was caused by the dustiness in his bedroom, which was the smallest, and complained that Mdm Lim refused to let him move into the third bedroom.
The family met and agreed that Pak could stay in the third bedroom as long as he moved back to his own bedroom whenever any of the children stayed with them.
NIGHT OF THE INCIDENT
After that, Pak slept in the third bedroom. He was aware that he had to move back to his own bedroom by Sep 1, 2019 as one of their sons was returning to Singapore.
On the night of Aug 31, 2019, Pak again asked Mdm Lim if he could continue living in the third bedroom. Mdm Lim rejected his request.
According to the prosecution, Pak kept thinking about this issue as he felt that moving back to his own bedroom would worsen his health condition.
"He grew angrier as the night wore on," Deputy Public Prosecutor Dillon Kok told the court.
Sometime before 3.30am the next day, Pak took a chopper from the kitchen and sought out Mdm Lim, who was asleep in her own bedroom.
When Mdm Lim woke up and asked what he wanted, Pak told her that if she wanted him to die, he would not allow her to live.
He then attacked her with the chopper, continuing his blows even after she fell from the bed onto the floor.
After the attack, Pak called his son to tell him that he had killed Mdm Lim, and to inform the police. The son called the police.
When police arrived, Pak told them that he had killed Mdm Lim, that he suspected some of their children were not fathered by him, and that Mdm Lim wanted him dead.
He also told them in Mandarin: "I am glad that I am able to kill her, I almost failed to kill her."
Mdm Lim's body was found in her bedroom. She suffered 54 wounds, including 31 on her face and head. A number of the wounds also came with associated fractures.
ACCUSED PAINTED HIMSELF AS GENTLEMAN: PROSECUTION
The prosecution asked for 15 to 18 years' imprisonment. Mr Kok said that the nature and severity of the wounds on the victim's body reflected Pak's determination to kill.
"He picked out a chopper, he pinned Mdm Lim down on her bed, he left her with no chance of defending herself," he told the court.
Noting that some wounds were inflicted while Mdm Lim was on the floor, Mr Kok said that Pak had a clear advantage over the victim and acted in cruelty. 
The prosecutor also pointed out that the killing took place in the context of domestic violence, which was "particularly abhorrent" and required severe punishment.
Mr Kok further argued that Pak's advanced age did not warrant a moderated sentence, as culpable homicide carries a possible sentence of life imprisonment.
While Pak could end up spending the rest of his life in prison, such a sentence would not be disproportionate or crushing, the prosecutor said.
Defence counsel Eugene Thuraisingam asked the court to consider Pak's plea of guilt, the fact that he is a first-time offender, and his emotional and angry state of mind at the time of the offence.
Mr Thuraisingam also said his client was "extremely remorseful", but the prosecution disputed this.
Referring to Pak's mitigation plea, Mr Kok said: "Despite evidence of past instances of abuse, the accused continued to paint himself as a gentleman who would always forgive Mdm Lim. This bears testament to the accused's chauvinism."
Mr Kok also said that Pak's mitigation plea was an opportunity to air his grievances against Mdm Lim, and lacked any apology to the victim and their children.
"This would have been the bare minimum expected of a man who truly regrets his actions," said the prosecutor.
In his remarks, Justice See noted that Pak only stopped his attack after Mdm Lim could no longer speak, and that there was no hint of remorse from him even after the police arrived.
The judge noted an element of premeditation, including Pak's admission that he had selected the chopper because he thought the other knives in the kitchen were too small.
Justice See also said that Pak's advanced age was not a mitigating factor as the offence was heinous and could have resulted in life imprisonment.
The punishment for culpable homicide is life imprisonment with caning, or jail for up to 20 years with a fine or caning. Offenders above 50 cannot be caned.