Rise in abandoned pet chickens in Singapore leads to space shortage at shelters
There has been a 40 per cent jump in neglected chickens in recent months, as more residents get into a flap over noisy poultry.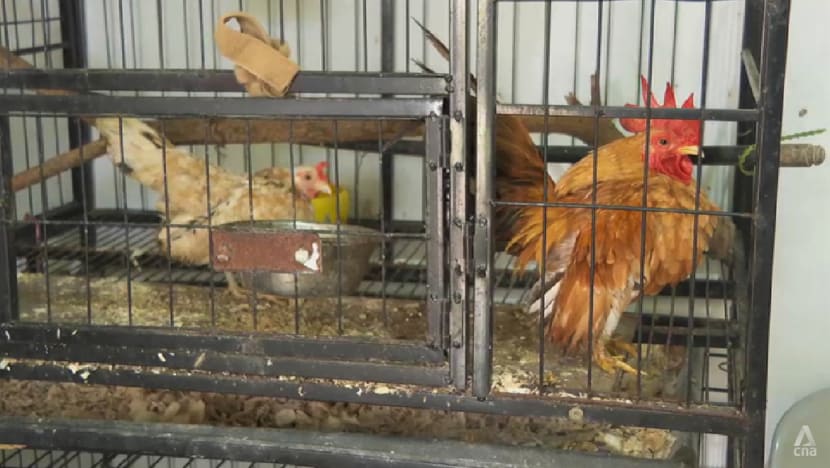 SINGAPORE: More pet chickens are being abandoned, and sanctuaries here are running out of space to house them.
There has been a 40 per cent jump in neglected chickens in recent months, compared to previous years, rescuers told CNA. 
And more residents are getting into a flap over the din generated by the birds, with noise complaints on the rise. Government agencies and town councils received nearly 1,500 complaints last year, across both public and private housing, up from around 1,000 in 2020. 
Abandonment cases have spiked too, as some chicken owners have been forced to give up their pets. 
COOP CONCERNS
Shelters for chickens are now running out of space fast.
The Rescue, Rehome and CareSG facility, for instance, has rescued and re-homed about 100 chickens since it started operations in mid-July.
"It's quite sad to see them just roaming around," said Mr William Lian, a volunteer at the sanctuary. 
"Some of them are not very good at finding food for themselves, and they are very easily attacked by stray dogs and cats."
Meanwhile, some are helping potential adopters to re-home chickens through online platforms. 
Mr Noel Tan, co-founder of Chicken Adoption Rescue SG, said: "Last time, there used to be just one of us. So it's a lot easier now, And of course, there's more community groups set up, so people re-home through them.
"That's a very good thing, to see more people within the community contributing to the space."
However, the fate of larger shelters for chickens is hanging in the balance. 
Once able to house as many as 20 chickens each, the limit has now been reduced to just 10.
"The government has approached us and mentioned that if we want to house 20, we need to get them vaccinated," said Mr Lian, adding that the shelter is prepared to shut down early next year should negotiations fall through. 
"The only problem is that financially, all these costs will come out from our own pockets. And also, the turnover of the chickens will be a bit too fast, so we wouldn't be able to keep up with the vaccination."
CHICKENS SHOULDN'T EXPECT HANDOUTS
The presence of wild chickens is also a problem, especially at some parks here. 
Since 2020, the National Parks Board (NParks) has received more than 1,000 reports annually about free-ranging chickens. 
The wild chicken population growth could be due to increased greenery, which provides suitable habitats for them, and increased food availability because people are feeding them, said experts. 
NParks has urged the public not to feed wild chickens as it leads to overpopulation. 
Animal Concerns Research and Education Society's (ACRES) co-chief executive Anbarasi Boopal said there needs to be more awareness and cooperation from members of the public. 
Ms Anbarasi said feeding these animals with additional and artificial sources of food affects their reproductive rates.  
"Basically, they can survive better with more food available... Also, their behaviour will change where they will start approaching or staying close to where people are, expecting a food handout from the residents and members of the public," she told CNA938's Singapore Today.
"With more additional artificial food available, the survival rates will be higher. So then you can see an increase in the population, which is very visible now."
The key method to manage their population would be through their food sources, and both direct and indirect feeding, Ms Anbarasi suggested. "We really hope we can do that in Singapore. 
"Otherwise, even if we manage one animal population but the food source is not addressed, there will be an issue with another species whose population may increase."
Singapore Today with Lance Alexander and Melanie Oliveiro airs weekdays, 5pm on CNA938