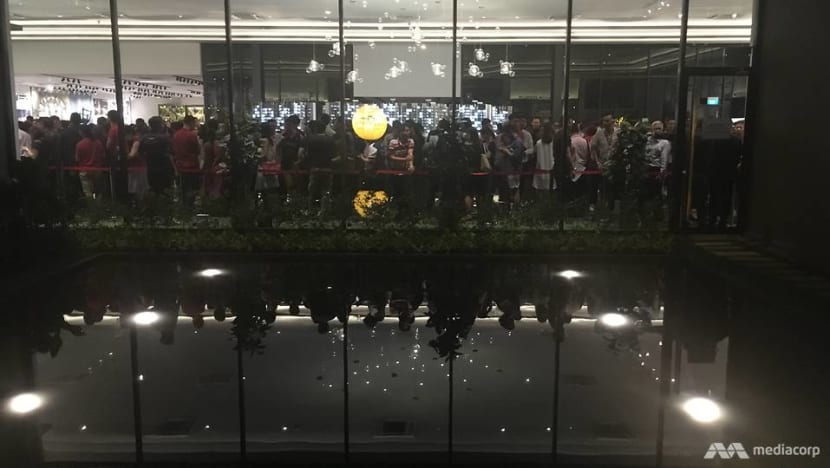 SINGAPORE: Crowds of potential buyers flooded showflats across Singapore shortly after new cooling measures were announced on Thursday (Jul 5), in the hope of avoiding a hike in stamp duty or tighter loan limits.
Several showflats extended their opening hours until 11.59pm on Thursday, with some developers even bringing forward their launches by a couple of weeks.
The Additional Buyer's Stamp Duty (ABSD) rates will be raised by 5 percentage points for citizens and permanent residents (PRs) buying second and subsequent homes as well as foreigners buying any residential property, the government announced on Thursday.
The new rates are effective Jul 6, but there will be a transitional provision for cases where the Option to Purchase (OTP) is granted by sellers to potential buyers on or before Jul 5.
Meanwhile, loan-to-value limits will be tightened by 5 percentage points for all housing loans granted by financial institutions.
Among the showflats that extended their opening hours were Park Colonial along Upper Serangoon Road, Stirling Residences in Queenstown, The Crest at Alexandra, Seaside Residences in Siglap and Riverfront Residences in Hougang.
"All of them (agents) have been activated to sell tonight and issue OTP by midnight," an ERA agent, who only wanted to be identified as Ms Lee, said on Thursday.
"It's like panic buying. You can go to any of the new launches; they are all full," she added.
Ms Ng, an ERA agent who was at Park Colonial, said that the situation was "extremely chaotic", with long queues and lots of shouting.
"All buyers desperately want to buy," she said.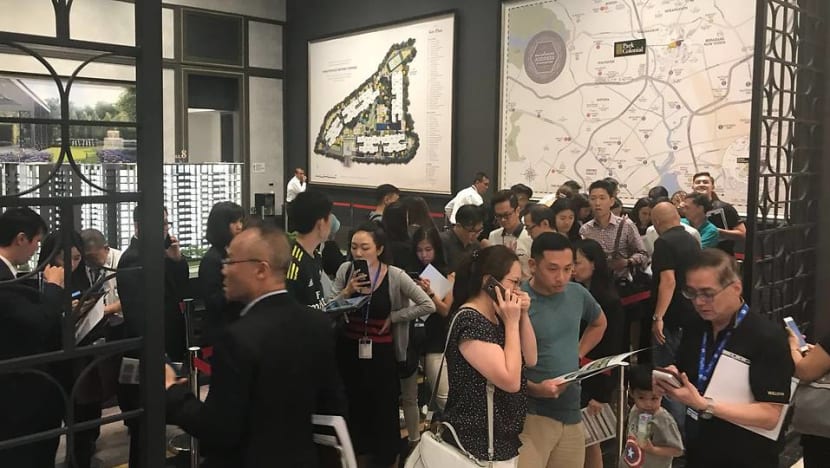 Property agent Mr Eric, who was in the queue to enter the Riverfront Residences showflat, had been in line since 6.30pm on Thursday. He was there on behalf of his clients who wanted to buy a second residential property when Channel NewsAsia spoke to him at 10.30pm.
"Why do we have to pay an additional 5 per cent to the government? Fifty grand could be the one year's salary for some people, so what is four to five hours in the queue?"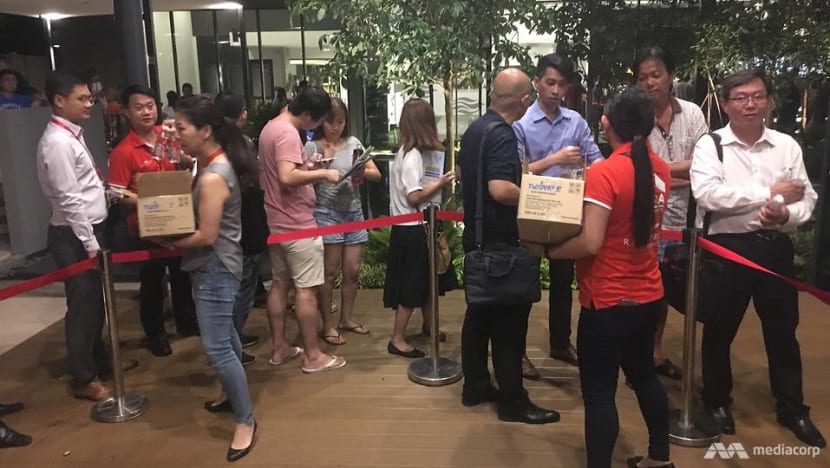 Mr Henry Koh, who was also in the queue to enter the Riverfront Residences showflat, was looking to purchase his first property.
"When I first read the news on Facebook this evening and got the call from my agent, anxiety kicked in ... I think our chances are now probably slim."
Ms Sandra Lim and her husband, who managed to snag a unit, said they felt "quite lucky".
"We are happy with our purchase. We live around here so we came down straight away. We actually did recce the area before, we were keen and got a ballot number but decided to come down (because of the news)," Ms Lim said.