Active ageing centres, employment schemes part of updated plan to help Singaporeans age well
The 2023 Action Plan for Successful Ageing hopes to address evolving needs and aspirations of current and future seniors.
SINGAPORE: Having more active ageing centres and better support for dementia patients and their caregivers are among initiatives announced on Monday (Jan 30) as part of an updated national blueprint to ensure that Singapore's greying population will be able to age well.
The 2023 Action Plan for Successful Ageing, as it is called, also extends two senior employment schemes and other initiatives to enable volunteerism and learning.
The action plan was first rolled out by the Ministerial Committee on Ageing in 2015, covering initiatives such as health talks, exercise programmes, subsidised classes and improvements to infrastructure.
The latest update aims to address evolving needs and aspirations of current and future seniors, and comes after engagement sessions attended by more than 5,000 Singaporeans between 2019 and 2021.
Key concerns about ageing that were raised at these sessions include ageist attitudes at work, rising cost of living and keeping up with technology. But people also want to be able to contribute meaningfully as they age, be it through work or volunteering.
"Taking into account the feedback, the 2023 Action Plan will focus on community initiatives to empower Singaporeans to take charge of their own ageing journeys," the Health Ministry said in a press release.
One of which is to help seniors maintain and improve their physical and mental well-being through preventive health, active ageing programmes and care services.
Speaking at the launch event, Health Minister Ong Ye Kung said preventive care is often associated with clinical services but what is "equally and maybe even more important" are the activities that are further upstream such as diet, physical exercise and generally living an active lifestyle.
The existing network of active ageing centres will hence be increased from 119 to 220 by 2025. These centres must also evolve into centres for preventive care and to do that, they "will need to become magnets that draw seniors out of their homes", Mr Ong said.
"From there, active ageing centres can facilitate social interactions, encourage good health-seeking behaviours ... promote volunteering and offer health screening services," he added.
More activities under the Live Well, Age Well programme – which comprises a range of active ageing activities from physical exercises to mental well-being, nutrition and digital literacy – will also be rolled out at accessible locations nationwide such as community clubs and residents' committee centres.
The programme aims to reach more than 550,000 people over the next five years.
To enhance support for persons with dementia and their caregivers, there will be more community outreach teams – known as the community resource, engagement and support team (CREST) – that proactively identify seniors at risk of dementia and refer them for further assessment. The aim is to have 73 of such teams by March 2025, up from 61 currently.
The number of teams under the CREST-Post Diagnostic Support pilot, which reach out to families and link them up with resources, will also be tripled to six by March 2025.
With most Singaporeans preferring to pass on at home, the Ministry of Health said it is working with healthcare and community care providers to smoothen hospital discharge processes and scale up palliative care capability and capacity, while providing better support for caregivers at home.
These efforts will help to reduce the proportion of deaths in hospitals from 61 per cent to 51 per cent by 2027.
More will also be done to raise awareness for end-of-life care planning, for example, the Lasting Power of Attorney (LPA) which is a legal document that allows one's next of kin to make key decisions on their behalf should they lose the mental ability to do so.
Authorities hope to have more than 240,000 Singaporeans aged 50 and above registered for LPA by the end of 2025.
Two government grants - offering salary subsidies and funding support to companies when they hire senior citizens - will be extended for another two years. More than S$450 million in wage offsets has already been disbursed, allowing firms to employ about half a million senior workers. Clara Lee reports.
WORK, VOLUNTEER AND LEARN
Other initiatives under the action plan aim to enable seniors to contribute meaningfully to the society, ranging from continued employment with more flexible arrangements to volunteering opportunities.
For one, the Senior Employment Credit, which provides wage offsets for employers who hire Singaporeans aged 60 and above earning up to S$4,000 a month, will be extended from 2023 to 2025.
As of September 2022, this scheme has disbursed more than S$450 million to nearly 100,000 employers, supporting more than 461,000 senior workers, said Manpower Minister Tan See Leng during a dialogue session.
The Part-Time Re-employment Grant will also be extended over the same period with revised eligibility criteria to nudge employers to offer flexible work arrangements and structured career planning for their senior workers.
More than 5,700 employers have committed to a part-time re-employment policy under this grant and this is expected to benefit more than 45,000 senior workers in the months ahead, said Dr Tan.
Employment rates for senior workers have continued to improve, he added. For those aged 55 to 64, the rate has increased by 3 percentage points from 67.6 per cent in 2019 to 70.6 per cent in 2022. Likewise, for seniors aged 65 to 69, employment rates have gone up to 47.5 per cent last year, from 44.6 per cent in 2019.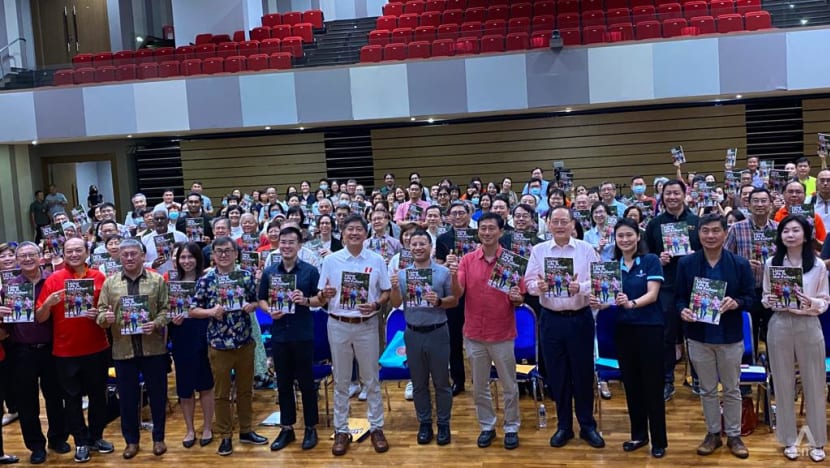 To promote volunteerism, the SG Cares office, a unit under the Ministry of Culture, Community and Youth, will partner RSVP Singapore, an organisation for senior volunteers, to engage 750 corporates and their mature workers by 2027.
Other efforts will include developing volunteer management resources to help organisations better engage senior volunteers, and the roll-out of an enhanced Silver Volunteer Fund this year to enable volunteer training and development, as well as opportunities for inter-generational volunteering.
Meanwhile, the National Silver Academy is hoping to reach more than 70,000 senior learners over the next five years.
Set up in 2015, the academy now offers more than 1,000 courses across a wide range of topics. Moving forward, it will convert selected courses to online learning formats to offer greater accessibility.
SENIOR-FRIENDLY INFRASTRUCTURE
Finally, more senior-friendly infrastructure in the community and transport are in the works.
The National Parks Board is working towards setting up 25 therapeutic gardens in parks islandwide by 2027, up from the current nine.
These gardens are scientifically-designed to meet the physical, psychological and social needs of users such as persons with dementia or stroke patients, said Minister for National Development Desmond Lee who also participated in the dialogue session.
Authorities will also continue to facilitate therapeutic horticultural programmes to promote better physical and mental health of seniors.
By 2025, 50 Silver Zones – a scheme to enhance road safety for the elderly with measures such as reduced speed limits – will be implemented by the Ministry of Transport and Land Transport Authority. 
A hundred pedestrian overhead bridges near places frequented by seniors will also be retrofitted with lifts, while more pedestrian crossings will be installed with Green Man+ to give seniors more time to cross the road.
Among other initiatives, Sport Singapore will be initiating an Active Silver Hub which offers opportunities for seniors and youths to interact through modified sports activities and programmes.
Describing ageing as "the most significant social development" in Singapore, Mr Ong said the Government started preparing for an older Singapore many years ago with policies such as the gradual extension of working age, rolling out SkillsFuture and more recently, the Healthier SG strategy which focuses heavily on preventive care.
At the same time, there is a need to strengthen support systems to enable ageing in communities, rather than in institutions like nursing homes. 
"In communities, our seniors are more likely to have friends, loved ones and activities to engage themselves in. These are the best therapies to help them stay healthy and prevent frailty," said Mr Ong, who is also chairman of the Ministerial Committee on Ageing.
"The fact is that ageing is going to affect every facet of our lives, and we need to make changes and adjustments to many areas – public policy, infrastructure, social practices, individual behaviour – in order to embrace ageing as a reality."

Editor's note: This article has been updated following a correction by the Health Ministry on the LPA target for Singaporeans aged 50 and above.