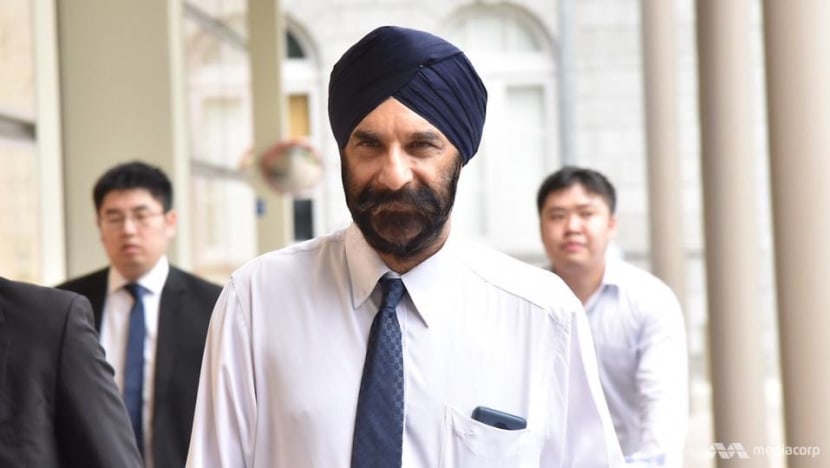 SINGAPORE: The lawyer for Pasir Ris-Punggol Town Council (PRPTC) on Tuesday (Oct 16) accused Workers' Party (WP) Member of Parliament Low Thia Khiang of using residents' monies to fund a "start-up" for towns run by opposition parties.
Mr Low took the witness stand on Tuesday afternoon for the first time in the Aljunied-Hougang Town Council (AHTC) trial.
The former WP chief, along with WP MPs Sylvia Lim and Pritam Singh, is being sued by PRPTC and AHTC for an alleged breach of fiduciary duties in the appointment of FM Solutions and Services (FMSS) as the managing agent for AHTC. They are also accused of allowing more than S$33 million in "improper payments", mostly to FMSS.

Senior Counsel Davinder Singh spent the afternoon tearing down Mr Low's defence, that he acted "in good faith" and in the best interests of residents by appointing FMSS as its managing agent over the incumbent CPG Facilities Management.
Instead, Mr Singh charged: "You decided to use monies to fund a start-up for the benefit of towns run by opposition parties. That, sir, is as improper a purpose as it can get. That is as bad faith as it can get."
Mr Singh referred to Mr Low's affidavit, where Mr Low said that he was "also of the view that the introduction of a new entrant into the small market would be good for competition and price benchmarking over time".
He was referring to the introduction of a new managing agent for town councils and how it would be good for competition, as there were only three managing agents at the time, all serving town councils under the ruling People's Action Party (PAP).
Hougang Town Council had been managed in-house and not by a managing agent before the Workers' Party won Aljunied GRC in the 2011 General Election.
"I also thought that a new entrant would serve as an attractive alternative option for any other opposition candidate who may be elected in future should this trend continue," Mr Low continued in his affidavit.
According to Mr Singh, this was the real reason for Mr Low, and the other defendants, wanting to set up FMSS - because it would be good for towns run by opposition parties. 
He asserted that Mr Low's defence that AHTC appointed FMSS as its managing agent because CPG wanted out, "was all a fabrication".
In his line of questioning, Mr Singh also charged that the reason Mr Low wanted to avoid a tender for the first managing agent contract was that he did not want to run the risk that anyone other than FMSS would be AHTC's managing agent. 
"And the reason (was that) you wanted to help your Workers' Party supporters get the job," said Mr Singh.
Mr Low rejected his allegations.

The tender was waived and FMSS was appointed as AHTC's managing agent while CPG was released with two years to go on its contract. 
FMSS was helmed by two other defendants - Mr Danny Loh, who was AHTC secretary and also the owner of FMSS, and his wife Ms How Weng Fan, AHTC deputy secretary and a shareholder and director of FMSS. 

IN BEST INTERESTS OF RESIDENTS NOT TO FORCIBLY RETAIN CPG: LOW
Mr Low had said in his affidavit that he acted in good faith and in the best interests of residents. He explained that he was of the view, after facing difficulties and problems managing HTC, that it was in the best interests of the residents that AHTC be managed by a managing agent.
According to Mr Low, CPG was an unwilling managing agent, and wanted to withdraw from its role, which it had held under Aljunied Town Council when it was under the PAP.
"To forcibly retain CPG against its own will would not have been sensible because an unwilling managing agent would not have performed its functions effectively and this was a judgment call that the MPs made with the best interests of our residents at heart," said Mr Low in his affidavit.

But Mr Singh countered that Mr Low could have saved money by expanding the Hougang Town Council management team instead of hiring FMSS, which was to be run by former employees of HTC. 
Ms How was the secretary and general manager of HTC.
"If you incorporate a company ... that enters into a managing agent contract, you are not only paying their costs - there's a profit element, right?" Mr Singh asked.
Mr Low replied that that depended on the tender.
"Well we know that there was no tender, and CPG's rates were used," Mr Singh continued. "So what happened was to not just pay Ms How her salary, but to give her and the shareholders a profit element as well."
Mr Singh added that it was "reckless" of Mr Low that he did not know CPG's cost structure but used CPG's rates when paying FMSS.

When Mr Low said he did not know about FMSS' salaries or whether they were going to make a loss as that was not his calculation, Mr Singh said he found that "remarkable".
"These are not your monies. These are residents' monies," he said. "Instead of finding someone trustworthy and dependable, you use residents' monies to give this new managing agent a higher number. A number in excess of their costs."
"No," Mr Low replied. "That consideration, as what I've explained, is not just dollar and cents."
Mr Singh answered: "You see, Mr Low, it ought to have been dollars and cents. Because it's not yours, it's others'."
LOW QUESTIONED OVER TWO COMPANIES THAT WERE 'REJECTED' BY AHTC
Mr Singh also questioned Mr Low about two companies that were "rejected" by AHTC when they approached him with an interest in providing managing agent services around May 2011.
Asked why he was "not interested" in the first company, Mr Low said it was not that he was not interested.
"My assessment was that they are basically managing facilities. Facilities management," he said. "And to me, that is very far from managing a HDB township, let alone (one with) 50,000 HDB dwelling units."
Mr Singh said that there was no difference between this company and FMSS, to which Mr Low said the difference was that staff at FMSS had 20 years of experience managing HTC.
Other than the facilities management company, Mr Singh charged, there was a property management company that approached AHTC about providing managing services.
He asserted that these two companies were on the same level as FMSS, in that they did not have staff and or experience managing a township of that size.

He charged that Mr Low rejected the two companies "because FMSS was a done deal and it was going to be FMSS regardless".
Mr Low answered that the reason was he needed to make an assessment before he spoke to the other MPs.
Mr Singh also charged that Mr Low did not do his due diligence on the companies by finding out the number of employees they had, the employees' experience, or whether they were willing to hire people for the job. 
"You see, what you did is you found a way to get rid of them so that nothing could threaten your plan to have FMSS in place," said Mr Singh.

At this point, the judge called for a recess.
LAWYER AND LOW THIA KHIANG CROSS OVER ENGLISH, LAUGHTER
Watched by a packed courtroom, Mr Singh stopped Mr Low a few times to ask him why he was laughing.
"You think it's funny? You laugh on the stand? This is serious business, please understand," Mr Singh said in one instance. Mr Low replied that he found his questioning funny.
"You use residents' monies to do these things, and you laugh on the stand? Is that how you take your obligation seriously?" Mr Singh countered.
"I do take my obligation seriously, and I have not spent a single cent of the residents' money improperly," Mr Low answered.

At the start of the hearing on Tuesday, Mr Singh opposed Mr Low's request for a Mandarin interpreter, saying that he had written his affidavit in English and that having interpretation would "eat into my time" for cross-examination.
"It will appear that Mr Low is seeking to reserve to himself the opportunity to take more time to think about questions by having them translated to him before he gives his answers," he charged.
 
The hearing went on in English. Mr Low will take the stand again on Wednesday.