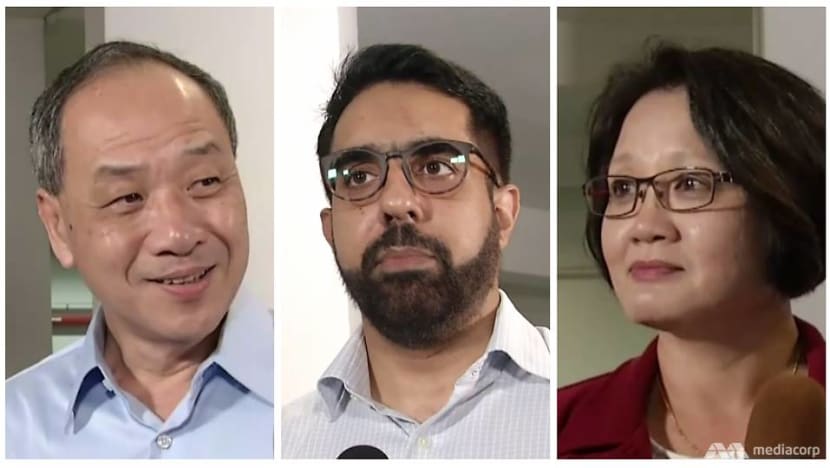 SINGAPORE: The civil lawsuits brought by two town councils against Workers' Party (WP) Members of Parliament (MPs) over an alleged breach of fiduciary duties will be heard in court from Friday (Oct 5).
At the centre of the lawsuits filed by Aljunied-Hougang Town Council (AHTC) and Pasir Ris-Punggol Town Council (PRPTC) are three WP MPs: Mr Low Thia Khiang, Ms Sylvia Lim and Mr Pritam Singh.
The other defendants are: AHTC councillors Mr Chua Zhi Hon, Mr Kenneth Foo Seck Guan and Ms How Weng Fan; the town council's former managing agent FM Solutions and Services (FMSS), and its owner Mr Danny Loh, who died in 2015.
The cases will be heard together in the High Court and proceedings are expected to run from Oct 5 to Nov 2. 
It is expected to begin with opening statements, followed by cross-examination of auditors from KPMG and PwC. Former WP chief Low and chairman Lim will later take the stand, lawyers involved told Channel NewsAsia after a pre-trial conference held on Monday (Oct 1).

The AHTC suit was filed on its behalf by an independent panel the town council itself appointed in reaction to an October 2016 report by auditor KPMG. The report noted "serious flaws" in AHTC's governance. 
It alleges that the three WP MPs breached fiduciary duties in appointing FMSS as the town council's managing agent.
The suit also alleges that Ms Lim and Mr Low misled the town council into waiving a tender and appointing FMSS as AHTC's managing agent.

It also accuses them of allowing "improper" payments. More than S$33 million in payments were made to FMSS and its service provider, FM Solutions & Integrated Services (FMSI).
The suit also accuses them of deciding that Ms How, who was then the deputy secretary and general manager of the town council, would set up and incorporate FMSS with her husband Mr Loh, the secretary of AHTC at the time. 
PRPTC said in September 2017 that it had commenced court proceedings against the same three WP MPs, in a case which overlaps with the facts and circumstances of the AHTC one.
It is seeking claims and reliefs pertaining to Punggol East.
Punggol East was previously managed by the WP after it won the single-member constituency in a by-election in 2013.
A TIMELINE OF EVENTS
The trial is the culmination of a series of events that began in October 2016, when auditor KPMG released a report that found "serious flaws" in AHTC's governance.
In its report on the town council's payment transactions from May 2011 to November 2015, KPMG found allegedly improper payments amounting to millions of dollars to third parties.
The town council was renamed AHTC, from Aljunied-Hougang-Punggol East Town Council (AHPETC), after it lost its single seat in Punggol East to the People's Action Party in the 2015 General Election.
The auditors alleged there were "serious conflicts of interest" as the owners of FMSS and FMSI held key management and financial control positions in the town council at the same time.
Six shareholders of FMSS held positions in the town council including the roles of finance manager and general manager.
Town council members who were in conflict of interest allegedly approved payment vouchers and work orders on behalf of the then-AHPETC in respect of FMSS' invoices, KPMG said.
A few months after this, in February 2017, AHTC itself appointed an independent panel to review the findings of the KPMG report.
The Court of Appeal had given the green light to the appointment of the independent panel, which Mr Singh said would act without remuneration and without directions from AHTC, HDB or any other party.
It was headed by senior counsel Philip Jeyaretnam and comprised senior counsel N Sreenivasan and KPMG managing partner Ong Pang Thye.
In July 2017, the panel filed a lawsuit against Mr Low, Ms Lim and Mr Singh and several others.
Two months later, PRPTC also indicated that it had begun court proceedings.
POSSIBLE CONSEQUENCES
The three WP MPs gave a joint statement to the media in July 2017 rejecting the allegations, saying they acted in good faith and "have not benefited a single cent" from the appointment of FMSS.
"In the course of these proceedings, we will be furnishing more information so that all concerned will be clearer on the issues and why we made the decisions and acted as we did," they said in their statement.
They added that they see the lawsuit as an opportunity to explain their decisions to the court and to the public.
The independent panel previously said it was seeking compensation for the S$33 million which was allegedly wrongfully paid out to the companies. This is subject to how the defendants show which payments were lawful.
If they lose the suit, the defendants may have to pay monetary damages, which will be decided by the court.
According to Singapore Management University (SMU) law academic Eugene Tan, AHTC will "likely explore other debt recovery options to enforce the judgment" if the three WP MPs are unable to pay the damages, if there are any.

Should all options be exhausted, Associate Professor Tan said it is "likely" that AHTC would commence bankruptcy proceedings against them. These are not a guarantee for the full recovery of the debts owed, he added.
Under the Singapore Constitution, a person is not qualified to be a Member of Parliament if he is an undischarged bankrupt.
"If they are sitting MPs when the High Court declares them bankrupts at the court hearing, they will immediately lose their seats as MPs," said Assoc Prof Tan. While they are undischarged bankrupts, they will not be allowed to contest in any parliamentary election.
WP's Mr Low had told reporters in July 2017: "Some of you might be worried (about) what happens if we lose our seat. I can tell you, (if we) lose our seat, there will be more people, and the younger generation in the Workers' Party will be prepared to come forward to serve Singaporeans, so I am not worried."
AHTC is represented by Shook Lin & Bok, while PRPTC is represented by Drew and Napier.

The WP members will be represented by Tan Rajah & Cheah, while Netto & Magin LLC will represent FMSS and Ms How, who is the personal representative of her late husband Mr Loh.