AHTC trial: FMSS' How Weng Fan wanted 'hopeless chairman' Sylvia Lim replaced, reveals Davinder Singh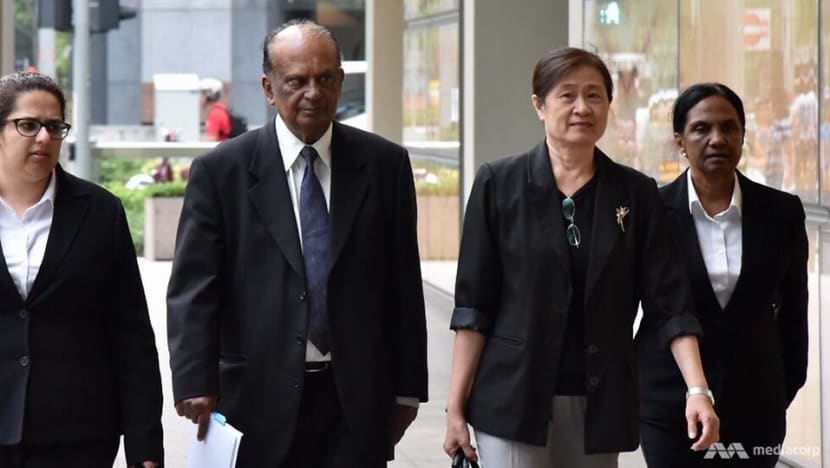 SINGAPORE: Ms Sylvia Lim was a "hopeless chairman" of Aljunied-Hougang Town Council (AHTC) and Mr Low Thia Khiang should replace her, according to the director of the town council's former managing agent FM Solutions and Services (FMSS). 
Ms How Weng Fan, one of eight defendants in the ongoing AHTC trial, was revealed to have said that in a recorded phone call to an employee of audit firm KPMG.
Portions of the 2016 phone call were read out in the High Court on Monday (Oct 29) by Senior Counsel Davinder Singh on day 16 of the trial.
"I even told Low Thia Khiang to remove her as chairman," read Mr Singh, who acts for Pasir Ris-Punggol Town Council (PRPTC). 
"You told Mr Low to remove Sylvia as chairman of the town council?" he asked.
"To replace her with himself," answered Ms How.
"That would be a removal," Mr Singh said.
"No, rotate and replace," she answered.
"Why?" Mr Singh asked.
"Because we were put into this political situation whereby a new MP like Sylvia or any other elected MP would not be able to handle this kind of situation where all the government bodies were coming at us so you need someone experienced enough who can handle," Ms How replied.
Ms Lim was chairman of AHTC from June 2011 to August 2015. She assumed the position soon after Hougang Town Council (HTC) merged with Aljunied Town Council when the Workers' Party (WP) won Aljunied GRC in the 2011 General Election.

Mr Singh went on to read other portions of the transcript, where Ms How said: "You know Mr Low very well ... and he also played me out."
"Yes," Ms How responded. "That's what I felt when he informed me that Sylvia would be the chairman. I felt to put an inexperienced MP to be chairman it would (put me in a difficult position as) we need someone strong to be able to handle the matters politically."
Ms Lim sat in the courtroom listening to Ms How's testimony.
Ms How took the stand for the first time on Monday. She represents herself and her late husband Danny Loh in the lawsuits brought by AHTC and PRPTC for alleged breaches of fiduciary duty in the appointment of her company FMSS as managing agent of AHTC.

It is alleged that the appointment led to AHTC making millions of dollars of "improper payments" to FMSS. This was in circumstances where there were conflicts of interest, as both Ms How and her husband held dual roles in both AHTC and FMSS.
After the WP won Aljunied GRC, Mr Low had approached Ms How to set up a company to provide managing agent services to AHTC if needed. Ms How has worked with Mr Low for more than 20 years, having joined HTC in 1991.

She told the court that she was reluctant at first, as she and her husband were contemplating semi-retirement, but eventually agreed as she wanted to set up a company with her husband anyway.
SYLVIA LIM "SO SCARED OF EVERYTHING": HOW WENG FAN
Mr Singh continued reading what Ms How said during the phone call: "(Sighs) She was the councillor before at Hougang Town Council. She is so scared of everything. She just cannot be the chairman. She will just do things to protect herself only. Then I told Low Thia Khiang she cannot be the chairman, you have to replace her ... you have to come back and be the chairman."
Looking at Ms How, Mr Singh said: "That's nothing to do with inexperience, Ms How, it's because of the character."
Ms How disagreed.
"You said she is so scared, she will just do things to protect herself only," Mr Singh went on.
"That's because she was inexperienced," Ms How said.
"You meant she's a person of no integrity, because she will look after her own interests only," Mr Singh persisted.
He said Ms How blamed Ms Lim for the troubles in the town council, but Ms How disagreed.
He continued reading what Ms How had said in the conversation: "They do not even know, that by not defending me, they are just digging their grave."
"So you were saying that if they turn on you, you are going to spill the beans, correct?" Mr Singh asked.
"This is very natural because ... I'm going to arbitration to disagree with each other on the claims," answered Ms How.
"And the grave they are digging for themselves meant that there is something that will put an end to them right?" Mr Singh asked.
"No, I think it will be coming to this court," Ms How said.
"Many people go to court and are victorious," Mr Singh answered. "They don't dig their grave when they go to court."
"This is just a figure of speech," Ms How said.
"It is a very powerful figure of speech," Mr Singh replied. "So you were telling (them) that if they don't change course, you will come clean ..."
"Well, when you come to court everything will be exposed," Ms How said.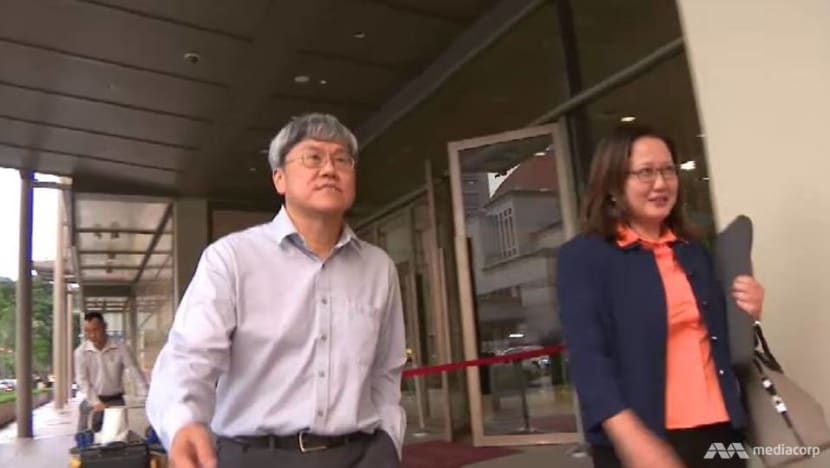 MS HOW HAD INFO WHICH COULD DESTROY ELECTED MPS POLITICALLY: DAVINDER SINGH
Mr Singh continued reading aloud from the phone conversation, where Ms How said: "All PAP need to do is come and ask me for my views for MPs la. I think they will die straightaway la."
"Yes," Ms How said.
"The same grave, the same death analogy. In other words, you had information that would finish them off, correct?" Mr Singh asked. "This was not inefficiency. This was not inexperience. (You) had information which would destroy them politically, correct?"
"I did not have information," Ms How replied. "But we would be dragged through the mud because of how the press would report. It's a grave. I can't get any jobs. I can't get any contracts for my company. (The MPs) will lose their seats and all that. If for one reason or another, the truth has been turned into lies ... they will lose their seats. With all this political bullshit this is what is going to happen, look at what is happening!"
At this, the judge stepped in and Mr Singh asked Ms How to mind her language, to which she apologised, saying she got carried away.
Mr Singh continued reading from the phone call, where Ms How said: "You know, I had to lose my husband in the process. I think you read in the papers you should know. And because of her."
"Who is the 'her'?" Mr Singh asked.
"Sylvia," Ms How answered. "My husband was under a lot of pressure. We went through a lot of hell having to set up the town council properly, amidst all the problems that we had and at the end of the day we deal with audit, then AGO, then we have to deal with audit again, PwC, and nobody wants to listen to the problems we were facing and going through and at the end of the day, the town council accepts the AGO's report just like that. Which cannot. 
"The report doesn't tell everything ... Events are not recorded properly. I spent five hours talking to AGO, I don't think the minutes … (reflect that). At the end of the day, because of this AGO report, the chairman felt compelled, because of the lapses, she imposed liquidated damages on us. In Japan, (my husband Danny Loh) was still doing the bonus calculation. He just died of a heart attack there and then. What did the press report? He died in an accident. Totally untruth. How can that be?"
"Ms How," Justice Kannan Ramesh began.
"And they are suing me, for S$33 million, times two!" Ms How burst out.

Another segment of the phone call revealed that Ms How had told KPMG that she had advised the town council, but they "did not want" to listen to her.
According to the transcript, she said: "I know you all (KPMG) want to rush out the report but ... you can't finalise this report like that ... Frankly speaking they get themselves into hot soup because they do not want to use advice from FMSS and now they are using such things to stab off, I will have to ... defend myself. And kill them off, and help PAP kill them off."
"What is that advice they did not want to listen to?" Mr Singh asked, referring to the town council.
Ms How explained that FMSS had told the town council that they were not in a position to do an audit, and that their advice was to honestly tell the Ministry of National Development and the Housing Development Board that they were unable to do an audit as they did not have the computer system for it, and could not balance the figures.

Ms How will take the stand again on Tuesday.