AHTC trial: Low explains reason for distrust of CPG, Davinder Singh says he's lying to the court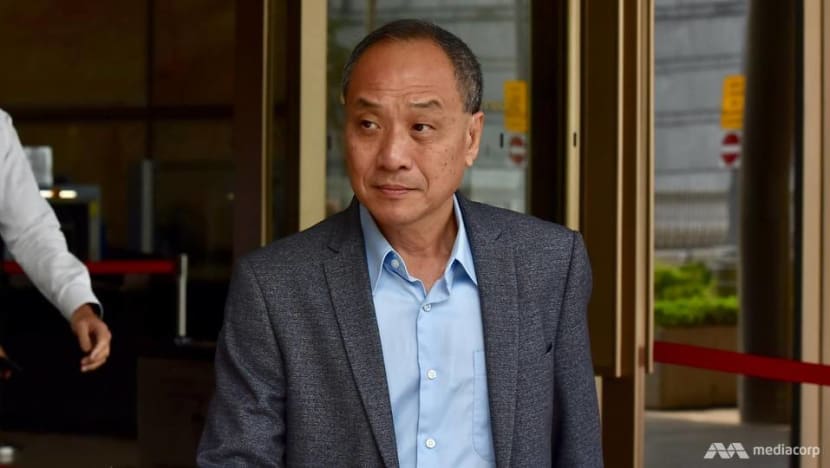 SINGAPORE: The 10th day of the Aljunied-Hougang Town Council (AHTC) trial opened with a series of sharp exchanges on Thursday (Oct 18), with Workers' Party (WP) Member of Parliament (MP) Low Thia Khiang attempting to explain evidence he had given a day earlier to strong objection from lawyer Davinder Singh, who accused him of lying to the court and misleading the judge.
Mr Singh, who acts for Pasir Ris-Punggol Town Council (PRPTC), stated at the outset of the morning's proceedings that he was done with his cross-examination of Mr Low. At this, Mr Low cut in and asked the judge if he could clarify an answer he had given on Wednesday.
Mr Singh objected strongly, saying that this was "not permissible" as any clarification should have been done during the cross-examination itself, and not at this point before re-examination by the defence lawyer Chelva Retnam Rajah.
Mr Rajah in his client's defence asked Justice Kannan Ramesh to allow Mr Low to clarify what he had earlier said, as "it is in my experience invariably allowed".
Mr Singh referred to the Evidence Act, saying that "none of what Mr Low seeks to do is permitted" under those rules.
"Your honour, my learned friend's point that if Mr Low had made this statement (to clarify) hours after the cross-examination had ended, that would be a different thing," Mr Singh said. "Whereas here, according to him, Mr Low spoke five seconds after I said my cross-examination is complete. It is not the time that matters, it is the principle."
The judge agreed. However, he eventually allowed Mr Low to explain his earlier evidence "briefly", as he said "it's only in my interests to see the full picture".
Mr Low then addressed a point which Mr Singh on Wednesday had grilled him on - the reason for the feelings of distrust and discomfort which Mr Low had with regard to allowing incumbent managing agent CPG Facilities Management to sit in on a meeting on Jul 21, 2011.
Mr Singh had asked Mr Low why an email trail appeared to show that he and his fellow elected MPs moved the meeting back so that CPG employees would not attend it. 
Pressed by Mr Singh to explain why they decided to defer the meeting, Mr Low repeatedly said that he was "uncomfortable" having certain discussions with a CPG representative in attendance, and that there was a level of "distrust". However, when asked by Mr Singh at least 26 times to explain why he felt that "distrust", Mr Low had no direct answer.
On Thursday, however, Mr Low told the court that he went home and thought about it and decided to explain. Otherwise he said it could "undermine" his and his fellow defendants' case.
Mr Low, along with fellow MPs Sylvia Lim and Pritam Singh and AHTC councillors Kenneth Foo and Chua Zhi Hon are being sued by AHTC and PRPTC for alleged breaches of fiduciary duty relating to the appointment of its former managing agent FM Solutions and Services (FMSS). 
This, along with "flawed governance" of the town council and "improper" payments of more than S$33 million made mostly to FMSS, are the subject of two lawsuits that also are aimed at FMSS employees How Weng Fan and Danny Loh, who also held positions at AHTC. They are themselves being sued as well.
MR LOW'S DISTRUST WAS OF CPG CEO, FORMER HDB STAFF
Interrupted by Mr Singh at several points, Mr Low told the court that his distrust pertained to Mr Seng Joo How, the chief executive of CPG.
He explained that Mr Seng was one of "the key personnel who was managing Aljunied Town Council (ATC)". WP was to take over ATC after it won Aljunied GRC in the 2011 general election. It then merged ATC with Hougang Town Council (HTC), to form AHTC.
Mr Low claimed that his distrust of Mr Seng was based on his previous experience with him in 1991, when Mr Seng was "a public servant at the Housing Development Board (HDB)".
According to Mr Low, HDB allegedly "terminated" managing agent services provided to the town council and also terminated the tenancy agreement of the HTC office.
"I was certainly faced with that situation of no office, no one to manage HTC," said Mr Low. "At that point in time, when I was faced with that situation, I thought the only possible source of redress was to seek help from HDB, which has a town council secretariat. So I went to HDB and I asked them, and HDB (was) not prepared to build an office for me." Mr Singh then said that Mr Low was "going into the history" of what happened in 1991, when his question was about the circumstances in 2011.
"Please Mr Low, please mind your place," Mr Singh said.
The judge asked Mr Low to address directly what his discomfort was with CPG.
Mr Low agreed and answered: "Because of this experience I had with Mr Seng Joo How in 1991, being a public servant supposed to help but didn't seem to do so, I can't expect myself to feel comfortable sitting with him at the same table discussing matters important to the town council."
"The reason I was hesitant yesterday was ... because it went into personal matters. I think it may not be fair to (Mr Seng) as he was not here," Mr Low explained. "I thought if the plaintiff can call him here ... I think it will be easier, but my concern is that because it may affect Mr Seng, if the media may pick it up and spin it ... it may be injustice to him."
"But because of the inference Mr Singh made, I thought it may do injustice to us (the defendants), if I'm so concerned about the injustice to him (Mr Seng). I did not expect the cross-examination to end so fast," said Mr Low.
Taking his turn to question Mr Low on the evidence he had just given, Mr Singh said: "Mr Low, I suggest to you that you have made up this evidence."
"Not true," Mr Low replied.
"I suggest to you that overnight, and this morning, after reading the reports of yesterday's proceedings, you realised that you have to come up with some sort of a reason otherwise the public and the residents of AHTC would wonder why if there was nothing to hide, you didn't want to talk about FMSS and the letter of intent in the presence of CPG," said Mr Singh.
"This is not true. I have not read the -"
"That's my suggestion," Mr Singh cut in. "And you considered that it will not just be damaging to you legally but politically because you cannot answer why something that you claim is completely defensible was suppressed. Do you agree?"
"I disagree," Mr Low answered. "I have not read the press reports. Neither did I even read the transcript."
Mr Singh then brought Mr Low through the minutes of the first AHTC meeting on Jun 9, 2011.
He asked Mr Low if a town council meeting was held to discuss matters of importance to the town council and to the residents that may be confidential. Mr Low agreed to this. 
He then asked Mr Low if the appointment of a secretary and deputy secretary of a town council was a very important appointment, to which Mr Low again agreed.
"You would not appoint someone a secretary unless you considered him to be good, reliable and trustworthy?" Mr Singh asked.
"Yes," Mr Low replied.
"Likewise for deputy secretaries?"
"Yes."
Mr Singh then referred to minutes that showed that the town council approved the appointment of Jeffrey Chua as secretary and Seng Joo How as deputy secretary.
"As of June 2011, you considered Mr Seng Joo How to be good, reliable and trustworthy, correct?" Mr Singh asked.
"Not me," Mr Low replied.
"Was this decision to appoint Mr Jeffrey Chua and Mr Seng Joo How not a unanimous decision?" Mr Singh questioned.
"It is," Mr Low answered.
"You already told us that the appointment of a deputy secretary is (for) one whom you would consider is good, reliable and would trust," said Mr Singh. "Now, if you voted to appoint Mr Seng Joo How deputy secretary on Jun 9, 2011, would you agree with me that it follows from your own answer that you considered him good, reliable and trustworthy? Yes or no?"
"I did not share-" Mr Low began, but was cut off by Mr Singh. After a long back-and-forth where Mr Low did not answer yes or no, and instead said he did not object to the appointment of Mr Seng as deputy secretary, Mr Singh rephrased his question, saying he would continue until he got his answer.
"Having regard to your own belief that you act responsibly and honestly, having regard to your own belief that you had to appoint the best man to the job, having regard to your own belief that the deputy secretary had to be good, reliable and trustworthy, you were a member of the town council, all of whom appointed Mr Seng Joo How as deputy secretary, correct?" Mr Singh asked.
"Yes," Mr Low answered.
"So Mr Low," Mr Singh continued, "The evidence that you dreamt up last night is not just false, but you came to this court this morning ready and determined to lie and to mislead His Honour."
"That's not true, Mr Singh," Mr Low said.
"I have no further questions," Mr Singh said to the judge.
Lead lawyer for AHTC, David Chan, said he had no questions for Mr Low, and defence lawyer Chelva Retnam Rajah began his re-examination of Mr Low.
The trial continued with Ms Sylvia Lim taking the witness stand.