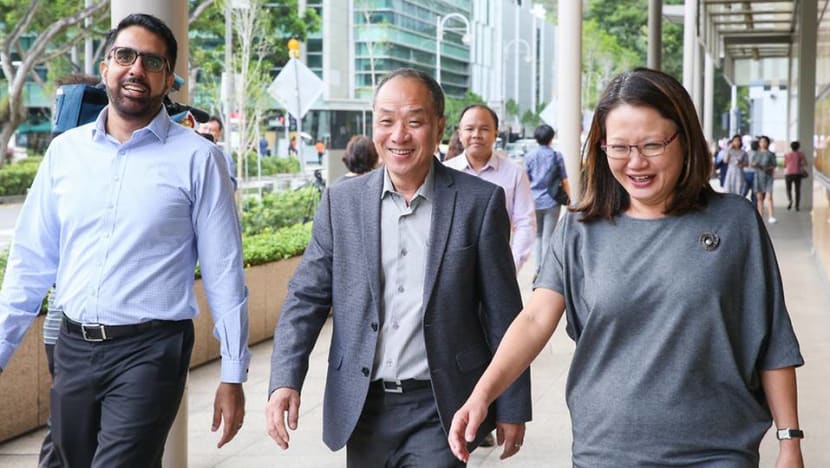 SINGAPORE: About S$60 million in payments made by Aljunied-Hougang Town Council (AHTC), some dating back to 2011, was recorded manually, effectively bypassing controls, KPMG executive director Owen Hawkes told a court on Thursday (Oct 11).
The payments were mostly for utility bills and the fact that these were not recorded as "accounts payable" – or money owed to creditors – was a "significant control weakness", he added.
Mr Hawkes was being cross-examined by defence lawyer Leslie Netto on day five of the landmark AHTC and Pasir-Ris Punggol Town Council (PRPTC) trial. 
Two lawsuits were brought by the two town councils against three Workers' Party (WP) Members of Parliament (MPs) Sylvia Lim, Low Thia Khiang and Pritam Singh. 
The other defendants are: AHTC town councillors Chua Zhi Hon and Kenneth Foo; employees of AHTC's former managing agent, who also held positions in AHTC, How Weng Fan and Danny Loh; and the managing agent FM Solutions and Services (FMSS) itself.
According to KPMG's July 2016 report on its AHTC audit, it observed "extensive use of manual journal entries" for payments totalling S$60,660,927 to third parties. 
"This highly irregular shortcut makes effective oversight of payments by the finance department practically impossible," continued the report. "Such large-scale use of this practice raises questions about the management of AHTC's finance function."
When asked by Justice Kannan Ramesh to explain this, Mr Hawkes said the S$60 million of payments were processed using manual journal entries, which "effectively bypassed controls".
"Accounts payable is one of the more significant part of controls town councils would have," Mr Hawkes said.
He also played down the defence counsel's suggestion that the manual recording had to do with the town council computer management system (TCMS) being withdrawn.
According to the defence, when WP assumed management of the former Aljunied Town Council after the 2011 General Election, the TCMS was terminated by IT firm Action Information Management who had bought the financial and accounting software.
Asked by Mr Netto whether he was aware that the software had been taken away, Mr Hawkes said he was, and that "it's likely no small task to replace your accounting system". 
"However, by the time KPMG was instructed to perform our review of various instances of non-compliance of the Town Councils Act, that was about five years later, which is quite a long time later, and when we looked into, for example, some of the entries in the accounts system, some of those entries dated back to 2011 and had never been investigated … I don't think five years later, the accounting system should still be in a problematic state," Mr Hawkes said.

He also revealed that AHTC withheld a quarter of a million dollars from FMSS' fees as a result of what the Auditor-General's Office in a 2015 report had described as "major lapses in governance and compliance" at the town council.
Following this, KPMG was appointed to look into AHTC's accounts and Mr Hawkes said that there were "some significant issues" found during the 22 months it worked with the town council.
"I think it was clear at the time that they (AHTC) were not very happy (with FMSS)," Mr Hawkes said.
When Mr Netto asked Mr Hawkes if he was suggesting that FMSS did not deliver services to Hougang residents, Mr Hawkes responded that his focus remained on financial reports and controls, rather than maintenance issues on the ground.  
"The suggestion isn't that the lifts didn't work and the streets are dirty," he said. "Having been to Hougang on many occasions, it's not some kind of 'Mad Max' or wasteland. 
"It's the management of the town council's affairs itself, rather than the maintenance that concerned us."