AHTC trial: Sylvia Lim admits to breaching town council financial rules by not calling for tender
Former AHTC chairman Sylvia Lim breached the rules governing town councils and withheld important information from her fellow town councillors as she knew appointing FMSS as managing agent was "a dodgy deal", lawyer Davinder Singh charged.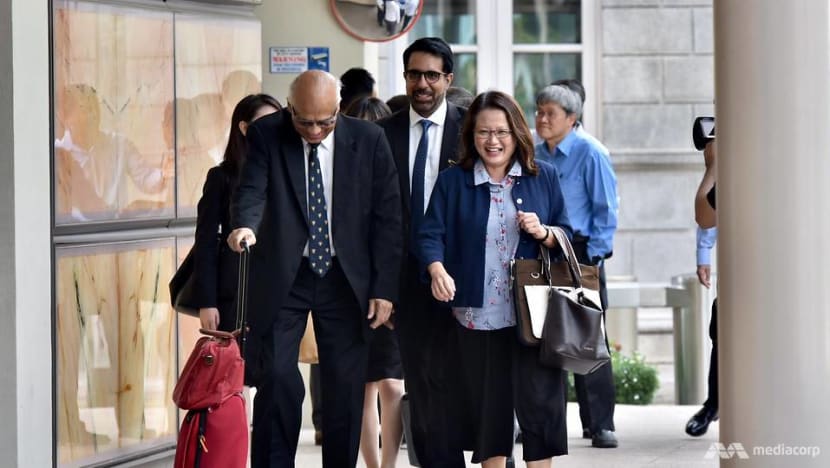 SINGAPORE: Former Aljunied-Hougang Town Council (AHTC) chairman Sylvia Lim on Friday (Oct 19) admitted to breaching the Town Councils Financial Rules (TCFR) by not calling for a tender for managing agent services in 2011.
According to the TCFR, tenders must be called for services that are estimated to cost more than S$70,000. However, AHTC did not call a tender for managing agent services costing S$92,000, which were provided to the town council by FM Solutions and Services (FMSS) for the month of June 2011.
The rules which govern town councils allow waivers of tenders, but only in "very special circumstances" that are "fully justified", and such circumstances and justifications must be recorded.
However, there was no such discussion over the waiver of this tender, Ms Lim admitted.
The Workers' Party (WP) Member of Parliament made the admission on the witness stand while being cross-examined by Senior Counsel Davinder Singh on day 11 of the AHTC trial.
"Was there a discussion about waiver of tender? Yes or no?" asked Mr Singh, who acts for Pasir Ris-Punggol Town Council (PRPTC).
"No," Ms Lim conceded.
"So being aware, as you claimed this morning, of the town council rules, you disregarded them. You breached them, right?" Mr Singh charged.
"I exercised my authority," Ms Lim replied. She had told the court earlier that the town council had delegated to her authority to exercise the powers, functions and duties in AHTC's name to better facilitate the handing over of Aljunied Town Council from the People's Action Party (PAP) to the WP, after they won the ward in the 2011 General Election.
"Answer my question please," Mr Singh repeated. "You breached them, right?"
"I waived the tender in circumstances of urgency," Ms Lim maintained.
"Ms Lim. We are now just before the 15th of June (2011). Let's take ourselves back in time. We are now on the 13th and 14th ... You've already waived, or decided no tender, and there is nothing on the record about a waiver, right?" Mr Singh pressed.
"At this point, no," Ms Lim agreed.
"So that's a breach, right? You know the rules," Mr Singh said.
"I have to agree, technically, yes," Ms Lim conceded.
"It's a breach of the rules, correct?" Mr Singh asked.
"At this point, yes," Ms Lim said.
A Jun 30, 2011 invoice for services provided by FMSS to AHTC for the month of June is listed in a report by auditor KPMG as problematic as it was unsupported by a contract. 
The contract for FMSS to provide managing agent services for AHTC as a whole kicked in only on Jul 15, 2011, while its provision of services for Hougang division set in on Jun 15, 2011.
The KPMG report forms part of the basis for the two lawsuits that Ms Lim and her fellow defendants are facing.
PRPTC and AHTC are suing WP MPs Ms Lim, Low Thia Khiang and Pritam Singh, along with others, for breaches of fiduciary duties in the appointment of FMSS and some S$33 million in "improper payments" made by the town council, mostly to FMSS.
YOU WOULDN'T GIVE A GARDENER CARTE BLANCHE TO HIRE PEOPLE: DAVINDER SINGH
Mr Singh also took aim at a provision AHTC gave to FMSS when it appointed it as managing agent with effect from Jul 15, 2011 - this provision allowed FMSS to "engage new staff as necessary for the preparation of handing and taking over and shall claim such staff costs on a full reimbursement basis".
This was akin to handing FMSS a blank cheque to hire as many employees as they wanted, at the expense of residents, Mr Singh charged.
Ms Lim disagreed.
"Would you, by way of analogy, tell your gardener: Go ahead and hire as many as you like and I'll pay. Would you?" Mr Singh asked.
Chuckling, Ms Lim said: "I am not sure about the gardening."

Mr Singh pressed, but Ms Lim said the gardening analogy was not applicable and did not agree with it. She said the allowance for FMSS to hire was limited to a period of time, but Mr Singh said in that time FMSS could have hired as many as they liked.
He persisted: "Would you tell your gardener - who tells you that he needs manpower to help him do your garden - please, I give you one month, go and hire as many as you like and I will pay, but you don't have to check with me, you don't have to come back with me on experience, how much they cost ... go forth and hire. Would you?"
"No," Ms Lim replied.
Mr Singh asked her why she said no to the gardening analogy but yes to FMSS when they asked for "carte blanche" to hire new staff.
He then suggested to her: "Ms Lim, the difference is that the first example of the garden is your money. The second, AHTC, is not your money. It's other people's money. Which is why you so readily agreed to give carte blanche, hire as many as you like, for this period, not to worry, the residents will pay for it."
"I disagree with you," Ms Lim answered. 
Mr Singh also charged that Ms Lim withheld the FMSS' proposal to provide managing agent services from her fellow town councillors until she received the delegation of authority to act on behalf of the town council.
"You got delegation of authority on the basis of concealed matters. You got them to delegate authority to you in relation to a proposal without coming clean to them on that proposal," Mr Singh charged. "You did a dirty on your own town council."
"I disagree, Mr Singh, I disagree totally," Ms Lim replied.
She explained that she had told only her fellow elected MPs at first as they were "answerable to voters", and "later on the (town) councillors would be told".

He went on to say that the reason she and her elected MPs did it was that they were "all aware that this was a dodgy deal".
"No tender, no basis to waive, passing the profit to a new company helping WP supporters, all with the residents' monies," Mr Singh charged.
"I reject that entirely," Ms Lim replied.
IMPRESSION GIVEN TO CPG THAT 'NOTHING HAD CHANGED' AFTER FMSS APPOINTED
To prove that Ms Lim was concealing information from CPG Facilities Management, Mr Singh zoomed into the June invoice for the provision of management agent services to AHTC.
CPG, Aljunied Town Council's managing agent - which was on contract to provide services at the time - did not know that FMSS had been appointed as managing agent. 

The document was signed off by employees of FMSS, including Ms How Weng Fan, who held dual roles as AHTC's deputy secretary and shareholder of FMSS.
She had signed off as general manager, a role she held previously at Hougang Town Council (HTC).
Ms How was moved out of HTC to FMSS, but the appearance that was given to CPG was that nothing had changed, Mr Singh said.

Mr Singh alleged this was done to hide the fact that "no tender was done or was going to be done".

Ms Lim's explanation was that an old chop was used on the invoice. 
"There's nothing sinister about it, Mr Singh," she said. 
"This entire arrangement was done to also not disclose to CPG the fact that while you had been talking about doing this in-house, you had actually entered into a managing agent contract," Mr Singh charged.

Ms Lim disputed this.
The trial continues on Monday with Ms Lim on the stand.