'My days are quite fulfilling': How a patient with ALS continues finding meaning in life with the help of technology
Toh Kok Peng, a father of two boys in pre-school, has lost the functions of his arms and most of the strength in his legs but continues to be able to speak.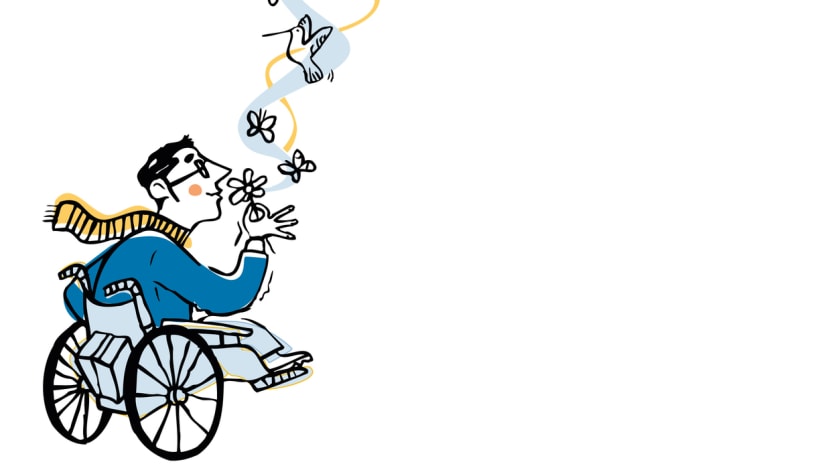 SINGAPORE: When Mr Toh Kok Peng was diagnosed with a debilitating motor neurone disease that would gradually rob him of all voluntary control of the muscles in his body, he found himself needing to find a way to retain his ability to speak.
He remembered watching Stephen Hawking, who had the same disease - Amyotrophic Lateral Sclerosis (ALS) - using a digital voice.
That prompted him to reach out to the speech therapy team at Tan Tock Seng Hospital (TTSH), who helped him with a device that would help him continue communicating.
Mr Toh, who spoke to CNA938 during a Tech Talk segment using alternative augmentative communication (AAC), said he started using eye gaze technology very early on. AAC refers to all of the ways that someone communicates besides talking and can include the use of such technology.
"I had the time, patience and strength to configure my setup for the entire system of my laptop and monitor to suit my needs and this allowed me to gradually adapt (to) my progressive disability and leverage on AAC to continue my work," the 38-year-old said.
Ms Tan Xuet Ying, a senior speech therapist at TTSH who was on the radio show alongside Mr Toh, explained the technology behind his AAC.
"What it does is that there's a little tracker placed in front of his computer ... it sends out infrared light that shines into his eyes and there's a camera on the tracker that is able to use AI to predict exactly where on the screen he's looking at," she said.
Ms Tan, who is also treasurer of the International Society for Augmentative and Alternative Communication, added that the device acts as a mouse, which Mr Toh can also control using his gaze.
WHAT IS AAC?
AAC is used in the event that someone has a condition that causes speech disturbances or language impairment that necessitates something alternative to communicate, or if their speech is not clear and they need something augmentative to make it clearer, said Ms Tan.
Those who benefit from such technology include patients with motor neurone diseases like ALS and Parkinson's, as well as stroke, cerebral palsy, autism, and Down's Syndrome, she said.
The technology is always advancing, with ongoing research on brain computer interfaces - using the mind to control computers. With every advancement, new features are made available. For example, there's translation across different languages. There are also different accents, as Mr Toh demonstrated during the segment, adopting a Singaporean accent at one point.
While AAC technology has been around for many years, there has been a lack of awareness about it, she said.
Since 2017, more patients have gotten to know of it through a loan programme, she said.
BEING ABLE TO CONTINUE WORKING
Mr Toh, a father of two boys in pre-school, has lost the functions of his arms and most of the strength in his legs.
"I became from a very active and healthy person who was very independent three years ago to someone who is fully dependent on caregiving like feeding, toileting, and showering," he said.
However, his company, a US multinational corporation which embraces the culture of diversity, equity and inclusion, has been supportive, he said.
"The company and my management had been supportive of me from the start, like getting me a height adjustable workstation to allow me to stand and sit so that I can keep my leg muscles active," he said.
He added that he is able to contribute to virtual meetings via the chat function available.
"My colleagues will help to read what I typed in the chat function during meetings to make sure that I am part of the discussion. I also use my eye tracker to edit Excel and PowerPoint," he said, referring to the commonly used Microsoft programmes.
"The eye gaze technology has helped me retain a great deal of independence, especially when most things are done through a computer now. So, my days are quite fulfilling and being able to continue my work gives me an additional sense of purpose."
Mr Toh, who is also the vice president of Motor Neurone Disease Association Singapore, added that his family is his main source of strength.
CHALLENGES FOR USERS AND CAREGIVERS
However, adjusting to the device was not without its hurdles, he said.
"There is a steep learning curve to get used to the device, knowing how to lay your gaze on the screen for selection of what you want to do on the screen," he said. He also switched to a 24-inch monitor instead of a laptop so he does not have to strain his eyes.
The cost of the device and accessories can also be a financial challenge as he does not qualify for subsidies, he added.
Ms Tan said that sturdy stands are required for the use of the device and that these can cost between S$1,000 and S$2,000. The device itself costs about S$3,000, she said.
Beginning the AAC journey can be difficult for caregivers, especially those who are not computer-savvy, Ms Tan added. While the device helps communication, it is only effective with a lot of patience, she said.
"Because it requires a person to slowly type out letter by letter and the typing would definitely be slower than talking, there needs to be a lot of patience," she said, adding that communication partners may not wait for users to complete a sentence.
"They tend to talk over, or they tend to try and fill up the words, but they may be actually getting the wrong message to begin with."
Mr Toh hopes that people who encounter those using such devices can be patient.
"It takes time to type out what we have to say. Also, there are functions like a single mouse click (that) require much more effort on an AAC as we will need to set our gaze and focus point first, then select the function or tasks we want to perform," he said.
Tech Talk with Daniel Martin airs weekdays, 3pm on CNA938.