AMKTC trial: I told director remitting money to former town council GM's mistress was 'risky', says witness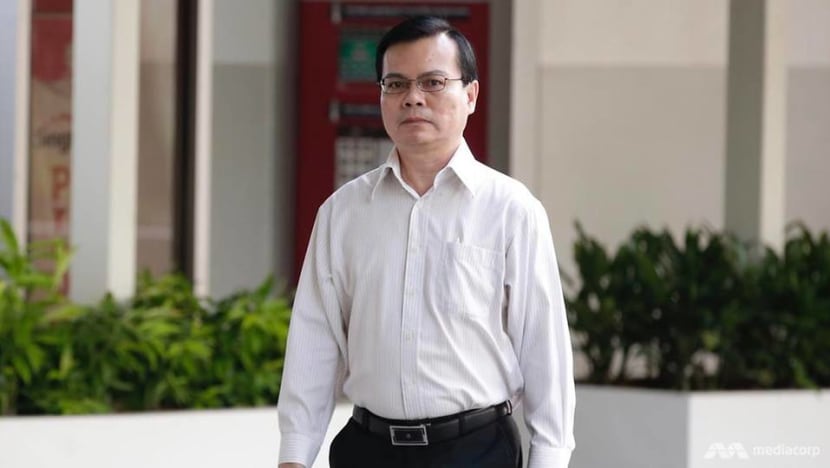 SINGAPORE: The company director accused of bribing former Ang Mo Kio Town Council (AMKTC) general manager Victor Wong Chee Meng had given instructions to remit money to Wong's mistress, a witness told the court on Monday (Nov 12).
The witness, Mr Tay Eng Chuan, also said he was instructed by the accused Chia Sin Lan to help pay the salary of Wong's daughter-in-law Stella.
Mr Tay worked for Chia and was a shareholder of 19-NS2 Enterprise, one of Chia's companies.
Prompted by Deputy Public Prosecutor Jiang Ke-Yue, Mr Tay described how he first heard about Wong's daughter-in-law's wish to work at Chia's other company, 19-ANC Enterprise. 
He said he went to Depot Road one day where both 19-ANC and 19-NS2 operate, and saw Chia with Alisa Yip Fong Yin, who was a project director at 19-ANC and also a 19-NS2 shareholder.
"Alisa said Victor's daughter-in-law wants to come here and work at 19-ANC," Mr Tay said in Mandarin. "Alisa said quickly - can't let her work in 19-ANC, it's very obvious, no good. And Chia said immediately - in that case, arrange for her to go to work at 4-Ever Engineering and NS2 will pay for her internship there."
On Chia's instruction, Mr Tay met the boss of 4-Ever Engineering, whose relationship to Chia or his two companies was not revealed in court.
"I told (the boss) this is the daughter-in-law of Chia's friend, who was to come here to work," Mr Tay said through an interpreter. "He told me he does not need any worker. I said this is Chia's idea, for her to work here, and NS2 will pay for her wages and it is to train this worker to be used in work sites in future."
Thereafter, he handed Stella's monthly salary, in cash, to 4-Ever Engineering, Mr Tay told the court.
The amount was deducted from proceeds recorded in a hand-written ledger kept by Mr Tay of cash inflows and outflows of 19-NS2. This money came from various projects and sources, including cash from foreign workers whose salaries had been inflated to meet S-Pass requirements.
The records in Mr Tay's ledger corresponded to Stella's salary payments from March 2016, which ranged from S$900 to more than S$1,500. The payments stopped from July that year.
When asked why, Mr Tay at first said that he asked to withdraw his shares in 19-NS2 in early August and so no longer received such information. 
However, he later recalled that Stella stopped working at 4-Ever Engineering as she had "some arguments" with colleagues there and went to 19-ANC to work instead.
Chia was also behind Stella's transfer to the other company, said Mr Tay.
Chia is accused of giving Wong about S$107,000 in gratification between December 2014 and September 2016, in return for contracts with the town council.
He allegedly claimed reimbursement for the bribes from his two companies, which were awarded tenders and contracts by AMKTC amounting to millions of dollars.
IT WOULD BE RISKY TO REMIT MONEY TO WONG'S MISTRESS: WITNESS
Earlier in the morning, Mr Tay told the court that Chia had gone with him to remit cash of S$20,000 to Chia's China supplier David Gan. The money was allegedly meant for Wong's mistress Xu Hongmei. 
Chia had told Mr Tay to help send money to Ms Xu for her home renovation.
"I told him that would be very risky," said Mr Tay, who is a witness for the prosecution. "He told me - what are you scared of, this money will be remitted to David Gan."
The prosecutor reminded Mr Tay that Chia had said in his evidence that he remembers Mr Tay going to the money changer to do this but cannot remember if he went there himself.
Mr Tay said Chia was definitely there, and that they remitted S$20,000 or 92,400 yuan to David Gan for Ms Xu's use.
This money was from Mr Tay's account, he said, as there were only a few thousand dollars left in the handwritten ledger. 
WITNESS DESCRIBES PHONE BILLS FOR LINE ALLEGEDLY USED BY WONG TO CALL MISTRESS
The court also heard about a phone line that Wong allegedly used to make calls to his mistress in China.
According to Mr Tay, Chia had asked him to sign up for a SIM card meant for the latter so that his family would not find out about his mistress and girlfriend.
However, this SIM card wound up being used by Wong to make calls to China, Mr Tay said. 
He added that he did not sign up for the card personally, and instead asked his foreman Ng Fook Meng to do so.
"If this was under my bill, if I applied for the SIM card, the bill would be sent to my place and as I'm not in Singapore frequently, my family will make payment first and it would not look good on me if they see it," Mr Tay explained. "There may be many questions that arise, and also finger-pointing or unnecessary questions and I do not want to deal with these."
Whenever Mr Ng received the bill for the phone line in his name that Wong used, allegedly for calls to his mistress, Mr Tay would give him cash to make payment first.
According to Mr Tay, Chia later asked him to record the bills in the ledger and to tear up the receipts. The court had heard in previous hearings that the phone bills were for the period October 2015 to October 2016, and were for a few hundred dollars each time.
Asked why the last entry for the mobile phone bills in Mr Tay's ledger were for July 2016, Mr Tay said: "In early August I sent a WhatsApp message to Chia to tell him I decided to back out of shareholding for NS2."
When the prosecutor asked what happened to the phone line subsequently, Mr Tay replied: "After the contract was up for this phone line, I asked the relevant agency if I can cancel this line. The relevant agency agreed, otherwise I will still need to make monthly payments."
He explained that this relevant agency was the Corrupt Practices Investigation Bureau.
The trial resumes on Tuesday.