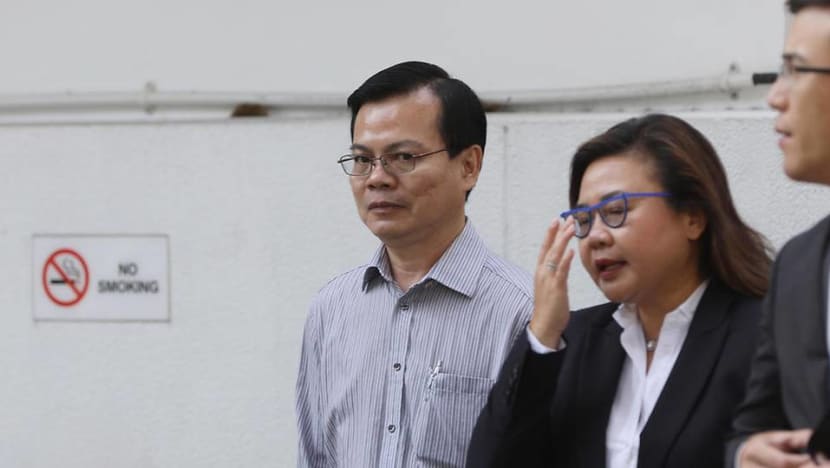 SINGAPORE: A S$20,000 bribe allegedly received by a former town council general manager for his mistress to spend on home renovation was later partially repaid, the defence revealed on Thursday (Nov 15).
The bribe was allegedly remitted to China in June 2015, but defence counsel Melanie Ho said S$10,000 was later returned in April 2016.
This alleged bribe is one of 54 corruption charges faced by former Ang Mo Kio Town Council (AMKTC) general manager Victor Wong Chee Meng. 
He is accused of receiving about S$107,000 in various forms of gratification from company director Chia Sin Lan between December 2014 and September 2016. Chia's two firms, 19-ANC Enterprise and 19-NS2 Enterprise, did works for the town council.
The court heard about the partial repayment of the S$20,000 sum during the cross-examination of the prosecution's prime witness, subcontractor Tay Eng Chuan. Mr Tay worked for Chia and claimed he witnessed "dishonest" dealings that he thought constituted bribery.
Ms Ho, who acts for Wong, sought to show that Mr Tay did not have full knowledge or personal knowledge of what happened.
She asked Mr Tay if it would still constitute bribery in his mind if Wong's mistress Xu Hongmei had repaid the S$20,000, either partially or in full.
Replying through a Mandarin interpreter, Mr Tay said: "Well, if she returns the partial or full sum, whether or not it still constitutes bribery - I think, this would not be bribery. Instead, this would be a loan."
Wong, who was sitting in the dock, nodded.
Ms Ho said: "In fact on Apr 28 (2016), there was a return of S$10,000 to Chia. Were you aware of that?"
"I do not have such a record nor do I have such an impression," Mr Tay answered.
"Precisely. You do not know about that," Ms Ho said.
CHIA'S SON WORKED FOR AMKTC
The defence went on to question Mr Tay about two other events that he had given evidence on. One involved Chia's role in securing a job for Wong's daughter-in-law Stella.
Mr Tay had previously described his discomfort over the matter.
When questioned if he knew that Wong had asked a few of his friends to look out for jobs for Stella, Mr Tay said he was not sure.
Chia's son had also been looking for a job, said Ms Ho, and she asked Mr Tay if he knew that Chia had asked Wong some time in 2015 about any job openings.
Mr Tay said he did not know.
Ms Ho revealed that Chia's son, "through information of the job opening from Wong, and through the proper process, was appointed one of the property officers for AMKTC".
"I only knew that he was working as a property officer for AMKTC when he started working there," said Mr Tay.
According to Ms Ho, Chia's son was a property officer at AMKTC from August 2015 to end-2016.
Turning back to the issue of a job for Wong's daughter-in-law, Ms Ho asked Mr Tay to share with the court how he felt about the matter.
"This is simple," Mr Tay answered. "This started with Alisa (19-ANC project director and 19-NS2 director) telling (us) that Victor's daughter-in-law wants to come and work at ANC, and Alisa said cannot allow this as this is very obvious and in a short period of time, Chia replied to put her as an understudy at 4-Ever Engineering (the company she eventually worked at while 19-NS2 paid her salary)."
"If this is through proper channels, there will be working and normal paying of salary, so I have queries about why are there so many twists and turns, so there is this question mark in my head," said Mr Tay.
He then agreed with Ms Ho that Stella did turn up for work at 4-Ever, and that from Stella's and Wong's perspectives, there was nothing wrong with any of it, as Wong did not know about the arrangement on how Stella was paid.
WITNESS QUESTIONED OVER WONG'S USE OF PHONE
A third matter raised by the defence was on the use of a phone that Mr Tay had said was given to Wong to use.
According to Mr Tay's earlier evidence, Chia had asked him to sign up for a phone so that the latter's family would not find out about his mistress and girlfriend. 
Mr Tay said he later found out that Wong was the one using the phone, and that the monthly phone bills reflected calls made to China where Wong's mistress was from.
The defence claimed that both Chia and Wong had used the phone to contact people when they went to China. Chia had a supplier in China who provided incense burners, among other things, for Chia's work with town councils.
In response, Mr Tay said: "I do not have this concept. I'm not sure."
"And when Ms Xu is in Singapore, it is Hongmei who is using the phone on occasions, not Wong," continued Ms Ho. "Were you aware of that? You see, when Hongmei is in Singapore, Victor doesn't have to call her because she's in Singapore. So the phone is lent to Hongmei for her to make calls."
Mr Tay said he was not sure.
The trial resumes on Friday, with Mr Tay on the stand.