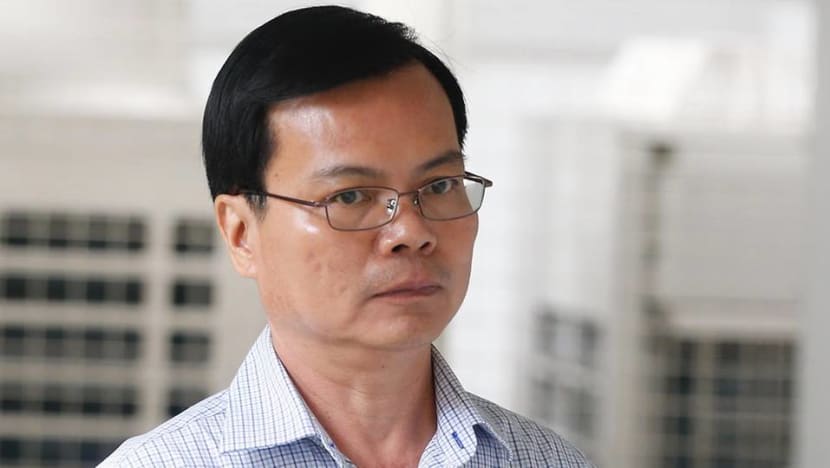 SINGAPORE: A man who worked for a company director accused of bribing a former town council general manager had grown increasingly uncomfortable and fearful as complications cropped up in the "dishonest" dealings, the court heard on Tuesday (Nov 13).
Mr Tay Eng Chuan, a witness testifying in the trial, described two issues which troubled him.
One involved the hiring of an agent for the China mistress of former Ang Mo Kio Town Council (AMKTC) general manager Victor Wong Chee Meng, to help her find work in Singapore.
According to Mr Tay, Wong had repeatedly asked company director Chia Sin Lan to find a job for his mistress Xu Hongmei.
Chia, who owns two companies that did work for town councils, is accused of giving Wong about S$107,000 in gratification between December 2014 and September 2016 in return for contracts.
He allegedly claimed reimbursement for the bribes from his two companies, 19-ANC Enterprise and 19-NS2 Enterprise, which were awarded tenders and contracts by AMKTC amounting to millions of dollars.
In court on Tuesday, Deputy Public Prosecutor Jiang Ke-Yue produced a photo of a remittance slip extracted from WhatsApp chat messages between Mr Tay and Chia.
The photo, sent in June 2016, showed a remittance of 3,000 yuan (S$596). This money, according to Mr Tay, was paid to an agent for Ms Xu.
While Mr Tay said he did not know how the money was settled, he said he was informed of this and other matters relating to Ms Xu as it was for Chia to "claim more money from me in the future".
The two men had an arrangement where Chia would hand receipts to Mr Tay to record in a handwritten ledger. Mr Tay's company, Tay Eng Khuan General Contractors, was a subcontractor for 19-NS2 Enterprise.
Mr Tay would then reimburse Chia with money from profits recorded in the ledger, which were from projects relating to Tay Eng Khuan General Contractors and 19-NS2, among other sources.
ARRANGING FOR A JOB FOR MISTRESS A "DIRTY" MATTER: WITNESS
The correspondence in the text messages grew increasingly complex, as evidenced in a WhatsApp conversation between Chia and Mr Tay in July 2016.
The message read: "Bro, Hongmei is looking for a higher pay job, she may wish to go back to work in KTV as performing artist. I have informed big bro about it. I will settle the 3,000RMB with big bro."
This message was sent by Wong to Chia's China supplier David Gan. Mr Gan then forwarded the message to Chia, who forwarded the message to Mr Tay.
Other matters relating to Ms Xu's employment included a message about the price of her agent fees, which Ms Xu had sourced on her own. Chia's supplier David Gan also sourced for agent fees for Wong's mistress, Mr Tay said.
This was a "headache", Mr Tay said in Mandarin. Explaining how he felt through an interpreter, Mr Tay said that the matter was "dirty" and "scary".
"This has once again crossed the line," he said. Asked by the prosecutor why this was "scary", Mr Tay said: "Because I feel these things already diverged from the reason why the company was initially set up, this had already differed from its original principles and they have entered into a dark realm."
Referring to a remittance of S$20,000 made by Chia and himself to Mr Gan for Ms Xu's home renovation in June 2015, Mr Tay told the court that he felt it was "inappropriate because the money remitted was not for business purposes, but a form of bribery".
Mr Tay told the court that he began to "feel a little afraid" when he received a bill for a debit card that Chia used to entertain Wong at karaoke lounges and for meals.
Chia had asked Mr Tay to sign up for the debit card. The alleged purpose initially, was to hide from the former's family his spending on his mistress and girlfriend.
"I was afraid that all these things would be disadvantageous to me," he said. "Because the card was my company's. If the checks were to begin, I wouldn't be able to run away."
He elaborated: "When government officials or the Corrupt Practices Investigation Bureau conduct checks, they would find out the card is from me and I feel this would be disadvantageous."
"HEADACHE" OVER WONG'S DAUGHTER-IN-LAW
His reservations continued to mount as another "headache" surfaced in the complicated relationship among Chia and Wong. According to Mr Tay, Chia arranged for Wong's daughter-in-law Stella to work for a company 4-Ever Engineering while 19-NS2 paid her salary.
Complications arose when Stella became unhappy over a quarrel she had with two of her colleagues, and Wong in turn asked Chia to help settle this.
In a turn of events that greatly upset Mr Tay, one of the colleagues involved in the quarrel sent a message in July 2016 exposing what had happened.
The message, addressed to Stella, was sent to several people including Wong, Mr Tay said. It mentioned that Stella was introduced by Mr Tay to 4-Ever Engineering to work.
"Mr Tay paid for your salary and bring down personally to us monthly," read the message. "I respect you and Mr Tay. But now this small matter that had happen, I do not understand why Mr Chia confront our boss Mr Ngoi, why we me and Kylie bullied you this new colleague, that causes us to get scolding!"
The person who sent the text, identified only as Ms Goo, then asked for a meet-up between all parties involved to clear up the matter.
Chia eventually made arrangements for Stella to work at his other company instead, as the court heard the previous day.
Several messages containing vulgarities by both Chia and Mr Tay were played to the court. Explaining his anger, Mr Tay said he was concerned about the message being sent out, and that it contained references to his involvement. 
He said Chia was also scared, as he was afraid that it would leak and other people might know that Wong's daughter-in-law was working there.
He told the court: "Under such circumstances, we will have to be bothered by all this, even if we earn a lot of money, we will not be happy, because many of these things happening inside are dishonest or involve some sort of bribery.
"Even if we earn money from this, I also do not know when I might be questioned or convicted and even if we earn, and spend this money, this will not be happy as these are immoral or dirty money."
Earlier in the day, Mr Tay also told the court about a car belonging to 19-ANC that was allegedly sold to Wong at a discount.
He said that sometime in the middle of 2015, he spoke to Chia about the sale, which he had helped give some advice on.
"He told me that he had sold the car below market price to Victor Wong, and therefore even if we were the second-lowest bidder for tender contracts, there is a chance it would still be awarded to us," said Mr Tay.
CRACKS IN RELATIONSHIP BETWEEN CHIA AND WONG
It was not just Mr Tay who began to feel the strain of the dealings with Wong - Chia himself began to feel the pressure, Mr Tay shared in his evidence.
Mr Tay said he received a message in July 2016 from Chia, where the latter said he could not stand it anymore that he had to drink frequently with Wong "until very late".
Chia in his message said he would drive to Ng Teng Fong General Hospital, snap a photo and show it to Wong, to say he had only half his life left.
Mr Tay explained his interpretation of this - that Chia wanted to tell Wong he was seeing a doctor at the hospital so that he could stop drinking with Wong.
Wong and Chia often went drinking and visited karaoke lounges, where Chia would pay with a debit card belonging to Mr Tay.
The trial continues on Wednesday.