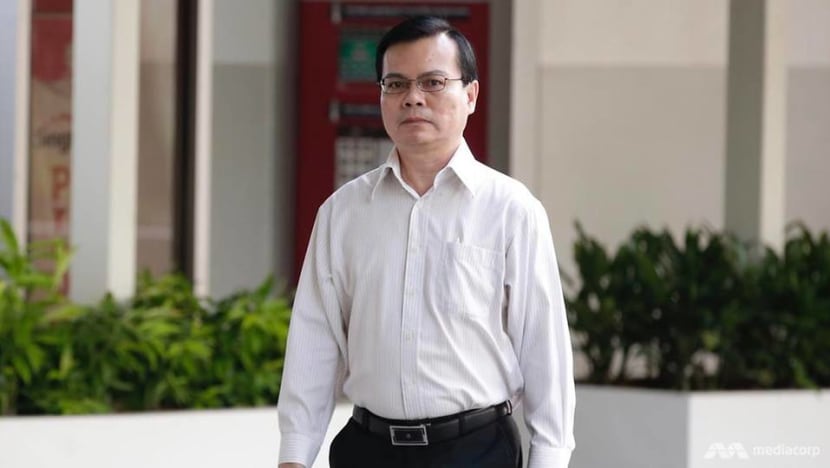 SINGAPORE: Although he initially denied giving any cash to former Ang Mo Kio Town Council (AMKTC) general manager Victor Wong Chee Meng, company director Omar Chia Sin Lan had "a serious thought" about it and admitted in another statement to the Corrupt Practices Investigation Bureau (CPIB) that he gave S$20,000 to Wong.
This was revealed on the second day of a 39-day trial into the corruption case involving Wong, 58, and Chia, 63. Wong is accused of receiving "a steady stream of gratification" of at least S$107,000 over almost two years from Chia, who was the director and major shareholder of 19-ANC Enterprise and 19-NS2 Enterprise.
The two companies were awarded tenders and contracts by AMKTC amounting to millions of dollars, while Wong is accused of taking bribes from Chia between December 2014 and September 2016.
As the general manager of AMKTC, Wong had "the power and ability to influence the award of AMKTC projects", the prosecution previously said. He was expected "to act with absolute probity, particularly because his job involved the administration of public funds".

On Wednesday (Sep 26), two CPIB officers took the stand. One of them, Principal Special Investigator Keith Peh Wan Hao, told the court what Chia had said in his statements.
Chia set up 19-ANC in 1994 with his younger brother, and got the name from a nightclub that was on the 19th storey.
19-ANC was used to tender for projects, while the jobs were sub-contracted to 19-NS2, which was set up for the ease of getting bigger jobs, with greater scope.
The court heard that Chia earned a monthly salary of about S$10,000 with 19-ANC, about S$5,000 with 19-NS2, and no salary from a third company he was a director of.
The main customers of 19-ANC and 19-NS2 were town councils including those of Ang Mo Kio, Tampines, Yuhua and Bedok, and the two companies carried out repair works.
The annual turnover for both companies was about S$10 million to S$13 million each. They tendered for jobs advertised in the newspapers, and would on occasion receive invitations to submit quotations.
About his relationship with Wong, Chia had said in his statement: "We are just friends. I knew him since 2005 to 2007 when he was working at Marine Parade Town Council."
Wong became AMKTC's general manager in 2013 and earned S$10,550 a month.
Chia said in his first statement to CPIB that he went to China with Wong twice. On both occasions, they visited his incense burner supplier in China.
The court was told about two tax invoices, one of which detailed 1,500 incense burners sold to Tampines Town Council over two years, at S$259 per burner.
This was awarded through a tender process where Chia's company gave the lowest quote, he said.
Another invoice was for the supply of 270 incense burners provided to AMKTC at S$180 each, a job awarded via an Invitation To Quote (ITQ).
In his first statement to CPIB, Chia said he and Wong paid for their own air tickets and accommodation for the China trips. They took turns to pay for food and drinks, he said.
He also frequently went to karaoke lounges and nightclubs with Wong. For this, they took turns to pay for the drinks and paid for their own tips, he said in his initial statement.
The expenses for these visits ranged from a few hundred dollars to more than S$2,000, and Chia said he did not take any other town council general manager out for entertainment.
When asked why, Chia said: "I knew Victor for a long time. I don't know the rest of the town council general managers."
He answered "no" when asked if he gave any form of benefits or cash to Wong, or paid for nightclub outings, in return for any favour.
He also said he was not aware that a Toyota Altis car was sold to Wong at a discounted price. Wong was allegedly sold the car at a discount of S$13,500 by Alisa Yip Fong Yin, who was a project director at 19-ANC and a director and shareholder of 19-NS2.
A day after giving his statement to CPIB, Chia requested to make amendments to his statement.
CHIA ADMITS GIVING MONEY, HELPING WONG IN NEW STATEMENT
According to CPIB investigator Keith Peh, Chia had said: "After some serious thoughts about my family since last night, I wish to inform the recording officer that I have not been truthful in my previous statement."
He then rectified what he said earlier about him and Wong taking turns to make payment for meals in China.
"This is inaccurate. The (payment for the) meals, entertainment ... were made by me," he admitted. "I stated that I did not give Victor's girlfriend any cash. I wish to state that this is inaccurate. Sometime in 2015, I gave a sum of S$20,000 to Victor for him to do some renovation work for his girlfriend in China."
He further admitted that he was the one who helped Wong get a job for his daughter-in-law. Although she was employed by another person, he paid her a monthly salary of S$1,600 along with 19-NS2 shareholder Tay Eng Chuan.
He also added that he used a credit card belonging to Tay to make payment when he took Wong out "for entertainment".
In his new statement, Chia said: "I wish to state that I had a serious thought last night. I felt very sorry and remorseful. I wish to take responsibility for my actions. I hope that the authorities will treat me leniently. I should have cooperated with CPIB, and I thought I would get into trouble with authorities if I told them I had given S$20,000 to Victor's girlfriend."
He also revealed that he frequently went to karaoke lounges with Wong to "hang flower", a translated term from Chinese that refers to the act of adorning hostesses with garlands.
This was to "show appreciation to hostesses who were performing", CPIB's Mr Peh said. They would buy the flowers and hang them around the hostesses' necks.
Chia and Wong would go to joints in Balestier, Jalan Sultan and Newton Circle, and Wong would "hang" flowers which cost S$100, S$200 or S$500 each.
Wong did not pay for the entertainment, Chia said.
The trial continues on Thursday.