ASEAN to work towards mutual recognition of COVID-19 vaccination certificates to facilitate smooth travel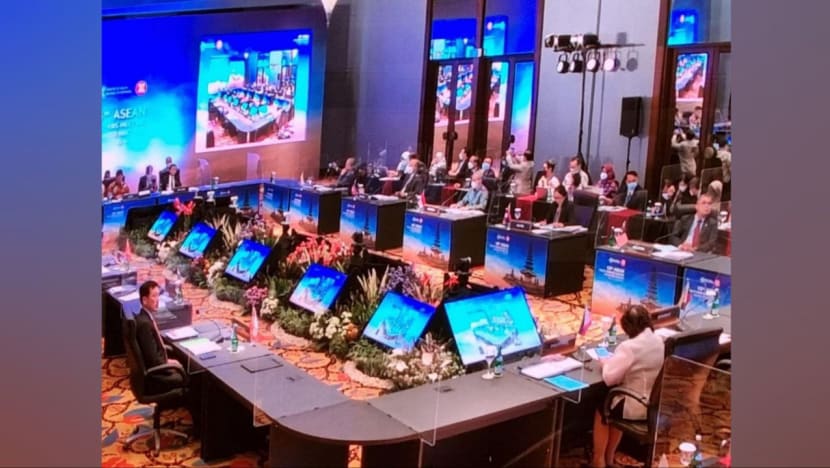 SINGAPORE: Health ministers and officials from ASEAN member states have agreed to work towards mutual recognition of COVID-19 vaccination certificates to facilitate smooth international travel, said the Ministry of Health (MOH) on Sunday (May 15).
The agreement was made at the 15th ASEAN Health Ministers Meeting and Related Meetings held from Saturday to Sunday in Bali, Indonesia.
"With ASEAN recovering from the pandemic and reopening our borders to the world, it is important to establish seamless travel across the region, such as the use of digital technology to mutually recognise vaccination certificates across countries," said MOH.
"The ASEAN Health Ministers and senior officials agreed to work towards an ASEAN Universal Verification Mechanism to facilitate smooth international travel, while protecting the data privacy and security of each ASEAN member state."
During the meetings, member states shared updates and exchanged views on strengthening the resilience of health systems, and enhancing collective preparedness and response to pandemics.
They also welcomed the operationalisation of the ASEAN Centre for Public Health Emergencies and Emerging Diseases (ACPHEED), which will enhance ASEAN's capacity in prevention, detection and response to public health emergencies.
"Singapore looks forward to continuing to work closely with ASEAN member states and dialogue partners to enhance regional public health preparedness and response, and strengthen health cooperation," said MOH.
COUNTRIES MUST REMAIN VIGILANT
Singapore's Health Minister Ong Ye Kung highlighted at the meetings that ASEAN member states have managed to weather the COVID-19 pandemic because of their close cooperation, but countries must remain vigilant and guard against complacency.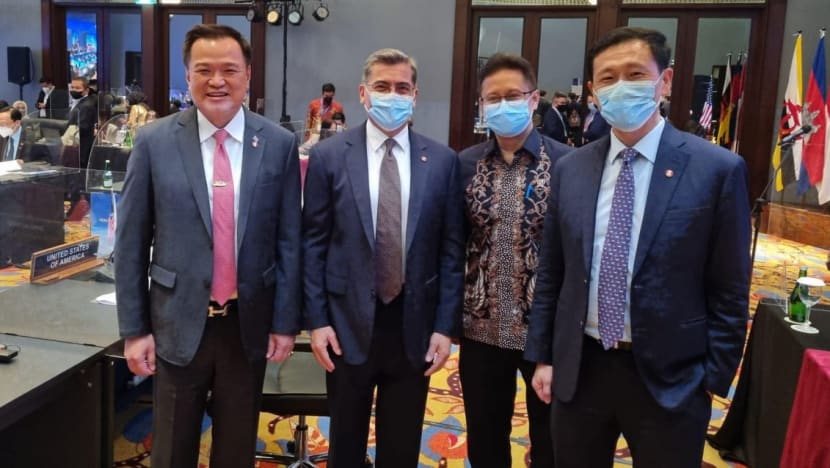 In the coming few months, ASEAN member states are likely to see new waves as societal immunity wanes, or a new variant that drives re-infections, said Mr Ong.
In light of this, he highlighted three areas of focus.
The first - testing and surveillance - would be centred around the establishment of ACPHEED. It would form the nucleus of a regular monitoring and surveillance capabilities and response system in the region.
In turn, this will provide early warning of new COVID-19 variants of concern and other emerging infectious diseases. 
The second area - the availability of vaccines, diagnostics and therapeutics - comes as immunity wanes over time, with current vaccines becoming less effective against the next variant of concern. 
Current efforts to vaccinate and boost populations have to continue, with ASEAN collaborating better to ensure that vaccine supplies are available for those who need them, such as doing more to facilitate vaccine donations and swaps among member states.
The third area is to ensure resilience of travel lanes and supply chains. This comes amid an unprecedented rise in shipping costs due to the COVID-19 pandemic, which has not subsided.
Following the discussion on establishing an ASEAN mutual recognition system for vaccine certificates, Mr Ong said that this can lead to similar systems with other regions including the United States, China, India and the European Union.
"Checking for vaccination certifications may well be the norm for travel, just (like how) we check our bags and our passports," he added. 
During the trip, Mr Ong also held bilateral meetings with his counterparts from Indonesia, Thailand and Brunei. They shared their experience in handling the COVID-19 pandemic and discussed future collaborations in strengthening health systems for public health emergencies.
In a Facebook post on Sunday, Mr Ong said that ASEAN members share similar aspirations and hope for their countries.
He added that a "common conviction" ran through the meetings - that regional health cooperation is key to enhance collective preparedness and response to pandemics, whether for new waves of COVID-19 or a new virus.
"The COVID-19 pandemic has also brought us closer together as we share information, resources and experience. Health Ministries, in particular, went through the same baptism of fire," he said.
"These are linkages and ties that we want to build on. In our formal and informal conversations, we inevitably share the troubles, pressures and challenges that we respectively went through."