Airfares to Asian destinations surge amid strong demand for year-end travel
Prices of one-way air tickets to South Korea from Singapore have gone up by 78 per cent for the December holiday season compared to the same period pre-pandemic, says Traveloka.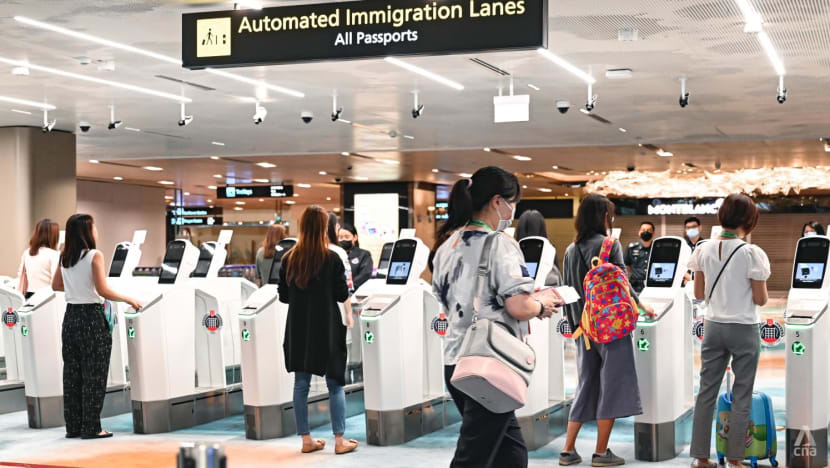 SINGAPORE: Travellers booking air tickets from Singapore to some Asian destinations are paying much more for the coming December holiday season compared to the same period before the COVID-19 pandemic hit, travel platforms said on Thursday (Oct 13).
This comes as several popular destinations, including Japan and Taiwan, recently reopened their border to tourists after two-and-a-half years of travel restrictions.
Prices of one-way air tickets from Singapore to Seoul have surged by as much as 78 per cent for this year-end period compared to 2019, according to Traveloka. 
When CNA checked flight comparison website Flightscanner on Thursday, the cheapest available itinerary to South Korea for Dec 19 to 31 cost S$664. This is for a direct roundtrip on budget airlines Scoot as well as T'Way Air, which started routes between Singapore and Incheon earlier this year.
Roundtrip fares on full-service carriers Korean Air and Singapore Airlines cost at least S$1,263 and S$1,924 respectively.
According to Traveloka, fares from Singapore to the Philippines have gone up by 70 per cent, while it costs about 47 per cent more to fly to Thailand. The costs of flights to Indonesia have increased by 43 per cent. 
"Our users are telling us that they want to travel again and we have been seeing a steady uptick of bookings on our platform," said Traveloka president Caesar Indra, adding that the post-pandemic world will "continue to be dynamic".
Expedia observed a similar trend. 
Average air ticket prices to Malaysia for the year-end holiday have gone up by up to 50 per cent, it said, while prices to Bangkok have increased by more than 25 per cent. 
And although ticket prices to Japan have gone up as well, the increase has not been as much as with other Asian destinations, noted the travel platforms. 
It costs about 15 per cent more on average to fly to Tokyo this December holiday compared to the same period in 2019, according to Expedia. 
Flightscanner lists direct roundtrip fares to Tokyo for at least S$1,043 during the Dec 19 to 31 period, for flights on Japan Airlines' budget subsidiary ZIPAIR Tokyo.
Expedia Group's Asia head of public relations Lavinia Rajaram noted that many airlines have introduced additional flights to key destinations like Japan, Hong Kong and Taiwan, which will help to drive prices down.
Mr Indra added that larger carriers have raised the capacity of flights to Japan by more than 30 per cent on average, while smaller carriers increased theirs by 10 per cent.
Apart from the easing of border measures, the recent increase in fuel charges is also contributing to higher airfares, she added.
Despite the higher fares, both companies said travellers do not seem to be discouraged from making plans to fly during the year-end period.
Travel searches "surged significantly" after COVID-19 border measures were eased for some north Asian destinations in late September, said Ms Rajaram.
This shows that "vacation-deprived Singaporeans are excited to return to their favourite holiday destinations, especially for the season of Christmas and New Year", she added.
"Intra-Asia travel to other nearby destinations like Kuala Lumpur, Bangkok and Seoul continues in an upward trend, as convenient holiday options and international corridors for long-haul flights from the US and across Asia."
She added: "While travellers may be looking for lower cost options when planning travel, we don't see air ticket price dampening traveller's interest to travel in the near term."
Traveloka also observed that a "significant number" of Singapore travellers have made plans for year-end holidays on the platform, Mr Indra said.
Top destinations include Indonesia, Thailand, Vietnam, Malaysia, South Korea, the Philippines and Japan, he added.
Earlier this month, Singapore's Transport Minister S Iswaran said the air transport sector recovered to about 80 per cent of pre-COVID levels in the first half of 2022.
Changi Airport also began to ramp up operations as demand for flights increased, resuming operations in Terminal 4 in September after it was suspended due to the COVID-19 pandemic.
The airport also began a phased reopening for Terminal 2, which welcomed arrivals in May and resumed departures on Tuesday.
You may also be interested in: