'Badge lady' cross-examines security officers who saw her maskless, retrieved footage
Phoon Chiu Yoke, who was seen without a mask for 39 seconds in closed-circuit television footage, asked a security officer if it was a "big offence" and she had to leave ION Orchard.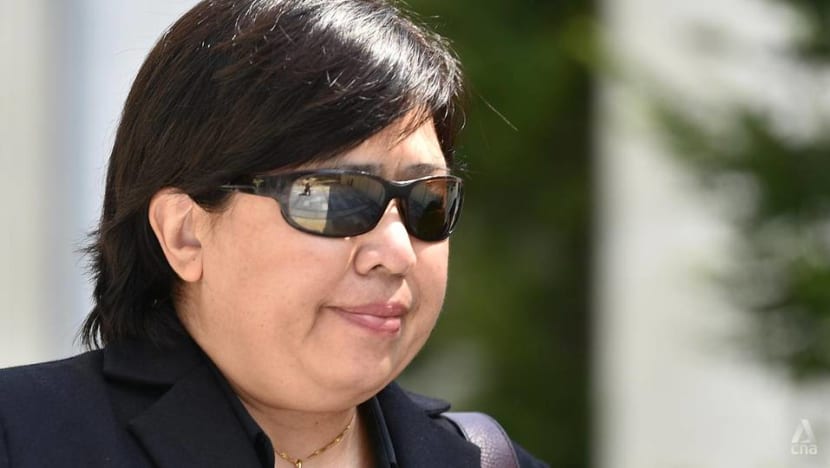 SINGAPORE: A woman known for flouting the COVID-19 mask rules on Wednesday (May 24) cross-examined security officers who saw her without the protective covering.
Phoon Chiu Yoke, 55, questioned an ION Orchard security officer who testified for the prosecution, saying he had seen Phoon descending an escalator without a mask on Aug 16, 2022.
She asked the officer how he knew she was not consuming medicine or sucking a lozenge since he had approached her from the back.
She also asked if there were any signs put up at the mall to say that shoppers had to wear masks, stumbling the officer who said he could not remember.
Phoon is contesting four charges for failing to wear a mask on Orchard Road, in ION Orchard and for failing to attend an investigation by the Singapore Tourism Board.
It is no longer mandatory by law to wear a mask in most places, but at the time of Phoon's offences, mask-wearing was still required.
SECURITY OFFICERS ON STAND
The prosecution called two security officers to the stand on Wednesday morning, with most of the time taken up playing video footage of Phoon walking around various parts of ION Orchard without a mask on.
One officer testified about how he was on duty on Aug 16, 2022, when he saw Phoon coming down from level 3 to level 2 of the mall, without a mask on.
As ensuring that shoppers wore masks was part of his duties, the officer swiftly approached Phoon.
"I knew her from the social media, Facebook and also from newspaper," said the officer, when asked by the prosecution if he had seen Phoon before.
He said that when he told Phoon to wear a mask, she "turned away without giving any words". He then alerted his command centre.
After this, he saw Phoon putting what appeared to be a loop around her ears.
PHOON'S CROSS-EXAMINATION
Phoon, who appeared familiar with court procedures by now after her several appearances, asked the prosecution to replay some footage.
"Witness, I'd like to know what exactly did you tell me when you approached me," she said to the security officer.
"Can you please wear your mask," replied the officer.
"I'd like to know - were there signages in ION Orchard that all visitors have to put on a mask?" asked Phoon.
"During that time there was government protocol-"
"My question is - are there signages in ION Orchard that I have to put on a mask?" pressed Phoon.
The officer said he could not recall.
"My second question is - was I eating, drinking or consuming medicine?" she asked. The officer said she was not.
"You approached me from the back. How do you know I was not consuming medicine or chewing something in my mouth?" asked Phoon.
"Because you look at me and I did not see you consuming anything," said the officer.
Phoon pointed to the timestamps on the video footage of her in the mall.
"It was 12:02:30 that you approached me. At 12:03:09, I put on a mask, so between 12:02:30 and 12:03:09, it's about 39 seconds, so to you it's important that if a visitor doesn't put on a mask for 39 seconds it's a big offence and therefore I have to leave ION Orchard?" questioned Phoon.
She claimed to have worn a mask after 39 seconds.
"Yes we have to advise you, to decline entry," said the officer. He explained that his job was first to advise, then advise a second time before "declining" entry.
Phoon also questioned a second security officer at ION Orchard who extracted the CCTV footage for the investigating officer.
She asked him how he knew the footage had not been edited since he had not protected the footage. She asked if the officer had compared the downloaded footage "second by second" with the raw footage. 
She also challenged multiple clips, saying they depicted her from the back and it could not be clear that it was her.
The trial continues.
If convicted of failing to wear a mask when required, Phoon could be jailed for up to a year, fined up to S$20,000 or both as a repeat offender. The penalties are the same for a repeat offence of not complying with an officer during investigations under the Infectious Diseases Act.
Phoon was sentenced to 16 weeks' jail in September 2021 for a separate set of mask-related offences, after shooting to notoriety with her court appearances.