Bed bugs on planes: How to spot the signs and why they are 'almost impossible' to prevent
Airlines say it's a rare occurrence, but it does happen. Here's how to tell when the plane seat you're on may be harbouring an unwanted parasite.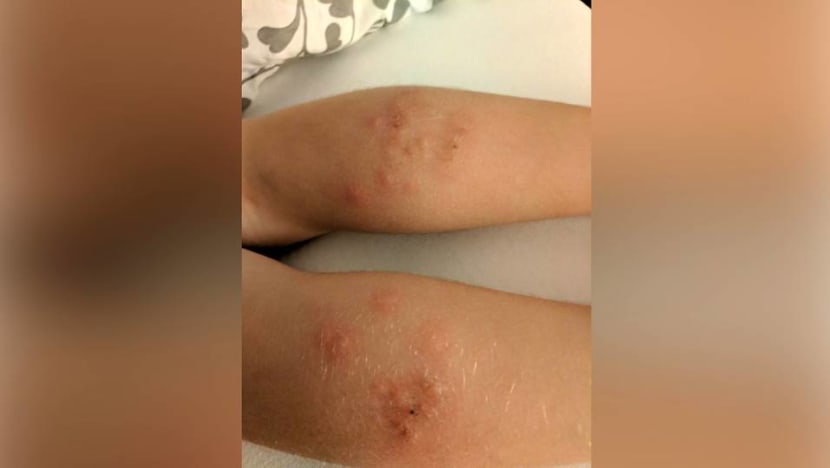 SINGAPORE: It would be every passenger's nightmare - boarding a flight only to discover bed bugs crawling out from the seat. 

That was the experience of a Canadian family who took a British Airways flight from Vancouver to London earlier this month. It made the news after the mother took to social media to describe how she saw the critters crawling out from behind the TV monitor on the seat in front of her. 
She said that she and her seven-year-old daughter were "absolutely covered" in bites. The airline has since apologised to them.
Closer to home, a passenger on low-cost airline Scoot said that she was bitten by bed bugs on flights from Singapore to Hong Kong and back. 

"As it was a daytrip to HK, these bites could not have come from anywhere apart from the plane," wrote the passenger, Ms Jiamin Han, on Scoot's Facebook page. 
Scoot later said a thorough investigation had been conducted, and that there was no evidence of a bed bug infestation on its planes.
British Airways noted that the presence of bed bugs is an issue faced "occasionally" by hotels and airlines all over the world. It added that it operates more than 280,000 flights every year, and reports of bed bugs on board are "extremely rare".
Scoot said there have been "a few queries", but after investigating, it found "no evidence of any infestations". The airline added that should passengers have any issues with their seat during the flight, the cabin crew will move them to another available seat.
A Jetstar spokesperson, meanwhile, said Jetstar Asia has not received any such complaints, nor have they found any bed bugs on board their aircraft.
SPOTTING THE SIGNS
While airlines say it is a rare occurrence, the various incidents documented on social media prove that it does happen.

Pest control experts said that apart from seeing a live bed bug, there are other ways to tell if the plane seat you are on harbours any of such parasites.
Chairman and CEO of PestBusters Thomas Fernandez suggested looking out for small flecks of blood on the seat cushion.
Another sign, said managing director of Aardwolf Pestkare Patrick Chong, is their droppings - small maroon or dark-coloured dots staining the seat or the side of the cushion.
"If you feel itchy, have a look at the seat and change your seat if you need to," he said. But he pointed out that it could take as long as three to six hours for a reaction to a bed bug bite to show. "If you have been on board the plane for less than three hours, it's quite unlikely that there are bed bugs."  
"Many times, people feel the itch and see the swell, and assume they are bitten on the plane," he said. "But bed bugs are not like mosquitoes, where you feel the itch and see the swell within five minutes of being bitten."
"So the bite could have happened at a restaurant or another place before you boarded the plane."
So how does one tell if the bite is indeed from a bed bug? Head and consultant of the National University Hospital's dermatology division Dr Nisha Suyien Chandran said that in general, insect bites include red bumps or welts on the skin, papules or even blisters. The red bumps may have a dark pin-point centre and a lighter surrounding area.
Bed bug bites, however, have no typical pattern, said Dr Chandran. But the bites typically appears on parts of the body that are exposed while sleeping, like the head and neck, shoulders, arms and legs.
"Symptoms such as itch, burning and pain may also ensue," she added.
REGULAR CLEANING OF AIRCRAFT WILL NOT DETER THEM
Travellers may be disappointed to know that there is no way to prevent bed bugs from finding their way onto planes, according to pest control experts.

"Bed bugs feed on blood, and as there's a constant stream of people coming in touch with the plane seats, it is almost impossible to totally prevent bedbugs from coming," said Aardwolf Pestkare's Mr Chong.
"They could be on any passenger's shirt, pants, shoes or luggage," added PestBusters' Mr Fernandez. "Then when they go into the plane, they come out and infest the area, exactly as how you would have a bed bug infestation in your house."
Both stressed that regular cleaning will not deter the bugs, and it is necessary for proper pest controllers to come on board.
Mr Chong suggested that doing regular pest control once every week or two should be sufficient. "Bed bugs have to hide in cracks and folds of the cushion, and their front and back have to be in contact with something. So if they come in contact with the chemicals, they will die even if someone brings them on board."
"And as far as I know, they (pest control measures) are done very regularly on planes, as they are very strict about it."
But should the problem get out of hand, Mr Fernandez said in order to thoroughly remove all signs of bed bugs, it may be necessary to take the plane out of service for at least seven days, to ensure that any eggs do not hatch.
"In hotels, we literally strip the room," he explained. "We take out the headboard, mattress covering and really clean everything. The planes could be stripped the same way as hotels, otherwise there's no other way to be certain we've really reached every crack and corner."
But the most powerful tool, said Mr Fernandez, is inspection. "Train the cabin crew and all third parties to understand bed bugs and how to identify them," he said.
"So that when they see them, they can report it so the plane can be thoroughly cleaned."