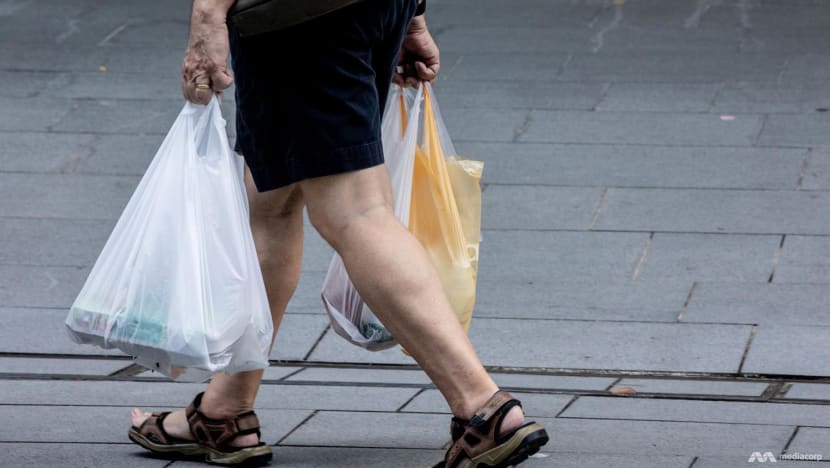 SINGAPORE: A Bill to make a plastic bag charge at supermarkets compulsory, as well as to introduce a beverage container return scheme, was tabled for a first reading in Parliament on Monday (Feb 6).
The Resource Sustainability (Amendment) Bill is aimed at reducing packaging and food waste as well as driving behavioural changes across Singapore to reduce waste and increase recycling, said the National Environment Agency (NEA) and Ministry for Sustainability and the Environment (MSE) in a joint media release.
The measures will contribute towards the national targets under the Singapore Green Plan 2030 and the Zero Waste Masterplan, which are to reduce the amount of waste sent to the landfill per capita per day by 30 per cent, and to increase the national recycling rate to 70 per cent by 2030, said NEA and MSE.
They will also help to extend the lifespan of Semakau Landfill.
The disposable carrier bag charge was announced at the Committee of Supply debates in March last year. The charge, applying to disposable carrier bags of all material types, will come into effect from the middle of this year.
To "uphold accountability and transparency" in the use of the proceeds, supermarket operators will be required to publish information on the number of bags issued, amount of proceeds received from the bag charge, and how the proceeds are used including the support of charitable or environmental causes, said NEA and MSE.
AT LEAST FIVE CENTS PER BAG
Larger supermarket operators will be required to charge a minimum of five cents for each disposable carrier bag provided to shoppers at their physical stores.
For a start, this requirement will apply to supermarket operators with an annual turnover of more than S$100 million, as they are better resourced to implement the requirements. This covers about two-thirds of all supermarket outlets in Singapore, including NTUC FairPrice, Cold Storage, Giant, Sheng Siong, and Prime supermarket outlets.
Packaging waste constitutes about one-third of domestic waste disposed of and about 60 per cent of this is plastic, said NEA and MSE. In 2021, only 6 per cent of plastic waste disposed of was recycled.
With regard to the beverage container return scheme, a small deposit will be applied when consumers buy certain pre-packaged drinks. Consumers can claim a full refund of the deposit by returning their empty beverage containers at designated return points.
The scheme was announced during the 2021 Committee of Supply debate. It was supposed to be launched in 2023, and a legislative framework introduced last year.
However, Senior Minister of State for Sustainability and the Environment Amy Khor said in April 2022 that the Government would "relook" its timeline for the roll-out of a beverage container return scheme following feedback from industry players.
"This scheme will contribute to zero waste efforts by cultivating recycling habits amongst Singaporeans as well as aggregating clean and high-quality recyclables," said NEA and MSE. "By increasing the supply and quality of recyclables collected, the scheme will also support the development of Singapore's recycling industry."
The proposed amendments will also look to set up a food waste reporting framework.
In 2021, Singapore generated 817,000 tonnes of food waste, of which 19 per cent was recycled. Commercial and industrial premises account for approximately 40 per cent of the food waste generated in Singapore each year.
Owners or operators of industrial and commercial buildings, where large amounts of food waste are generated, are already required to segregate their food waste from next tear.
To complement these requirements, they will also be required to measure and report the amount of food waste they have segregated for treatment.