The Big Read: Everyone's keen to move on from the pandemic. For some, it's not so easy – but they're trying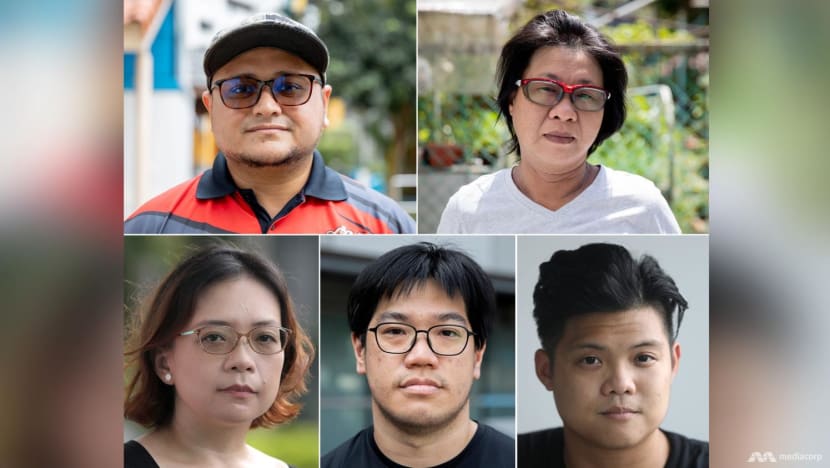 SINGAPORE: After more than two years of enduring the pain and strain wrought by the coronavirus, life on the island has finally regained some semblance of normalcy.
In his address to the nation on Mar 24, Prime Minister Lee Hsien Loong announced significant changes in Singapore's COVID-19 restrictions that reflect the city's resolve to live with the virus.
SafeEntry stations and barriers, once ubiquitous in all buildings, are now gone — to the relief of most people.
Office workers who had gotten used to attending Zoom meetings in their work tops and pyjama bottoms from the comfort of their homes are once again jostling with rush-hour commuters, as more get recalled back to their workplaces.
Friends, too, no longer have to worry about the awkward decision to leave out someone when they gather for a meet-up, while families now cross freely across the Causeway to visit relatives.
While many are keen to leave the pandemic behind them, as Singapore approaches its second month of COVID-19 endemicity, it has not been so easy for those who were directly affected by the unprecedented crisis to move on.
Some interviewees told TODAY that there are often daily reminders of the ones they have lost to the virus, and that it is hard not to question whether the outcome would have been different had they taken different decisions and acted differently.
Others, whose livelihoods were affected by the pandemic, talked about hitting rock bottom as they struggled to adjust to a new life they suddenly found themselves in.
As Mr Derrick Yip, who lost his high-paying gigs as an emcee, put it: "I wouldn't wish my enemies to go through whatever I went through. It was dark."
But a common thread that bound all those interviewed was that they either eventually found the resolve to move on, or other ways to cope with their situation, such as by lending a helping hand to others who were in more dire circumstances than them.
TODAY takes a look at their stories of loss, pain, frustration and hope.
"DON'T GRIEVE ALONE"
Worry, hope, anger and regret. These were the emotional phases that Ms Judy Lang found herself grappling with from the moment she learned that her mother had fallen ill with COVID-19 in January last year, right up till the time the older woman succumbed to the disease that same month.
Living continents apart from each other, Ms Lang, 38, only realised that something was amiss when she did not hear from her 65-year-old mother, Madam Irenie Loo, for nearly a week as the new year came around.
After repeated attempts to reach her by phone, Mdm Loo — who was living in the east England county of Essex where she ran a food shop with her now 37-year-old son — finally picked up and told her daughter that she, along with everyone else at the shop, had been infected.
Mdm Loo, a 2017 cancer survivor, was eventually warded in a hospital in the United Kingdom on Jan 6 last year, and was found to have low-levels of oxygen in her blood.
Even though she was subsequently moved into an intensive care unit (ICU) to be intubated, Ms Lang and her family were hopeful that Mdm Loo would make a full recovery — as was the case for Ms Lang's mother-in-law, who was similarly warded in ICU in Singapore after contracting COVID-19 in March 2020.
"My mother-in-law's health was worse than my mother's, but she survived ICU … so it gave us (the siblings) hope for our mum. We even told her that she would get well," said Ms Lang, who works as an administrator for an insurance company.
However, Mdm Loo began showing signs of organ failure and the doctors eventually took her off life support on Jan 27 last year despite pleas from the siblings to hold on for a few more days. Mdm Loo died within half an hour.
Due to the uncertainty of air travel back then, Ms Lang only got to say goodbye to her mother through a video call organised by her brother. She last saw her mum physically in 2019, when the doctors gave Mdm Loo the green light to travel after her battle with cancer.
Ms Lang — a permanent resident from Malaysia who grew up in Singapore — and her family decided to have Mdm Loo cremated and buried in a cemetery in Essex, rather than have her remains repatriated to her hometown in Perak.
Both the cremation and the burial, which were held months apart from each other due to administrative matters, were viewed remotely by Ms Lang.
Looking back at how things turned out, Ms Lang said she was initially angry that her mother still wanted to work even though she was sick, which likely compromised her health.
"The food shop was busy during that period, and she probably got tired and her immunity dropped."
Ms Lang even recalled sending a text message to her mother, encouraging her to rest and let her staff handle the work. "But she could not fang xin ('be at ease' in Chinese)."
"What if I had urged her to stay (with us in Singapore)? She might not need to work, and wouldn't have gotten COVID from her colleagues … There were a lot of what-ifs."
Though she has not fully gotten over her grief — there are daily reminders of her mother, such as the latter's gifts — Ms Lang said sharing her emotions with her brother has helped.
"The way we coped was to talk through things (like emotions), and tried to assure each other that we are okay…I think this helped us in some ways."
Ms Lang added that sharing her sorrow online has helped mitigate her grief too, as she received several sympathetic messages from friends after writing about her experience on social media.
"If a person is facing a crisis alone, they shouldn't. Reach out to extended family, or friends … We are always ready to support our friends, family and colleagues who are facing these tough times."
Still, Ms Lang worries for her brother, whom she described as being closer to their mother, as he was at the "epicentre" of where the family tragedy happened — their mother lived above the food shop, and going to work similarly reminds him of her.
Ms Lang said she hopes to make the journey to Essex soon to reunite with her brother, and to bid a proper farewell to her mother.
If there is one thing her mother's passing has taught her, it is the ephemeral nature of existence, and not to take life too seriously.
Ms Lang said her mother adopted a "Yolo" (you only live once) personality after she defeated cancer, and spent her time travelling whenever she could.
"We should just do what we want, within our means, (if it makes us happy)... because life is very short."
GETTING OUT OF A DARK PERIOD
While working as a Safe Distancing Ambassador (SDA) at the Plaza Singapura shopping mall in 2020, Mr Derrick Yip encountered a range of ill-mannered people who did not take kindly to his role.
One incident that remains lodged firmly in the 32-year-old's memory comes from the early months of the pandemic when a man threw his identity card at Mr Yip after being told he could not use it to enter the mall.
Singapore then had just introduced the SafeEntry requirements, and the man needed to scan a QR code at the mall's entrance, rather than show his identity card, to gain entry.
"He shouted at me ... You really get abused by people (as an SDA) and you meet unreasonable members of the public who try to play the system," said Mr Yip, who found himself in the role after all his lucrative gigs as an emcee got cancelled because of the pandemic.
Mr Yip's morale during his early days as an SDA, which began in April 2020 after several unsuccessful job applications elsewhere, plunged to the point that he once contemplated doing something rash.
He said being an emcee for more than a decade meant he had zero relevance to the corporate world, and it did not help that he did not complete his degree as a civil engineer. "I was angry I didn't study harder, and I felt almost useless... (My morale) was really, really bad."
To make matters worse, the pay he took home as an SDA officer, about S$1,800 a month after Central Provident Fund deductions, was roughly what he could earn in a day on a good month as an emcee and the owner of a company, which is now dormant, that manages other emcees.
The thought of taking his own life crossed his mind to "end everything", but thinking about his loved ones pulled him back from the brink. 
Mr Yip credited his friends and family — in particular, his fiancee — for keeping him going during those dark days. At that time, he recalled telling Ms Avlyn Koh, now 28, that he understood if she wanted to leave him because he could no longer provide her with a lavish lifestyle.
Prior to COVID-19, the man said he rarely bothered about price tags and would splurge because he could.
"But she stood by my side and said, 'Look, I know you don't have enough money, I'll pay for you.' I was like, whoa, this woman."
Still, his situation did not improve as the pandemic dragged on. His friends tried to comfort him by reminding him that it was not the end of the world. 
It also helped that Mr Yip gradually got to know his fellow SDAs better, and realised that he was not alone in his struggle to get back on his feet.
At the same time, Mr Yip decided to enrol himself in an Advanced Certificate in Learning and Performance course — a train-the-trainer Workforce Skills Qualifications programme — as he wanted to teach others how to be an emcee.
Hoping to put what he learned to use, Mr Yip helped to pen a training guide for new SDAs to follow when they join the Plaza Singapura team, and he eventually presented the manual to his classmates as part of his course work.
Among his classmates were two men, Mr Ian Choo and Mr Trevor Lum, who offered him a job at the coding school, SG Code Campus, they were running in Tampines when the presentation was over.
At first, Mr Yip thought it was a joke since he had no idea how to code, but Mr Choo the chief executive officer and Mr Lum the chief operating officer were serious.
"They said, 'Don't worry, technicality can teach. Personality, cannot'." With those words, Mr Yip took a leap of faith and joined the company in September 2020.
While what he earns now as one of the firm's instructors and curriculum developers is a "far cry" from what he got as an emcee, he felt like he had been given a "second chance in life".
And were it not for the pandemic, Mr Yip said he probably would not have been forced out of his comfort zone to better himself and pick up new skills
But, that did not mean he had to forgo his old talents as well. These days, Mr Yip finds himself hosting various video productions and events for his company again.
"My friends and loved ones, and even my bosses, took me out from a ditch, repaired and remoulded me into who I am today," said Mr Yip.
The next big step on the horizon for Mr Yip would be finally tying the knot with Ms Koh next February. They were initially planning to get married in 2020, but had to postpone due to delays in the construction of their matrimonial home.
Reflecting his change in attitude towards money, Mr Yip said they are intending to simplify their wedding by doing away with the wedding banquet.   
"A wedding banquet is an extravagant, over-priced fashion show you need to pay for...all that money can be used for your home instead," said Mr Yip, who now also thinks twice about whether he should book a taxi or use the public transport.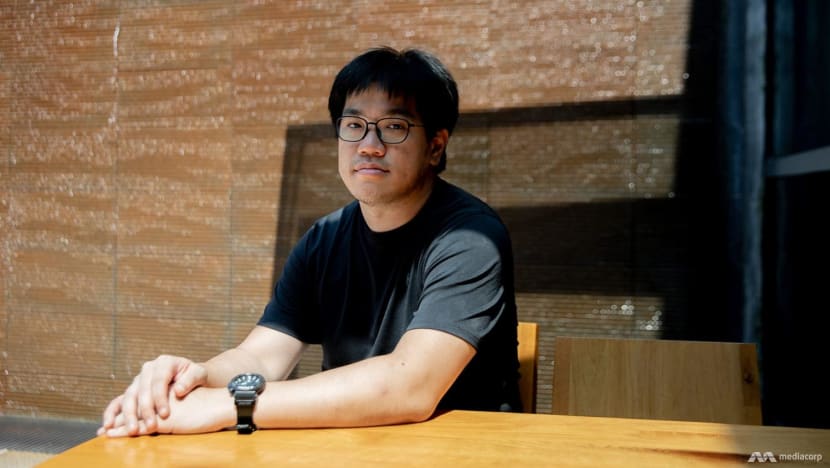 CLOSE TO GIVING UP BUT HE PERSEVERED 
After being at the receiving end of repeated rejections, despite sending out hundreds of job applications across various sectors, 35-year-old Tang Meng Kit found himself going through the lowest point of his life when he kept being told by hiring managers that he was "too technical". 
The former aerospace engineer said he was close to giving up when an unexpected lifeline came in the form of a position as a housing officer with the Ministry of Manpower (MOM) in November 2020.
Tasked with looking after the well-being of foreign workers living in dormitories, it was drastically different from what he used to do previously before he lost his job repairing aircraft in July that year as COVID-19 grounded the airline industry.
Moreover, worker dormitories were in the spotlight in the months before due to an explosion of COVID-19 clusters.
Despite a happy outcome to an otherwise frustrating search, Mr Tang said he was too worn out by months of job hunting to celebrate, and that he just wanted to move on with his life.
When asked if he, or his wife, was apprehensive about him taking on the role of a housing officer — since there was a risk he could get infected with COVID-19 and pass it on to his young family — Mr Tang said they were not overly concerned.
"I had some colleagues who were scared, but it kind of defeats the purpose of signing up for the job. For myself, I just took the necessary precautions (such as wearing the personal protective equipment properly and observing personal hygiene)."
Besides, he needed a job, and given his experience with hiring managers who told him that he was "too technical", Mr Tang felt the job would allow him to develop soft skills in areas such as people management.
But more importantly, it ticked the checkboxes for the kind of job he was looking for. "I wanted to do something new, in the government service and related to COVID," he said. 
Mr Tang said that aside from ensuring the dormitory residents were still being paid by their employers, he and his team had to be on the lookout for residents who might commit self-harm as well as resolve conflicts and disputes.
All this, he said, helped to improve his communication and listening skills.
It also made him more empathetic towards a segment of society that is often hidden from the public eye, as he witnessed the kind of discrimination some migrant workers faced.
One such example involved a migrant worker who was treated rudely and refused proper service by a bank employee until Mr Tang arrived to mediate.
The worker, a Filipino, was worried about his bank account and had approached the bank's employee for help. But because the worker could not speak English well, he sought Mr Tang's help over the phone.
"I said, can you pass the phone to them (the bank employee), I'll talk to them. And then from afar I heard, 'No I don't want to touch your phone.'
"I was really taken aback by their behaviour. There are some bank employees who want to stay away from them (the migrant workers). How can you do that? You're the frontline customer service officer."
Mr Tang noted that this was an isolated incident that he had personally encountered and helped to resolve. The migrant worker was very appreciative and Mr Tang was glad to provide the much-needed help.
In January, Mr Tang decided he wanted to focus on the Singapore community as a whole. He ended his contract with MOM and sought employment with the Ministry of Health, where he now helps out at the back end with staffing-related needs. He and his wife are also expecting their second child soon.
Mr Tang said the pandemic offered him a period of personal growth, where he not only learned more about himself, but discovered where he was lacking in terms of his career development.
Were it not for the housing officer role, he felt there would not have been an opportunity for his people management skills to develop since his previous role as an aerospace engineer did not require him to have such competency.
As for the future, Mr Tang said he is looking for the next best opportunity to improve himself.
One key takeaway he got from this episode is the importance of not giving up. "Even when you do all the right things, make all the right preparations … things can fail and can fall through. But that doesn't mean you give up. It just happened that way, and you just move on."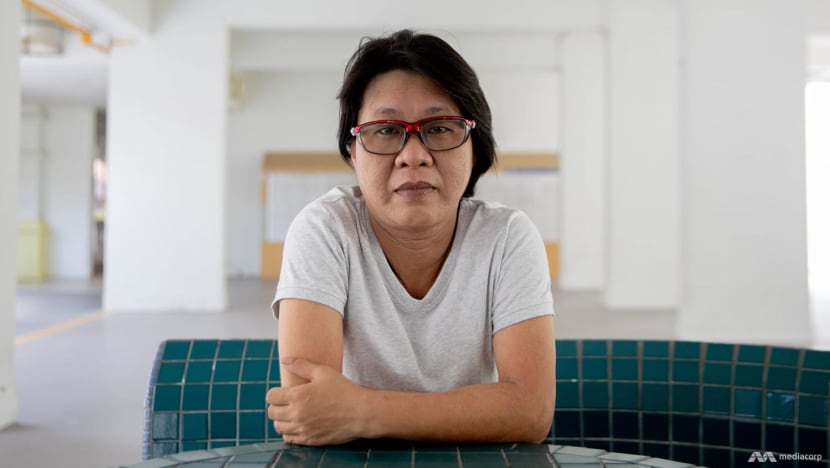 HARDSHIP NOT OVER BUT THAT DOESN'T STOP HER FROM HELPING OTHERS
Even as life in Singapore is gradually taking on some semblance of what it used to be pre-pandemic, Madam Sandy Goh, 54, who runs a tentage service company with her 58-year-old husband, is still waiting to see the light at the end of the tunnel.
Their company, Xing Long Canvas Steel Tent and Engineering Services, has been unable to get the hands and feet it needs to take on jobs, said Mdm Goh.
With dwindling savings — which the couple have been using to not only service existing debts, but to tide their family, as well as the company and its three full-time employees, through the last two years — they are unable to afford more local workers. And without sufficient locals, they cannot hire additional foreign help.
As it is, one of her employees, a Chinese national, intends to return home as he knows that the couple will not be able to sustain their business, said Mdm Goh.
She added that clients, too, will not be willing to pay more for the company's services in order to hire more Singaporeans or introduce machinery to lower manpower dependency.
"I am angry and upset. I understand the economy has to grow, but there are people like me who cannot catch up," said Mdm Goh.
Mdm Goh said if things continue the way they are now, she and her husband will likely be forced to close their 21-year-old firm and look for employment elsewhere — a prospect neither are optimistic about, given their past experiences in trying to do so.
"It was very difficult to find a job! No one dared to engage us. They said, 'You're a towkay, how can we hire you? We don't know how to pay you.'"
A "towkay" refers to a boss in the Hokkien and Teochew dialects.
Mdm Goh said she may eventually try to find a part-time job as a sales promoter, while her husband might look for something related to logistics.
To make ends meet during the pandemic, Mdm Goh and her husband did various odd jobs, including folding forms and placing them in envelopes.
This earned them about S$80 a week — a huge drop from the S$1,000 to S$2,500 they were previously earning over the same period running their company.
To compound matters, the mother of three kids aged between 12 and 18, was finding it harder to pay for the school fees, textbooks and other miscellaneous expenses for her two younger children.
And because her family did not neatly fit into the category of a low-income family, it took more than nine months for them to secure the Ministry of Education's Financial Assistance Scheme.
Approval was finally given just before the school year started in 2021, after she received assistance from her community centre.
Yet, despite her own hardships and the collective tightening of the family's belt, Mdm Goh still makes it a point to ensure that those living in her community who need help will still be able to get it.
She continues to operate a community food bank in her Bedok Reservoir neighbourhood which she started a decade ago.
"I cannot bear the thought of people having no food on their table... it makes me feel sad," she said.
"I believe that no matter how bad your situation is, there must be solid food on the table for families."
Mdm Goh said most of the food donations come from merchants with surplus to spare, or individuals with food that is near expiry.
These donated items also allow her to experiment with different ingredients that she would not typically buy at the supermarkets, and she gets to share the dishes her family has cooked using these ingredients with her neighbours.
Today, Mdm Goh said she is heartened to see that her ground-up initiative has motivated others.
For instance, she said her food distribution exercise, which targeted about 65 families in need when it first started 10 years ago, has now grown to about 2,000 families across Singapore, thanks to the help of volunteers who believe in her cause.
Although she was unable to provide an exact figure, Mdm Goh said the number of families needing help over the past two years grew "a lot".
"When you volunteer out of your own will, you feel contented when you see the smile on the faces of those you help," Mdm Goh said.
HUMBLE BACKGROUND HELPED IN COPING WITH ADVERSITY 
Coming from a humble background, Mr Firdaus Abdul Hamid is no stranger to hardship and so the 42-year-old shrugged his shoulders and moved on when the pandemic cost him his job as a marine engineer in 2020.
"My family, we can survive anything. When COVID struck, we just took it like we were going back to the days when I was just earning S$900 a month as an assistant marine technician," said the father of four children aged between one and 16.
And he was not picky about the jobs he took on, so long as he got paid. This included sanitation work at private hospitals.
While there were some initial health concerns, Mr Firdaus said he placed his faith in God, and reasoned that he also needed to provide for his family.
"Work is work," said the sole breadwinner.
Personal finances aside, Mr Firdaus, as the co-founder of the non-profit organisation Human Hearts, was also concerned about whether he could continue helping ex-offenders, whom he deems to be one of the most vulnerable groups during the pandemic.
Growing up, Mr Firdaus was taught that despite a family's financial circumstances, one should not say no to helping others.
"Whatever I have in my pocket, regardless of race or religion, we just give if they ask for help. Even if we don't have money, we help (however we can) … Sometimes people just need a bit of assistance."
For that reason, the lowest moment during the pandemic for Mr Firdaus was not the loss of his job, but having to deal with the closure of Human Hearts towards the end of 2020 after a disagreement with its board members.
Nevertheless, the setback did not weaken his resolve, and he eventually co-founded a new non-profit, The Kampung Bridge, in January this year.
The organisation, set up shortly after Mr Firdaus found another job as a marine engineer last November, has the same mission as Human Hearts.
Among the programmes that The Kampung Bridge runs are coaching and mentoring sessions for youths at risk, family therapy as well as training development for ex-offenders.
"Even though you are going through hardship, it is important you help others because I believe it will lead to others helping you in return," said Mr Firdaus.
This story was originally published in TODAY.
Where to get help:
Samaritans of Singapore Hotline: 1767
Institute of Mental Health's Helpline: 6389 2222
Singapore Association for Mental Health Helpline: 1800 283 7019
You can also find a list of international helplines here. If someone you know is at immediate risk, call 24-hour emergency medical services.