IN FOCUS: As Singapore scraps more pandemic rules, what happens to those in COVID-19 industries?
As Singapore continues its journey towards living with COVID-19, employment and business opportunities associated with the pandemic are diminishing. CNA spoke to some of those affected to see what their plans are.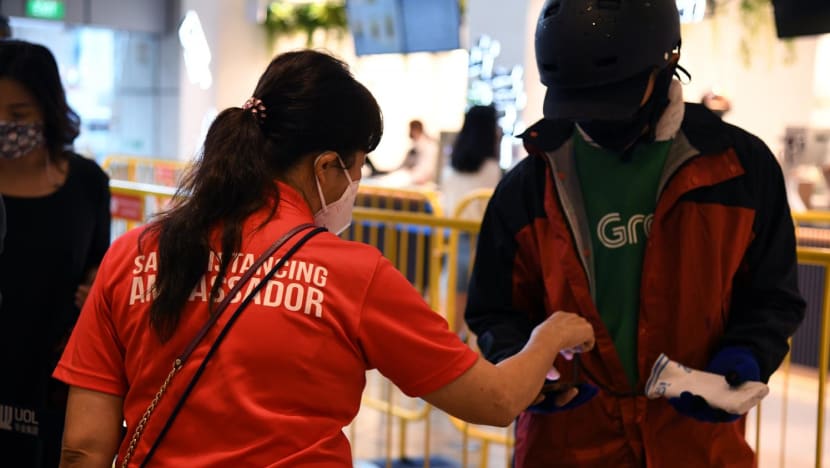 SINGAPORE: Mr Jumahat Din was halfway through his shift on Monday (Apr 25) when the iPads on his desk turned black and unresponsive.
Unable to restart the devices, which allowed people to check into a venue with a wave of their TraceTogether tokens or mobile apps, he stood up from his desk and pointed to a standee beside him bearing a SafeEntry QR code: "Sorry, iPad spoil. Can you scan this?"
Stationed at one of the entrances of Suntec City mall, Mr Jumahat repeated this line for the next few hours as shoppers streamed in every few minutes.
While repetitive, the job of a SafeEntry screener – verifying vaccination statuses and ensuring that people check in at public places with contact tracing tools – was less physically demanding than his previous jobs as a hospital porter and a pest controller. So the 60-year-old was glad when he started work on Apr 1.
Little did he expect to be serving his last day so soon.
When CNA approached him on late Monday afternoon, it was a few hours before the easing of several COVID-19 curbs as Singapore stepped down its disease outbreak response for the first time in more than two years. Group size limits and safe distancing requirements were scrapped on Apr 26, alongside the use of TraceTogether and SafeEntry for check-ins at most venues.
With that, Mr Jumahat will have to embark on the search for a new job.
"Of course there is some worry. I have to support (my) family so I need work," he said.
"WE ALREADY KNOW THIS IS COMING TO AN END"
Since the pandemic started two years ago, thousands of short-term roles, such as SafeEntry screeners and safe distancing personnel, have been created in the public and private sectors. As Singapore moves to living with the disease and relax more control measures, many of these jobs are seeing the end of the road.
The Ministry of Sustainability and the Environment, which oversees safe distancing enforcement, has said it will be "gradually stepping down" the number of safe distancing ambassadors it deploys. Doing so will allow these individuals to return to other sectors as the economy recovers and the jobs market offers more opportunities.
Around 2,000 safe distancing ambassadors are currently employed by various government agencies.
One of them is Aloysius, who started work in this role four months ago.
The 38-year-old, who declined to provide his surname, was not surprised by the authorities' most recent move. Making mask-wearing optional outdoors was the biggest sign of more to come, he said.
Online townhall meetings for safe distancing ambassadors have also been providing information about job openings in other sectors, such as food and beverage (F&B) and retail.
The latest of such meetings took place on Apr 21, where safe distancing ambassadors were briefed in advance about the latest easing of COVID-19 rules, according to Aloysius. They were also informed of new work arrangements, in line with the cutback in manpower needs.
For example, while popular malls with high traffic will continue to have safe distancing ambassadors on patrol for seven days a week, others will be merged into "clusters" with ambassadors deployed on an ad-hoc basis.
That means less work moving forward, said Aloysius whose latest weekly schedule has him working for three days, down from the usual five.
"They told me due to the shrinking of schedules, it's best if I consider becoming just a part-timer or I can look for a new job."
Aloysius, who is single, said he has been making back-up plans – a lesson learned from losing his job as a restaurant manager in early-2020. After working a series of short-term jobs in sectors such as delivery, he started taking up security training courses at the end of last year.
Becoming a safe distancing ambassador was also part of his plan to get relevant exposure to the security industry, he said.
"If work gets lesser, I'll just treat this as a time to slow down and take even more courses. So that when the economy gets better, I can move on quickly."
"A lot of the other (safe distancing ambassadors) have been going for job interviews already. Some are also doing sidelines to have more income in case this ends," said Aloysius.
"We are not surprised. We already know this is coming to an end."
Those in other roles share similar sentiments.
Mr Chia De Zhong, a freelance actor and emcee, began work as a swabber under the Health Promotion Board (HPB) in July 2020 after performing and event gigs dried up due to the pandemic.
In the nine months with HPB, he was deployed to a regional screening centre and performed PCR tests on workers on rostered routine testing. When that stint ended due to a "downsizing exercise", he took up freelance swabbing jobs with private healthcare providers as performing opportunities remained few and far between.
Demand for swabbers has gone through ups and downs, for instance, as rostered routine testing for workers was scrapped and test centres were shut when the pandemic situation improved.
Moving forward, Mr Chia reckons that prospects for swabbers will hinge on whether more countries will relax their COVID-19 entry requirements. The United Kingdom, for one, no longer requires fully vaccinated travellers to do pre-departure tests.
However, the possibility of losing his job as a swabber is not a scary one.
"We joined this with the knowledge that it will not be forever. We know it will end someday," the 30-year-old said. "In fact, it is me still being a swabber after two years that is more worrying."
"Swabbing does not give me any long-term career progression and growth; not even a testimonial or anything … So I'm at the crossroads now, thinking whether I should quit."
MULLING NEXT STEPS
With a business degree, Mr Chia said he has considered applying for corporate roles. But deep down, he knows that his passion lies in acting and singing and he still wants to give it a go despite the cut-throat competition and stagnant wages.
The relaxation of more measures may spur the return of gigs and events such as corporate dinner and dance events, so Mr Chia thinks it is time for him to take the next step.
"Reopening is definitely good for events … and when more events return, jobs will come and perhaps my mid-career crisis will be over."
There are others who are worried about their chances of securing a full-time job, citing their age or how their previous industries have changed.
Mr Jumahat, the SafeEntry screener, said he has applied for a job in the security sector but is worried about his chances of passing a mandatory training programme. Given his age, he is also unsure about the options he has and hence may take some time to land a job.
A safe distancing ambassador who only wished to be known as Ms Chan said she has second thoughts about returning to the tourism industry, where she had spent more than a decade as a tour guide.
The 53-year-old noted that the pandemic would have ushered in a "new normal" for her industry, similar to other sectors.
It may take awhile before tourists return in huge numbers and even then, she is not sure if people will still be receptive to travelling in large tour groups. The latter, Ms Chan added, may mean that all her work experience is now "irrelevant".
Meanwhile, Mr Andy Neo, who became a food delivery rider with Grab at the onset of the pandemic, said he has seen a drop in earnings since restrictions were eased last month.
This is likely due to more people dining out in larger groups and fewer meals amid the Muslim fasting month of Ramadan, according to three other riders whom CNA spoke to separately.
Mr Neo said he used to be able to get 25 orders a day but that target has been out of reach lately, even if he spent longer hours on the job. "Just last week, I got only 7 orders after 7 hours," he said in Mandarin.
The 50-year-old used to work in a car workshop, specialising in spray painting. The workshop has closed down due to the pandemic and he has no plans to return to his previous job, noting that he is getting on in age and no longer wants to withstand the health risks that come with working with spray paint.
But given his lack of a proper education, Mr Neo said it is "impossible" for him to take on other types of jobs. Staying on as a food delivery rider is his best bet, even as tougher days lie ahead.
"Some people say they can earn S$8,000 as a food delivery rider; I don't know how they do it. It's definitely not so easy."
BUSINESSES PIVOTING AGAIN
The easing of COVID-19 rules affects not just individuals, but also businesses that pivoted to meet the new demands of a pandemic.
Airboard Technology began selling facial-recognition temperature screeners in 2020 when such devices were needed at the entrance of every mall, office and restaurant. Last year, as a government grant for businesses to acquire digital solutions ended and public places no longer required temperature checks, sales fell "drastically", said senior manager Daphne Ong.
While the local firm still sees some demand for its screeners from corporates or event organisers looking for a crowd monitoring and attendance tracking tool, it expects to sell no more than 100 screeners this year, about one-third of the sales it made in the previous two years.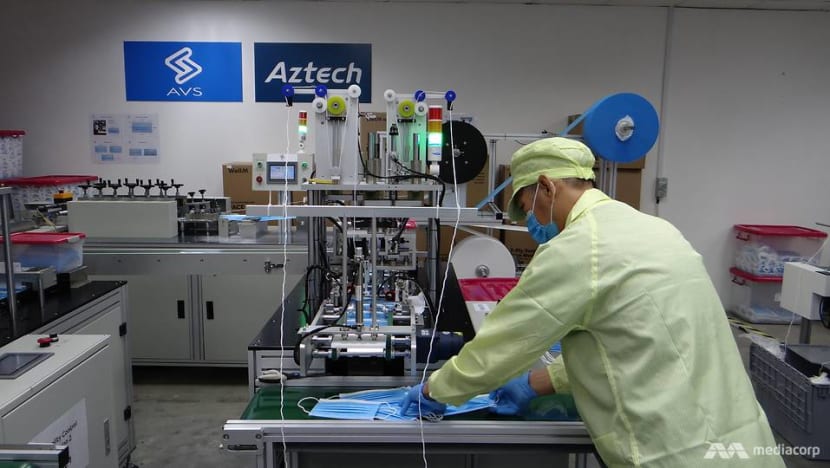 Local producers of surgical masks – many of whom entered this field during the pandemic – have also been seeing slower days.
Demand last peaked in May 2021 when authorities recommended people to wear masks with better filtration capabilities amid the emergence of new coronavirus variants. The COVID-19 situation in Singapore has since stabilised and mask-wearing is now optional outdoors. With that, some manufacturers have decided to call it a day.
AVS Technologies, for one, stopped production about three months ago. The printing firm had invested about a million dollars to convert a part of its office in Ubi into a production facility when Singapore grappled with a mask shortage at the start of the pandemic.
"We started this with the intention to do our part for Singapore … Now that there's sufficient supply and demand is lower, we feel that we can stop," said general manager Kelvin Mun.
In addition, the company's primary business of distributing printing equipment and providing printing services has recovered to pre-pandemic levels, and it needed extra space.
Asked if low profitability was another reason why it exited mask making, Mr Mun said the venture was "definitely not making money" but that was "never the main consideration". He stressed that his firm benefited in other ways, such as picking up ISO standards and implementing better work processes.
For Airboard Technology, the diversification into temperature screeners "helped to cover" the revenue loss from its pandemic-hit core business and broadened its customer base.
But as demand ebbs, it has embarked on another round of pivoting.
"We know we have to innovate," said Ms Ong, noting that the firm is working with partners to integrate facial recognition, mask detection and other functions found in its temperature screeners into robots used for disinfection or patrolling.
The Mask Fellows, which has sold almost 10 million face masks made out of its factory in Chai Chee Lane since launching two years ago, is mulling an expansion into wellness products like air purifiers and disinfectants.
It will keep making masks however, noting that while demand has peaked, it may continue to see "stable" orders from its corporate clients and supporters of locally-made masks. It also reckons that the pandemic has created a new social norm in Singapore where mask-wearing is "normal" when one is unwell.
"A lot of our competitors have slowed down or left after optional mask-wearing was announced, but we don't have any intention of doing that. We are here to stay," said founder Daniel Chui.
"The entire company is set up to produce medical devices, with surgical mask being just one of them. So if the whole foundation has been laid, we don't see why we have to stop here."
Food delivery firms, which have boomed during the pandemic, are upbeat about demand ahead.
Asked about the dip in orders observed by some delivery riders of late, a foodpanda spokesperson said demand for both food and grocery on its platform has been "consistent".
It added that even as more measures are eased, demand will remain consistent given how the pandemic has accelerated an ongoing shift in consumer purchasing habits.
"Consumers now have an increasing expectation that orders arrive as fast as possible, especially for food items. We predict that consumer demand for quick and convenient delivery services will only continue to grow," foodpanda said.
Responding to the same questions, Deliveroo said its platform has seen more customers and restaurants as food delivery becomes "an indispensable part of daily life".
It cited a survey it commissioned last January, where 80 per cent of 1,000 respondents said they were using food delivery services more often. A similar percentage noted that they would have their meals delivered more regularly in the next few years.
"We believe that there will continue to be a place for food delivery as Singaporeans adapt their routines towards living with COVID-19," Deliveroo said.
NOT A ZERO-SUM GAME
DBS senior economist Irvin Seah said the relaxation of COVID-19 curbs should not be seen as a zero-sum game. While there will be a loss of temporary COVID-19 related jobs, the reopening of the economy will spur growth, which in turn can create more permanent and sustainable work opportunities.
Likewise for businesses, the removal of restrictions, which have been "impediments" to day-to-day operations and overall economic activity, will largely be a boon.
"Net-net, the impact is actually more positive," said Mr Seah. "Some businesses and workers may have to pivot but I feel that this pivoting is towards something that is more desirable in the longer term."
While he does not expect authorities to do "a mass retrenchment" given the potential impact on these workers and their families, the economist added that there is no need for a gradual approach when cutting COVID-19 related jobs.
This, as time will be needed to help people acquire new skills and transition into different jobs. Opportunities are emerging, with total employment in the first quarter - excluding migrant domestic workers – expanding by 41,100, according to Ministry of Manpower data released this week.
"So the process to help these workers must start immediately," said Mr Seah, adding that government agencies "have to step in and ensure that this transition is as seamless as possible".
"You don't want a situation whereby sectors that are reopening need manpower but they cannot find any because there is a group of workers who don't have the skills to take on these vacancies."
The Ministry of Sustainability and the Environment, in its reply to CNA regarding the future of safe distancing ambassadors, said the Government will work with agencies to offer employment assistance to those in need.
Authorities have also said that many of those employed in short-term COVID-19 roles will return to sectors they had originally come from, such as aviation or the service industry.
Efforts are also being made to absorb safe distancing ambassadors into the healthcare sector, if they have been deployed to areas related to it, a TODAY report cited Manpower Minister Tan See Leng as saying earlier this month.
Given continued growth, the healthcare and community sectors are indeed areas that job seekers can consider, said a private provider of healthcare training.
"The healthcare and community care sectors are growing," said HMI Institute's general manager Lee Mun Choon, citing the availability of healthcare support roles such as healthcare assistant, therapy assistant, as well as management roles in operations and administration.
Its certification courses, which have no age limit and do not require prior knowledge in healthcare, can be a reskilling option for those in COVID-19 related jobs. Those undecided also have the option of attending a shorter and subsidised caregiver training course.
"For the past 2 years, many of our students came from industries impacted by COVID-19 and recently swabbers who wish to experience the job scopes of being a care staff," Mr Lee said.
On top of training, HMI Institute works with 100 healthcare employers to provide job placements. Three in four graduates from its Workforce Skills Qualifications (WSQ) courses have been placed in jobs, it said.
Ms Onishea HC, who runs a chat group on WhatsApp for swabbers to share information about job openings, urged those in COVID-19 related jobs to "never give up".
The 33-year-old worked as a swabber for nearly one and a half years after the pandemic eliminated her livelihood as a swim coach. To make up for the loss in income, she also worked part-time at a F&B outlet, made deliveries and took up the role of a teaching assistant at a coding school for children.
At one point last year, she was juggling four jobs.
"But the jobs were irregular so I was only earning S$3,000," she said, adding that it was a far cry from the amount she used to earn as a full-time swim coach. "I had to work hard to save up as much as I can."
These days, with swimming classes allowed to resume, Onishea is back in the pool with her young students. She has quit all her other part-time jobs, except the role as a coding and robotics trainer. To brush up her skills, she recently attended a course on programming language Python.
"I got promoted from assistant teacher after awhile. Maybe because they saw how hands-on I was with the kids and they thought I was not too bad," she said, while laughing.
"Initially, I was scared to do the job; I didn't even know what's coding. But after trying, I realised that I enjoyed it a lot, even though the pay was lower than swabbing and I had to buy a new laptop to do my presentations for the kids in class. But it's been so fun and so much more satisfying."
As such, when asked what advice she would give to those mulling their next steps, she said: "Do not put yourself in just one job; take the chance to do something new and maybe that'll tell you where you can go next."