Singapore firms must push on with transformation as part of 2030 economic vision: Gan Kim Yong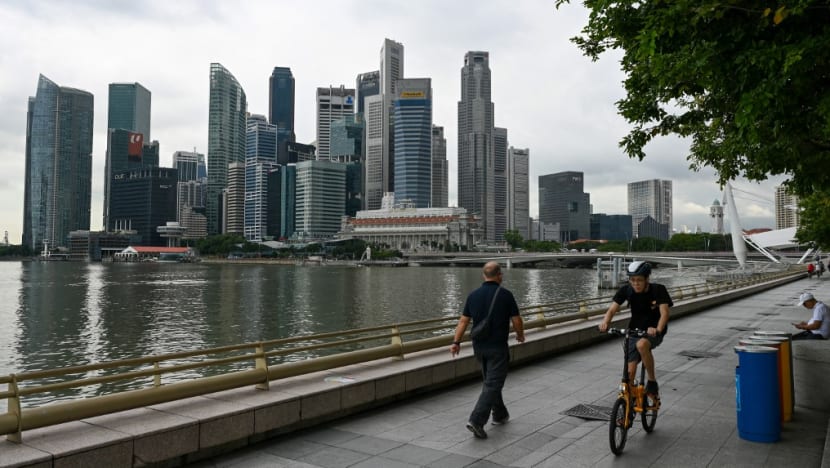 SINGAPORE: Singapore businesses have to push on with innovation and transformation as part of achieving the country's 2030 economic vision, said Trade and Industry Minister Gan Kim Yong on Monday (Apr 25).
The Singapore Economy 2030 plan, first unveiled by Mr Gan in his ministry's Committee of Supply debate last month, outlines the country's ambition and approach across four key pillars – manufacturing, trade, services and enterprises.
The 23 industry transformation maps – roadmaps first launched in 2016 to drive change in various sectors – are being refreshed, he noted.
"Most importantly, we need to achieve deep industry and business transformation, and build a bench of successful Singapore enterprises that can sustain strong growth and create good careers for our people," Mr Gan said in a keynote speech delivered at the Firefly Symposium organised by his ministry and the Singapore Tourism Board.
"Some businesses have asked – how can we think about long-term transformation when costs are escalating today and we cannot even find sufficient workers with the right skills to support the companies' daily operations?
"Actually, the only sustainable way to address these challenges is to relentlessly push for innovation and transformation," he told 600 representatives from various economic agencies, trade associations and business chambers and the labour union and think tanks gathered at Suntec City Convention Centre.
Mr Gan said companies must press on with productivity improvement. He acknowledged the difficulties that firms face with a tight domestic labour market and noted that the Government has moved quickly to reopen borders as the pandemic situation improved. 
But the reality is that "there will be limits" on how many workers Singapore can accommodate. The labour shortage will likely tighten further as the global economy reopens, he added.
"Businesses need to overcome the limit in labour supply by adopting innovative solutions and adapting their business model to reduce their demand for labour," Mr Gan said, urging firms to tap available schemes for support.
Companies also need to innovate, build deep capabilities and pivot their business models where needed.
"By creating products and services that others cannot easily replicate, companies will be able to command a higher premium, and secure a larger and stickier customer base," the minister said.
"There is no shortcut, and companies must continue to invest in developing indigenous capabilities and technologies that can keep them ahead of their competition," he added, citing sustainability as one such trend that firms should embrace, rather than looking at it as a threat.
All these have to be paired closely with workforce transformation, which will require commitment and investment from companies and the willingness of workers to learn new knowledge and skills. 
Mr Gan said there are growing external headwinds, such as the war in Ukraine and the presence of longer-term deep, structural shifts that are changing the global economic landscape. 
These include how the rules-based global order is now under "serious threat". The risk of receding respect for international rules and norms, as well as how trade may become less "free", is a major concern for Singapore, which depends heavily on trade for growth and jobs, he said.
The world also needs to be prepared for prolonged heightened inflation, constrained supply and volatile geopolitics, with governments likely having to manage starker trade-offs between growth and inflation.
Even so, growth opportunities remain and Singapore is "well-positioned" to seize them, Mr Gan said.
For one, the shift in global economic weight towards Asia, and in particular Southeast Asia, puts Singapore in a position of strength. Singapore has also been investing heavily in digital technology and sustainability, so as to capture value from these two secular trends.
"So amidst the near-term challenges that our economy is facing, I urge the business community to not lose sight of the future and the significant growth opportunities that we can capture if we collectively put our minds to it," said Mr Gan.
The Firefly Symposium is the first major event that the Ministry of Trade and Industry has organised since the start of the pandemic. 
At the symposium, representatives from the Ministry of Manpower, Economic Development Board and Enterprise Singapore also presented their initiatives to support the 2030 vision.
Enterprise SG's assistant chief executive Lee Pak Sing outlined how the agency is helping businesses innovate and widen their market reach through platforms and initiatives such as the Global Innovation Alliance that forms partnerships with innovation hubs globally.
It is also supporting the growth of small- and medium-sized enterprises it deems to have high potential.
"For Singapore business to compete globally, we need to go big or go home," said Mr Lee, noting that companies with "global ambitions" will receive customised support, such as market facilitation or access to corporate finance.
Singapore Business Federation chairman Lim Ming Yan, who also spoke at the event, said the pace of change for businesses has accelerated over the last two years and local businesses now have to be more agile.
"In the midst of these uncertainties, the business community is looking forward to the Singapore Economy 2030 vision … for robust and sustainable economic growth," he added.