They held the hands of dying COVID-19 patients when their families couldn't. Meet NCID's medical social workers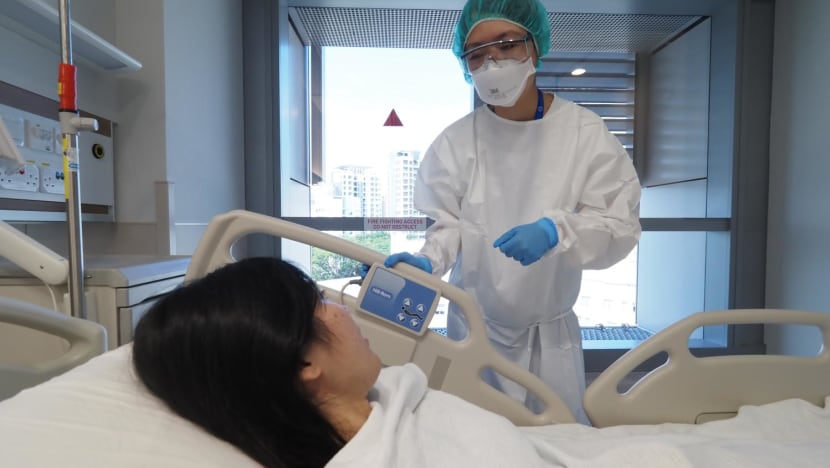 SINGAPORE: When the first COVID-19 deaths hit Singapore, Dr Ho Lai Peng was there to help the families through the grief and the isolation brought about by the pandemic.
Two years on, the senior principal medical social worker from the National Centre of Infectious Diseases (NCID) still remembers every detail.
The hardest part was that families could not be with their loved ones in their last moments, said Dr Ho.
She recalls one patient who was fighting for his life but unable to see his wife as she had also contracted COVID-19 and had to be in isolation.
"That was very hard, especially for the spouse ... not being able to see (him), and us going to tell her that he had passed away." 
The wife reacted with "disbelief", Dr Ho said. 
Dr Ho and her co-workers would frequently help family members make video calls to patients in isolation. There were times when the family asked them to hold the hand of their loved one in their stead, she said.
They would also help carry out instructions from family members to help prepare the body for their last rites, such as dressing them in clothes chosen by the family and even putting make-up on the deceased.
They have also been asked to place a favourite accessory next to the body or a religious item according to their faith.
She remembers how, at the start of the pandemic, intubated patients who died did not have their tubes removed as a precaution against infecting others. That was necessary when little was known about the virus but also painful for family members, Dr Ho said.
Eventually, they appealed and the Health Ministry changed its guidelines.
"We have to make them look nice, because that will be the last image they have of this patient," she said. 
"Death happens, but how do we take that very, very painful moment and make it a moment that's meaningful for them."
At the same time, they had to comfort the living. She recalls bringing food or small comforts from outside NCID to patients and providing a listening ear.
Dr Ho, who has 30 years of experience, was one of two medical social workers from NCID who shared their experiences with CNA on helping patients during the pandemic. She currently has 13 medical social workers and five support staff members on her team.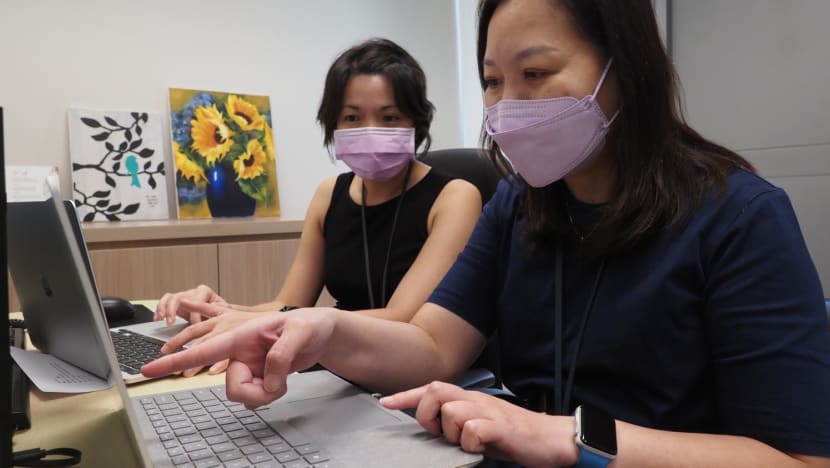 When the Delta variant came to Singapore's shores, their work intensified with the surge in COVID-19 cases and deaths. Dr Ho said she once worked 24 hours without a wink of sleep.
"There were moments when we will break down, and we needed to support each other," she said. "It was difficult because those moments (of grief) also touched us ... and also because sometimes when grief overtakes (the family), it becomes anger ... it spills over to us."
Ms Isabel Lim, who started working with COVID-19 patients and their families this year, has had to deal with this as well.
But as the Delta wave subsided and with milder cases infected with the Omicron variant, she also faces a different set of challenges.
Elderly patients discharged after an infection can get weaker and may need more care. Social workers help families with discharged patients who need additional care by linking them up with community resources, discharge planning or when they have financial concerns.
One caregiver she's helped is Ms Lim, who is taking care of her 92-year-old father and her mother, who is in her 80s.
After recovering from COVID-19, Ms Lim's mother became so weak that she could not walk or bathe herself. She is also a stroke survivor and has mild dementia.
Ms Lim, who did not want to use her full name, was referred to Ms Isabel after medical staff learned about her difficulties taking care of her parents. The team arranged a home bathing service to give Ms Lim respite once a week.
The service helps seniors with mobility issues shower, trim their nails and hair, as well as clean the bathroom.
Besides the practical help, Ms Lim said that she appreciated Ms Isabel's willingness to listen.
"She listened with a lot of respect and when I told her about some issue, she immediately took action and said she will find out for me, and that gave me a lot of comfort," she said.
Ms Isabel has also helped homeless people who came to NCID with COVID-19 look for shelter after they were discharged. She also looks out for patients or family members in distress.
She said that medical staff try to pick up on signs that families need help early on and refer them to the social work team.
Her role then is to help reduce the burden of the patients and their families, whether it is to lend a listening ear or provide information they need.
"They don't have the bandwidth to deal with all the logistical arrangements ... I want to make it easier for them to understand and streamline it," she said.
And while she's had anger directed at her, she doesn't take it personally.
"(It's) a way of trying to cope with all the underlying emotions, so on the surface it's anger, it's frustration, but we know that it's actually grief."
Dr Ho called her team a "bridge" between the families and patients who had to be isolated or in ICU. Cases in ICU are very emotional as the patients are fighting for their lives and the families are on tenterhooks, she said.
When she sees family members at the ICU, she volunteers to help them video call their loved ones.
"For them, this conversation could be the last moments they get to talk to the patient," she said.