Labour shortage: Employers should hire workers from short-term COVID-19 roles like SDAs, says Tan See Leng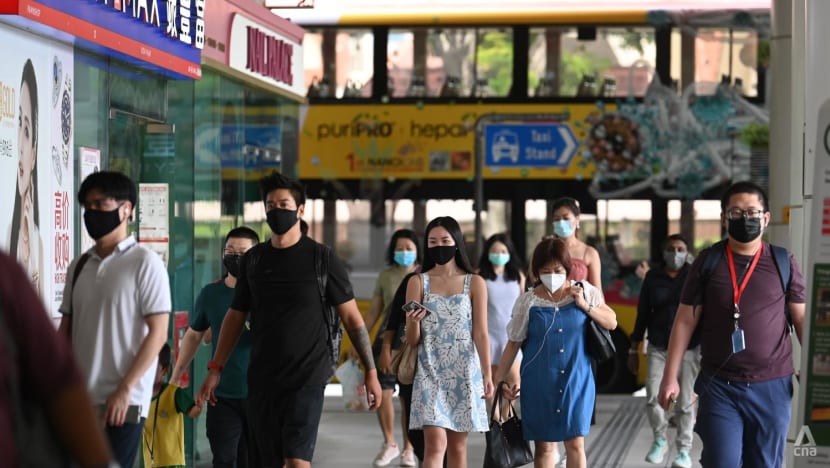 SINGAPORE: Employers facing labour shortage should look to hire workers who held short-term COVID-19 roles, said Manpower Minister Tan See Leng on Monday (May 9). 
This includes those who were employed as safe distancing ambassadors (SDAs) and vaccination centre workers. 
Speaking in Parliament about how companies can adapt to the manpower crunch amid the recovering economy, Dr Tan noted that resident employment grew by 71,300 in 2021. 
The resident unemployment rate has also recovered to pre-COVID levels. 
"I am encouraged to see that many businesses have been able to build up their local workforce to meet their manpower needs," he said, adding that there continues to be opportunities to hire more local workers. 
OPPORTUNITIES TO HIRE LOCAL WORKERS 
As of April this year, around 6,400 workers were employed in short-term COVID-19 roles by the public sector, Government-funded institutions or private sector medical service providers, said Dr Tan. 
Around 1,200 of these workers will be "redeployed into longer-term roles", but the other 5,200 will be "looking for new jobs when their contracts end over the coming months". 
As such, Workforce Singapore (WSG) and NTUC's Employment and Employability Institute (e2i) will provide "employment facilitation". Employers who are keen to consider these workers should reach out to both organisations. 
"Many of these workers came from the F&B (food and beverage) and retail sectors, and would thus possess the relevant skillsets as well as experience," said Dr Tan. 
Additionally, employers can consider hiring trainees who have gone through various attachment and training programmes under the SGUnited Jobs and Skills Package, added Dr Tan.
"There are 9,800 trainees who are still undergoing their programmes as at end February 2022, and they too will be looking for jobs in the near future." 
Dr Tan chairs the Jobs Taskforce, which is working with sector agencies to place these trainees in "suitable roles" that make use of the "industry-relevant skills and experience gained" through the programmes. 
Finally, employers can consider tapping on a "larger pool of local manpower" by providing flexible work arrangements, including "flexi-time, flexi-place and part-time work", said Dr Tan. 
For instance, the number of local part-time workers in F&B services remained "stable" at around 35,000 on average over the last five years, of which around 15 per cent were students. 
"Part-time work can benefit both employers who need the manpower, and workers who will not only earn an income, but can also gain work experience for the future."
BOOSTING NON-RESIDENT EMPLOYMENT
The minister acknowledged that the construction, marine shipyard and process sectors were the hardest hit by the labour crunch as they rely "most heavily on migrant workers".
Other industries like food services, cleaning, retail, tourism and aviation that were affected by safe management measures and international travel restrictions are also facing a manpower crunch now as they rebuild their manpower with the economy's reopening. 
There are also "many vacancies" in outward-oriented industries, such as information and communications, and financial services. 
With businesses battered by the pandemic, Singapore's non-resident workforce "declined sharply" in the last two years, said Dr Tan. 
But while demand is recovering, border restrictions have "dampened the regular inflow of foreign manpower". 
"The Government has taken steps to resume the inflow of foreign workers to ease the manpower crunch and we've progressively lifted border restrictions from late last year," added Dr Tan.
"Since then, non-resident employment growth increased in the fourth quarter of 2021 for the first time in two years, and picked up pace in the first quarter of 2022."
Dr Tan highlighted that the Government recently announced the removal of entry approval requirements for all pass types, including Work Permit Holders (WPHs) in the construction, marine shipyard and process sectors.
"The number of construction, marine shipyard and process WPHs in Singapore reached a two-year low in October 2021, but has since grown strongly by more than 40,000 to reach over 90 per cent of pre-pandemic numbers," he said. 
"Our businesses now have fuller confidence to bring their work pass holders into Singapore, and the recent reopening of the Singapore-Malaysia land border should also further ease the labour market tightness in the months to come." 
SCHEMES TO SUPPORT BUSINESSES IN HIRING 
To support workers and enable businesses to help Singapore reopen its economy, several schemes have been put in place.
Dr Tan shared that the Ministry of Manpower (MOM) is working with the Ministry of Transport (MOT), the Ministry of Trade and Industry (MTI), the Singapore Tourism Board (STB) and the Civil Aviation Authority of Singapore (CAAS) to provide "targeted support" for the tourism and aviation industries. 
Such support involves additional foreign worker quotas on a "time-limited basis" to ensure that these industries can "quickly rebound and capture the opportunities". 
To promote local employment, Government agencies are "working closely with industry and unions to promote good jobs and ramp up local hiring", said Dr Tan. 
"For example, STB partnered NTUC, NTUC's e2i, WSG and key Trade Associations and Chambers to launch the Tourism Careers Hub in January 2022. This hub facilitates job matching of local candidates with the tourism sector. It supports upskilling of workers to meet evolving demands, as well as drives business transformation efforts."
Dr Tan added that CAAS is working with aviation firms to "recall former employees and expand hiring".
And in the next few months, CAAS and STB have lined up recruitment activities such as career fairs. 
Various initiatives have also been rolled out to improve job quality to attract and retain local workers, noted Dr Tan.
For example, MTI recently announced S$70 million Food Services & Retail Business Revitalisation Package.
In the cleaning sector, Dr Tan shared that the National Environment Agency has been working with cleaning companies to adopt technologies, such as autonomous floor cleaning scrubbers and robotic solutions, to "free up workers to meet the added demand for disinfection work".
The Government will also extend the Jobs Growth Incentive to September 2022 to support the hiring of mature local workers, those who are not in work for at least six months, and persons with disabilities or ex-offenders.
"Employers can receive up to S$21,600 per eligible hire over a 12-month period," said Dr Tan. 
Employers can also tap on the SGUnited Mid-Career Pathways Programme (SGUP). 
"Attachments under the SGUP will allow employers to provide mature candidates with on-the-job training and evaluate their job-fit," he added. 
From June this year, the Government will also be disbursing the Small Business Recovery Grant. This grant will provide S$1,000 per local employee and up to S$10,000 per firm. 
The minister highlighted that COVID-19 has underscored the importance of building resilient businesses. 
"I strongly encourage employers facing manpower shortages to utilise all the available support to press on with efforts to transform and become more manpower-lean, while tapping on the available sources of local workers that still exist to build up their local manpower core."