SINGAPORE: With an ageing population and more sophisticated medical procedures, demand for blood in Singapore has risen by 4 per cent over the last five years.
There have been instances when blood stocks have dipped to critical levels, which means the country has less than a six-day stockpile. When this happens, elective surgeries will have to be postponed to conserve the blood stocks for lifesaving emergencies.
With a fifth bloodbank officially opened on Thursday (Aug 17) in Punggol, agencies are hoping more people will come forward to donate blood – only 1.8 per cent of Singapore's population do so.
Why has demand for blood risen and what happens when blood stocks hit low or critical levels?
RISE IN DEMAND FOR BLOOD
There has been an increase in demand for blood over the past five years, from 110,823 units in 2018 to 115,794 units last year.
Blood is required by patients daily, not just for those with bleeding from injuries or surgeries, but also for those with blood disorders or other medical conditions.
About 54 per cent of Singapore's blood usage goes to surgery, including heart surgery, while 31 per cent is used for general medicine. About 9 per cent is estimated to be used by patients with blood diseases, while 6 per cent is used in accidents and emergencies.
About 14 units of blood are required every hour in Singapore, which is about 325 units a day or 118,750 units a year, according to the Health Sciences Authority (HSA).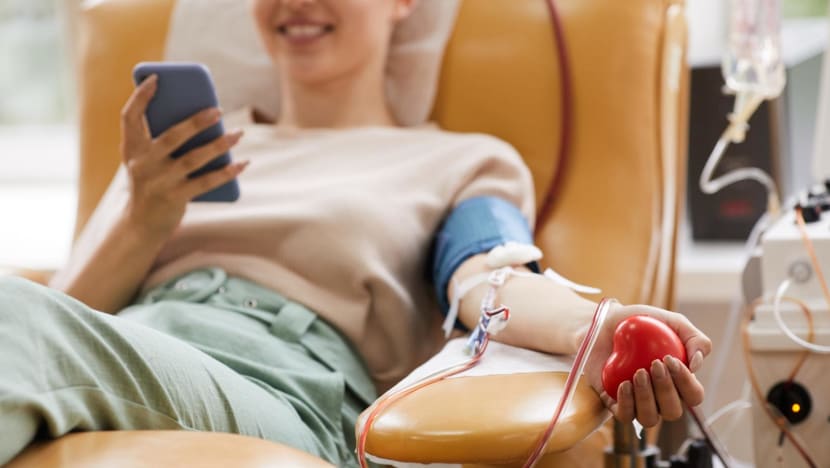 Each year, almost 30,000 patients rely on a safe and steady stream of blood supply to sustain or improve their quality of life, said the Singapore Red Cross, which is the national blood donor recruiter.
In June, Health Minister Ong Ye Kung said blood usage had increased in recent months, as hospitals caught up on the backlog of elective surgeries and treatments that were postponed during COVID-19.
Health Sciences Authority (HSA) CEO Mimi Choong May Ling said: "While we consistently strive to meet the demand for blood, there have been instances when our blood stocks dropped to low or critical levels due to low collection during long weekends and school holidays and surges in blood usage."
WHAT HAPPENS WHEN BLOOD STOCKS HIT CRITICAL?
Blood stocks can become low when there is a sudden increase in usage or a drop in collection. 
This drop in collection typically happens during festive seasons, as well as long weekends and school holidays, said HSA. Blood stocks can dip as much as 20 per cent during these periods.
The Singapore Red Cross said blood stocks may dip in the September school holidays. Additionally, travelling to certain countries or regions with insect-borne infection risks may make donors ineligible for a period of time.
There have been times when blood stocks have dipped to low or critical levels. 
When it hits critical, it means there is less than a six-day stockpile and it is only enough to support emergency cases. That is when the Singapore Red Cross urgently needs donors to come forward. 
The only way Singapore replenishes its blood stocks is through donations.
"There is no replacement for blood donation from altruistic donors. This is why we need more people to come forward to donate blood and more donors to donate regularly, at least twice a year," said HSA.
"With the support of our donors, we managed to recover the blood stocks quickly. No patients needing blood transfusion had to be turned away," said the Singapore Red Cross.
WHICH BLOOD TYPES ARE IN DEMAND?
In its latest update on Aug 18, the Singapore Red Cross showed that O+ blood stock is low, with A+, A-, and B- in moderate levels. B+, O-, AB+ and AB- blood stocks are at healthy levels.
Group O is the universal blood type for red cell transfusions. It is used during emergencies when patients' blood groups are unknown. 
Close to half of Singapore's population are blood group O, translating to a higher usage of blood group O red cells compared to the other blood groups in hospitals. This also makes it more susceptible to blood stock fluctuations, said HSA.
DONORS
RECIPIENTS
Group O

Group O can donate red blood cells to anybody.

It is the universal donor

Group A
Group A can donate red blood cells to A and AB.
Group B
Group B can donate red blood cells to B and AB.
Group AB

Group AB can donate to other AB but can receive from all others. 
(Source: American Red Cross)
"All blood types are important to sustain the National Blood Programme because they enable us to provide patients with the most compatible blood component for transfusion," said the Singapore Red Cross.
WHO CAN DONATE BLOOD? AND WHERE?
As of 2022, there were about 74,150 blood donors, which is about 1.8 per cent of Singapore's population. About 40 per cent of them are regular blood donors.
The highest number of donations by a single person stands at 334. Twenty donors in Singapore have made at least 200 donations each, while 84 donors have made at least 100 each.
To donate blood, a person has to generally be in good health and not have any symptoms of infections, such as a sore throat, cough or diarrhoea for at least a week. They must also not have had a fever for at least four weeks.
The potential donor should also not have taken antibiotics for the past seven days and they must weigh at least 45kg, said HSA.
Men need to have a haemoglobin level of at least 13 g/dl, while females need to have 12.5 g/dl.
For those who want to donate blood regularly, they should maintain healthy iron levels. Returning whole blood donors must wait 12 weeks before they can make their next donation. 
With the addition of the newly opened Bloodbank@One Punggol, which can collect up to 100 units of blood daily, Singapore has five bloodbanks. 
The other four are at HSA's building in Outram, Dhoby Ghaut Exchange, Westgate Tower in Jurong and Woodlands Civic Centre.
In 2022, the decentralised bloodbanks in Woodlands, Jurong and Dhoby Ghaut contributed to 60 per cent of total blood collections in Singapore.
WHAT IS THE PROCESS TO DONATE BLOOD?
There are two types of blood donations – whole blood and apheresis.
Whole blood donation refers to blood in its complete form and is the most common type of donation. 
It is usually separated into its components – red cells, plasma, platelets – for transfusion.
According to HSA, whole blood is seldom used for transfusions except in cases of rapid massive blood loss.
During a whole blood donation, between 350ml and 450ml of blood is drawn. This is about 8 per cent to 12 per cent of the total volume of blood in a person's body.
Eligible donors can make an appointment at a bloodbank. They must bring their NRIC, work pass or passport, a signed parent consent form if they are under 18 and any medication they are taking.
Their blood haemoglobin level will be checked and a medical professional will ask about their history.
A local anaesthetic will be used when the needle is inserted, and the actual drawing of blood only takes five to 10 minutes. All equipment used – needles, swabs, gauze, tubing – are new, sterile and discarded after one use.
Once the donation is done, snacks and drinks will be provided while they rest. They can leave once they feel okay.
Apheresis donations are of a specific part of the blood, such as platelets, plasma or red cells.
For apheresis donations, a machine called a blood cell separator draws blood from a person. The plasma, platelets or red cells in the blood are extracted, and the remaining components are returned to the donor.
Platelet donations take between an hour to an hour and a half. Plasma and double red cell donations take about 45 minutes.
Donors are also advised to rest, avoid alcoholic drinks for a day and eat foods rich in iron. The bandage should be left on for at least four hours.
YOUTH DONORS KEY
Given Singapore's ageing population, increasing its pool of youth donors is key to keeping blood stocks high. Currently, the percentage of youth donors is 17 per cent.
Singapore Red Cross CEO Benjamin William said: "My goal is to see this increase to about 30 per cent or more. That is the only way we can have a sustainable pool of blood donors in the long run."
Making this leap will take "considerable action" over the next three to five years, he said, adding that it is important to change the "psyche" and that blood donation must be a national responsibility.
"We actually do not have an option other than increasing our pool of young donors and youth donors, because in the long term, we will be a superaged population and not a long term, 2030, we're talking about," he added.