Singapore-based social networking app Bondee rejects claims of credit card info leaks
Signing up for Bondee is free and users are not prompted to key in any financial information. However, they can later opt to purchase in-game currency to buy NFT items.
SINGAPORE: The Singapore-based parent company of social networking app Bondee has rejected allegations that its users' credit card information was leaked through the platform.  
"Recently, it has come to our attention that there are rumours circulating on various social media platforms alleging that the credit card information of Bondee users had been leaked through their use of the Bondee platform," Metadream said in a statement on Instagram on Friday (Jan 27). 
"We would like to assure our users that such rumours are false and untrue, as Metadream does not currently collect users' credit card information or any other financial information."
The tech firm also said that it has also undertaken a precautionary review of its systems and told users that their personal data remained "safe and secure". 
Signing up for Bondee is free, and users are first prompted to enter their mobile phone number for account verification. They are then asked to input their birth date before setting their username and designing an avatar. 
No credit card or other financial information is requested of the user. 
However, Bondee's app store page shows that in-app purchases are available on the platform in the form of B-Beans. This in-game currency is sold in a range of denominations. For example, 100 B-Beans cost S$1.48 while 5,000 B-Beans cost S$66.98.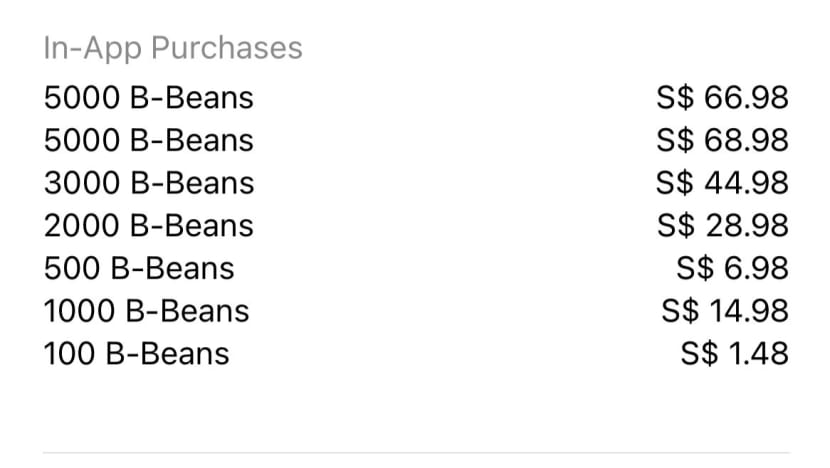 According to information in Bondee's privacy policy, users will be able to create a "blockchain-based wallet" within the platform. They can then spend B-Beans to purchase non-fungible token (NFT) products on the platform. 
Within the app, several outfits and accessories are marked as "limited free trial", implying that users may have to pay to use them in the future. 
PROVIDE "CONCRETE EVIDENCE"
Bondee, which was launched earlier this month, is a social app conceptualised as a virtual plaza where users can interact with up to 50 friends in a metaverse setting. Following its debut, Bondee quickly topped charts in app stores across Southeast and North Asian countries. 
The firm's teams are based in Japan, South Korea and the United States, with still more to be established in Thailand and the Philippines.
Several social media users had earlier posted about the alleged personal information breach via Bondee. Instagram user @benxdixt earlier shared a post that claimed Bondee was a "dangerous app that can steal personal details, data from your phone". 
The user later shared Metadream's response to the allegations and apologised for sharing "false information on Bondee being (a) fraud (and) scam app".
Several TikTok users on Friday also responded to the rumours by asking those who accused Bondee of a "scam" to provide evidence. 
"I am not seeing any evidence that something is happening, all I've seen is that one viral TikTok," said user @katyhbb, referring to a clip where a woman is said to have shared her friend's experience with the supposed scam. 
The user also called for such people on social media to provide "concrete evidence" to support such claims.
Another TikTok user who uses the handle @beepboopblobplop also called for "legitimate proof" to show that credit card information was being misused.
Referring to how the platform only requested for the names, birth dates and contact numbers of Bondee players, the TikTok user questioned how it would be possible for the platform to "hack into" bank accounts.
Metadream said that it will not hesitate to take necessary action against the "perpetuators of such misinformation".
This includes, but is not limited to, commencing legal action and making police reports to protect the rights of Metadream and those of their users.
CNA has contacted Bondee and Metadream for further comment.