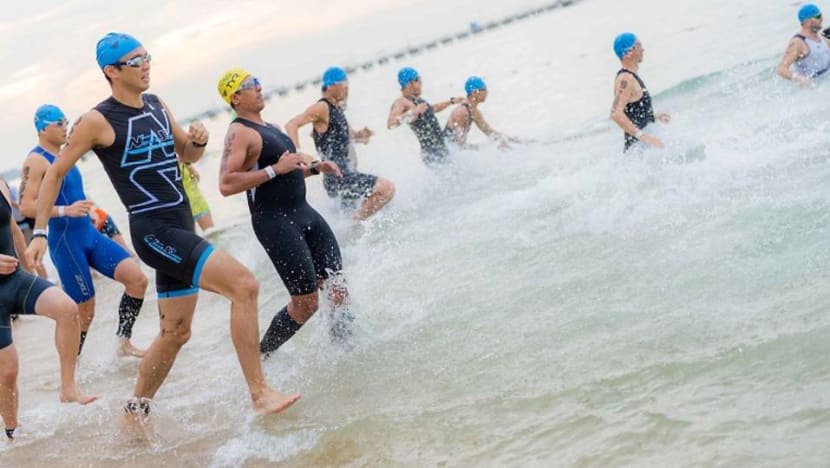 SINGAPORE: A British man who drowned during a triathlon in Singapore last year suffered abnormal heart rhythm from a pre-existing heart condition, the State Coroner said on Thursday (Sep 13).
Mr Stephen Begley, who moved to Singapore in 2012, was at East Coast Park on Sep 10 last year to take part in the Singapore International Triathlon, his first such race.
The financial adviser, 42, had signed up for the team relay category with two friends, Mr Paul Gerard Molloy and Mr Robert Richard White.
Mr Begley was tasked with the 1.5km swim leg of the race, while Mr Molloy would cover the 36km cycling segment and Mr White the 10km run.
The relay began at about 8.50am with Mr Begley's segment. He finished the first 750m lap in 16m 40s and appeared normal to his girlfriend and two friends as he began the second lap at 9.07am.
However, at about 9.30am, volunteer lifeguard Tong Ching Sun Atlas and volunteer kayaker Sim Chun Quan noticed a pink cap floating in the waters, about 50m away from the shore.
Mr Begley was pulled out of the water and given immediate medical assistance, but he remained unresponsive to resuscitation attempts and was taken to Singapore General Hospital, where he was pronounced dead at 11.10am. 
Delivering her findings on Thursday, State Coroner Kamala Ponnampalam said that a forensic pathologist had determined that Mr Begley's death was consistent with drowning.
The pathologist also noted that Mr Begley was a well-built man at 190cm and 126kg, and did not have any other medical condition that could have contributed to his death.
"It is likely that Mr Begley had suffered abnormal heart rhythm from his pre-existing coronary artery disease, which adversely affected his ability to remain safe in the waters thus resulting in his drowning," said the State Coroner.
FRIENDS DID NOT NOTICE ANYTHING UNUSUAL
Mr Begley's triathlon team-mates said that they had not noticed anything unusual about their friend before the event.
Mr Molloy said that Mr Begley was a proficient swimmer who swam about 20 laps two to three times a week. He also did weight training at the gym once a week and attended yoga classes about twice a week, he said.
Mr Molloy said that Mr Begley finished his first lap "looking tired, just like any other competitor in the race".
Mr White, on his part, said Mr Begley had never mentioned any health concerns to him. Mr White had filled out the online registration forms for both Mr Molloy and Mr Begley, who did not declare any medical condition.
MR BEGLEY WAS A VERY STRONG SWIMMER: BROTHER
Mr Begley was a certified lifeguard in the United Kingdom and a very strong swimmer, said his brother Mr Mathew Francis Begley.
He was also a professional rugby player from 1995 to 2005, and was not known to have any health issues apart from rugby-related knee and back injuries.
Mr Begley had told his brother that he was looking forward to the triathlon and was training regularly for the race.
The swimmer's girlfriend, Ms Maria Vanessa Salaysay Raymundo, said Mr Begley was able to swim in seas with strong currents without issue.
Ms Maria Vanessa, who represented Mr Begley's family during the coroner's inquiry, asked about safety standards at the triathlon and if Mr Begley had been spotted at the earliest opportunity.
The State Coroner said that Mr Tong was able to reach Mr Begley under a minute after the smart watch he was wearing indicated he had stopped swimming.
"This being the case, I would find there were no lapses in the safety standards which caused or contributed to Mr Begley's demise," said the State Coroner.
TRIATHLETES SHOULD ASSESS FITNESS, TAKE SCREENING
She ruled Mr Begley's drowning "an unfortunate misadventure" and suggested that competitors ensure that they are in good physical health before taking part in triathlons.
She pointed out that the Sports Safety Committee recommends that individuals perform a pre-participation health screening to reduce the incidence of sudden death, and recommended rest and hydration before and during the triathlon.
"The participant should also learn to assess his current fitness and level of ability," she said. "Every sporting event calls for a different skill set and it would be prudent to seek training from a qualified instructor if one is new to the event."
The Triathlon Association of Singapore and events company Orange Room, which jointly organised the event, are performing a joint review to identify areas in which their safety standards and operating procedures can be improved.
The State Coroner extended her condolences to the family of Mr Stephen Begley.