Demand for HDB flats in non-mature estates outstrips mature estates in August BTO exercise
The latest BTO exercise saw the highest number of applicants since August last year.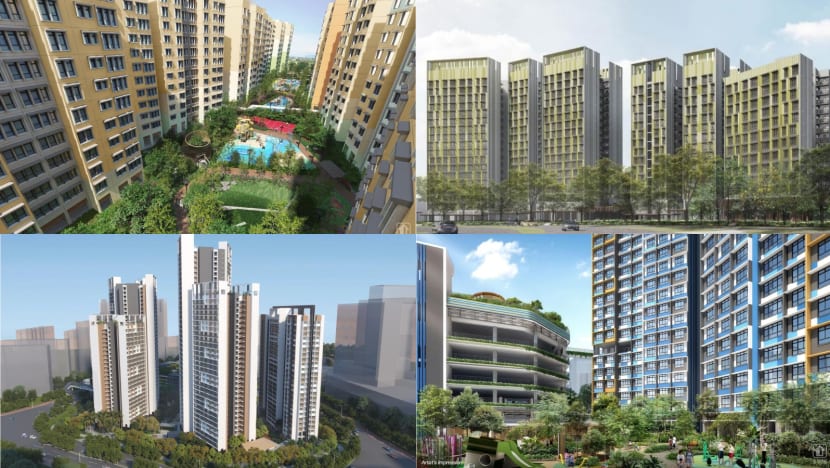 SINGAPORE: The demand for Build-to-Order (BTO) flats in non-mature estates was far larger than that at mature estates in the latest sales exercise, according to figures from the Housing and Development Board (HDB) on Wednesday (Aug 18).
Applications in the latest exercise closed at midnight on Tuesday, with the final figures released by HDB on Wednesday afternoon. Nearly 5,000 units were on offer.
Of the three BTO exercises this year, this was the first where demand for an HDB flat in non-mature estates surpassed those in mature estates.
Traditionally, mature towns command higher demand due to their amenities, said Mr Thomas Tan, chief operating officer of ERA Singapore.
This month's exercise also saw the highest number of applications since August 2020, the first BTO launch after the COVID-19 "circuit breaker".
DEMAND SOARS FOR FLATS IN NON-MATURE ESTATES
The demand for a BTO flat in the two non-mature estates - Hougang and Jurong East - ballooned in the latest exercise.
The flat-type with the highest demand were four-room units in Hougang - more than 11,400 people applied for just 459 of such flats. That means each applicant only has a 4 per cent chance of getting a unit.
With more than 18 first-time applicants per four-room flat in Hougang, this is one of the highest application rates seen in recent years.
One of the main draws for applicants for Kovan Wellspring is its location next to the MRT station, said Mr Lee Sze Teck, senior director of research at Huttons Asia.
The development in Kovan is also "highly popular", with few new BTO flats in the area, said Ms Christine Sun, senior vice president of research and analytics at OrangeTee & Tie.
For Hougang Citrine, it is close to Paya Lebar Methodist Girls' School and Maris Stella High - both "popular among parents", she added.
There was also huge demand for four-room flats at Toh Guan Grove in Jurong East, with 3,628 applicants for just 240 units. This means each applicant only has a 6.6 per cent chance of success.
There is "pent-up" demand in the Jurong East area as there have not been many BTO launches there, said Mr Lee and Ms Sun.
This is the first BTO project in Jurong East in 10 years, and it is within walking distance to a station on the future Jurong Region Line.
Both Hougang Citrine and Toh Guan Grove also have an average construction period of about four years.
"The shorter construction period is the draw and the cash over valuation in the resale market is the push," said Mr Lee.
In total, there were more than 18,600 applications for three-room or bigger BTO flats in non-mature estates, despite there being only 1,064 units available. This equates to more than 17 applicants per unit.
MATURE ESTATES
With 2,883 three-room or larger flats available in mature estates, this was the highest number of such units being made available in a BTO exercise since November last year.
Set to be built in the areas of Kallang Whampoa, Queenstown and Tampines, they drew nearly 15,000 applicants. That equates to about five applicants per unit.
A four-room flat in Towner Residences in Kallang Whampoa saw the biggest demand in the mature estates, with 1,928 applicants for 226 units.
That means there were more than eight applicants per unit - about an 11.8 per cent chance for each applicant to get a place.
The Queen's Arc development in Queenstown drew more than 4,000 applications for 534 units, leaving those who applied with about a one in eight chance of success.
The higher demand for a BTO flat in non-mature estates could be "an exception rather than the norm", said Ms Sun.
HOW WILL THIS AFFECT THE RESALE MARKET?
Some unsuccessful applicants may turn to the resale market, buying either HDB resale flats or "smaller suburban" condominiums, said Ms Sun.
Prices have risen exponentially since Singapore exited the circuit breaker.
The resale price index for the second quarter of this year was 146.4, getting close to the peak of 149.4 in the second quarter of 2013. The index provides information on the general price movements in the public housing resale market.
Prices are currently about 2 per cent below the peak recorded in the second quarter of 2013.
Despite tighter COVID-19 measures this year restricting property viewings, resale prices of HDB units have continued to climb.
The demand for resale HDB flats remains robust due to delays in construction, even with the recent announcement by the Government to allow fully vaccinated work pass holders into Singapore, said Mr Tan.
"This is because there are still backlogged orders to clear and it will take months or years to clear it," he added.
Mr Tan noted that some buyers may have been priced out of the resale market and have "shifted their focus back to BTO instead".
The demand for BTO flats will depend on how well companies are able to manage and contain COVID-19 outbreaks within dormitories, said Ms Sun.
"If the situation improves and fewer project constructions are delayed, more people may buy BTO flats," she added.